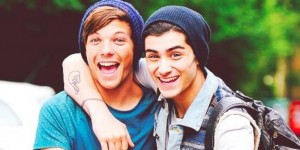 Tayla Whitehead
Staff Writer
smoking a joint
... can't say we're surprised.
One Direction members Zayn Malik and Louis Tomlinson
were caught, well, technically they filmed themselves smoking a joint and messing about while being driven around in the streets of Peru and officially adding
"bad boys" to their repertoire
. The boys of One Direction have never claimed to be your squeaky clean "we could never do wrong," kind of boy band, and this video proves just that! The video is a good few minutes of Malik and Tomlinson smoking what is reported to be marijuana and chatting to each other about Kid Rock, their fans, Jamaica and "Mary J herself," in Louis' own words. The two share the SUV with three other people but none of the other band members where around. "Zayn takes his job very seriously. He makes sure he goes through a two hour intense warm-up before every show. Just to get himself in the zone for the show," Louis narrates as Zayn provides the background singing. One very, very important factor of Zayn's warm up of course if Mary J herself. In fact I will present it to him now for some fantastic singing." Malik and Tomlinson are just another one of the many celebs caught with a certain illegal substance, but lucky for these boys it's not punishable in Peru as long as it's for personal use and less than eight grams. We all know Snoop Dog smokes weed, Miley publicly lit up a joint on stage; I'm surprised this kind of news is still making headlines, but if you still want to know what the fuss is all about, check out the (slightly NSFW) video right here!
Keep Up With PopWrapped On The Web!