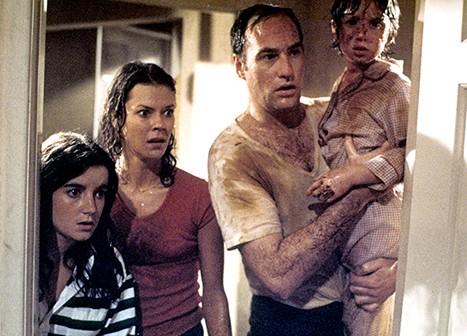 Courtesy of US Magazine
As the remake for Poltergeist hits cinemas this weekend, one of the original stars from the 1982 version has spoken out about the myths surrounding the film, which saw five of its cast members pass away, known as the Poltergeist curse.
Oliver Robins who played young Robbie, whose iconic scene was being "strangled" by a clown doll (and is ever-engraved in every young child's memory), recently said:
"To be completely honest, I don't think anyone that was involved in the movie ever really took the curse seriously. There is no curse - it is just tragic coincidences."
In 1988, seven years after the release of the film, actress Heather O'Rouke (who played Carol Anne and uttered the infamous words, "They're here" ) died at the age of 12 from cardiac arrest and septic shock.
"I was in high school at the time, at a really intense prep school in the San Fernando Valley and so my only focus were my studies. I'd lost touch with Heather at that point and unfortunately I never knew she was actually sick until she passed away," he told the Daily Mail, "I attended her funeral and it was really heartbreaking to see that happen. I was at an age where I had so many fond memories of her and I was able to reflect upon the experience, so it was tragic for me on multiple levels."
Dominique Dunne, who played the oldest sister in the film, was the first to tragically pass away when she was murdered by her boyfriend back in 1982. This death was followed by actor Julian Beck, who played the preacher in the sequel, when he died of stomach cancer in 1984. His co-star Will Sampson died four years later from kidney failure. And most tragic of all was actor Lou Perryman's death. He played a construction  worker in Poltergeist 2 and was killed by an ex-convict in 2009 in his Texas home at the age of 67.
To be fair, these could be awful coincidences.  But who doesn't love a good, old-fashion, creepy, true story to go along with an iconic horror film that's giving new audiences an even more epic interest in the original?
"With this curse mythology, I never spoke to Steven [Spielberg] about it," Robins continues, "but I guess he thinks the events that took place were horribly tragic and awful but had no relation to the events that took place on set. "
He continues, "People may try and connect the dots and make something out of it, but they are possibly going to make connections that probably aren't there. They do make for great spooky stories, but at the end of the day, they really aren't true."
One myth in particular was that in the scene where the mother falls into a muddy pool surrounded by bones,  real bones were used. As Robins explains, "Those skeletons were real and as a kid I thought that was really cool. I'm sure they added hair and things to them. But they weren't shipped in from foreign countries with scabs and skin hanging off, I'm pretty sure of that."
Poltergeist tells the story of a happy suburban family who is haunted by supernatural events in their home. The remake hits cinemas this weekend and stars Sam Rockwell, Jared Harris and Rosemarie DeWitt.