Sarah has a ridiculously unsettling dream that causes her to heave. I don't blame her, I was uncomfortable too.
Paul meets up with some undercover dude and hands over one of the clones' journals, complete with information about women they've had intimate contact with and hair samples. The dude hopes it isn't what it looks like, but says they can't act (presumably against Mama clone) until they have more evidence.
Siobhan and Felix contact Kira via Skype, and when that's over, Siobhan promises Felix they'll find Sarah soon. He's getting antsy that S's people haven't found out much aside from their base is maybe in Mexico; Cosima is working on a cure for that disease Gracie and the other women have. Gracie serves them tea, even though they tell her she doesn't have to, but she says it's better to have something to do.
Cosima and Shae wake up and Shae asks Cosima who Sarah is. Cosima asks her how she knows, and Shae says she said it in her sleep. I'm getting odd vibes here. Like Shae isn't someone to be trusted.
Alison and Donnie have the most amazing scene in television history. I won't even attempt to recap it. It's something you have to see to believe.
Delphine accosts Cosima and Scott, questioning why Sarah's missing and why she and Topside weren't informed, and then asks why they didn't notice that Gracie contains a unique protein found also in the dead Castor clone's brain. She says that warrants a follow up.
So Helena is sitting in the desert and is being spoken to by that scorpion that plagues her and it asks if she regrets leaving Sarah. It also asks if she's more important than her baby and asks why she's sitting there, to which Helena replies, "No. Because I'm hungry." And then she eats the scorpion.
Helena eats a fucking scorpion.
How boss is that???
Paul interrogates the doctor on base who tells him things have become shady since he left.
Delphine and Cosima have an awkward moment before they, along with Felix and Gracie, go inside the lab, while Felix talks to Scott and tells him to take him to Rachel, so they can find out more about Sarah's location because she might know.
He calls her the cyclops, and I felt disgust. I usually like Felix, but Rachel definitely doesn't deserve the shit she's going through.
Paul tracks down Mark and asks him to do something unofficially for him.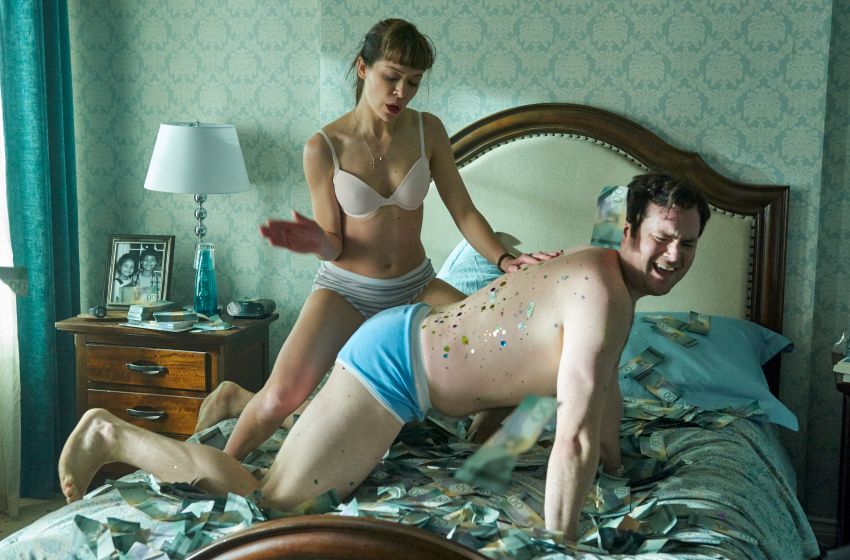 Courtesy of hiddenremote.com
Alison and Donnie meet up with the drug dealer dude and he's curious why they want to continue the business partner ship when they've paid out the debt left by Ramon. He says they're not ready yet, and Alison says she'll figure something out.
Paul and Mark do some sleuthing and determine that the defect in the Castor clones can be sexually transmitted. That's what happened to Gracie and the other women.
Sarah's suffering from something, a fever or similar, and Paul arrives to arrest Virginia Cody (Mama clone) for sterilizing women.  Sarah has a mental hallucination (yes, that's redundant, shut up) about Beth, the clone whose life she took. She receives absolution and advice, ultimately learning, "Stop asking why. Start asking who."
Paul calls his contact on the outside and tells him he has the camp under control. He tells Paul that he'll be there in 6 hours with an  extraction team.
Felix and Scott confront Rachel, who doesn't deserve this. I'm applying for custody, Orphan Black writers. Meet me in court or in the pit. Either way, I will rescue Rachel from your cruelty.
In the end, Rachel begs to be taken away and Felix leaves when he realizes how horrible he's being, and Rachel is left crying.
I won't stand for this. #RachelDefenseSquad2k15
Jason, Alison and Donnie visit Alison's mother's store named Bubbles and plan to use it as a front to sell drugs. Jason likes the idea.
Rudy gets a call. There's a situation back at base (Paul's coup) and they're needed.
Delphine is watching a video of Cosima and sees pictures of her with Shae. She's drinking and visibly upset. Cosima goes to Shae to tell her to slow things down but they make out. Scott calls Cosima and says he thinks Rachel knows the code in Professor Duncan's book.
Sarah asks if Paul ever loved Beth. He gives her a long anecdote about Beth. They go to speak to Virginia who is amazed Sarah beat it, having believed she would because of her genome and fertility. She reveals the Castor and Leda clones have the same disorder, but for the boys it attacks their brains, and for the girls, their epithelial tissue. Paul realizes it's a weapon and Sarah demands who it's for.
Rudy sneaks into camp and frees his brother. Mark warns Paul that he suspects Rudy's here. Paul calls his contact and lies, saying Rudy's still out, and from the way the man reacts, something in his voice gives him away and Paul plays it off like it's nothing. He then tells Sarah they've got to get out ASAP, and tells Mark to go back to his quarters and that they never spoke. Mark makes Paul promise him he'll make it right. Paul nods.
Paul wrestles with a clone and gets stabbed multiple times before he snaps the clone's neck. Sarah is worried and she climbs through an exit tunnel Paul points out, only for him to lock it behind her. She tells him to come, and he replies, "It was never Beth I loved." It's implied Sarah was the one.
He sneaks back into a room where he waits for Virginia and Rudy to find him. He tells them to leave and she says she can't lose all that research before firing several bullets into him. He lets go of the cloth held to his stab wound, revealing an unpinned grenade. It explodes, just after Virginia and Rudy run from the room.
Elsewhere, the explosion knocks Sarah down and out. Helena comes back into the tunnel and when Sarah says, "You came back", Helena replies, "Come, sestra. People miss us."
Rachel pants more symbols as she stares at a photo of her as a child with Professor Duncan. She's crying. And my heart is in pieces.
I'm going to fight the writers. Wish me luck.
Keep Up With PopWrapped On The Web!