By Outlander's sixth episode, entitled "Best Laid Schemes…," it is clear that Jamie and Claire and Murtagh - and even Charles - are in the "hope for the best, but prepare for the worst" phase in their respective plans concerning the Jacobite rebellion. Tonally, the episode shifts restlessly between intimacy in its purest form and in complete pantomime, as the Frasers and their confidants edge closer to the precipice of what might happen if things don't work out despite the best of efforts.
The Frasers had come to Paris to prevent a rebellion from occurring that will also destroy the Highland culture and scatter its people to the winds. Now they must face the possibility that they will not be among the recipients of the fruits of their labors, and yet they trudge on.
The first time we see Jamie, he's in a state of deep contemplation over his decision to withdraw the duel with Jack Randall in the Bois de Bologne. Murtagh can not fathom his nephew's reasons, but he knows he has been deprived of the whole story from the moment they arrived in France. He also gets in a zinger when he tells Jamie that "your mind changes like a woman in flux!" I'll have to use that as a response when someone tells me I'm acting moody - Leave off! I'm just IN FLUX!
Claire continues to volunteer at L'Hôpital des Anges with Mother Hildegarde, though the combined strain of her advancing pregnancy and grueling patient care is becoming more evident in her face and posture. Claire is not a woman who will undergo confinement during her later months; she must have activity and purpose, but her stubbornness supersedes a sensibility of knowing when to slow down for the sake of the child. Plus, being out of the house most of the day keeps her mind distracted from the constant worry over her husband and their plan. Fortunately, Monsieur Forez (Niall Greig Fulton) maintains his creepy-executioner countenance as he alerts Claire to the King's plan to execute "practicioners of the dark arts" as a public warning. Foret describes his methods of drawing and quartering a person in a theatrical sense, full of spectacle and dash for the crowd, as Claire tries very hard not to gag. She knows her friend Master Raymond will be suspect if a witch hunt takes place, and she advises him to leave the city. "We will meet again," Raymond assures her, "in this life or another."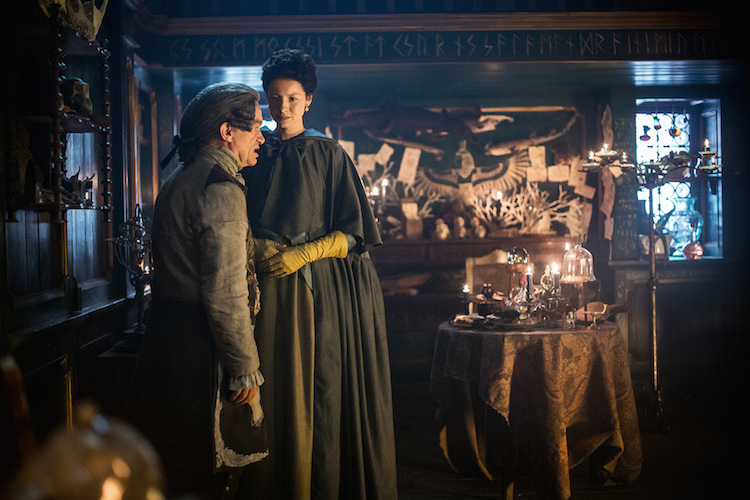 Starz
The apothecary is not the only one looking ahead. In one of the season's rare quiet scenes where Jamie and Claire get to simply spend time together and talk, we see the first sliver of concern Jamie has that they may not end up together, and that their ongoing schemes may soon be exhausted.
He realizes that for all Charles's blustering and shrewdness, the "light in his eye that can fool good men to believe he's God's chosen one" may circumvent their efforts against him, and that their destiny may have been irrevocably set. This is a man whose wife has already told him what will happen on April 16, 1746 unless they can stop it, and all their efforts have up to now failed to reverse the onslaught of time and pressure. "We may find ourselves staring into the abyss awaiting us at the bottom of Culloden Moor," he admits, and to the anguish of everyone involved (including the audeince) he elicits a promise from Claire that, should circumstances get to the breaking point, she will go back through the stones to Frank. It is a scene of such stillness, ending with Claire's reluctant agreement and Jamie laying his head gently on her stomach, that knowing Claire does eventually return to her first husband based on the season premiere makes the prescience of his words even more heartbreaking.
Yet, the Frasers refuse to quit, using herbs and natural emetics to fake a smallpox outbreak among St. Germain's men so that the harbormaster at Le Havre will destroy his inventory, thus ending Charles's revenue stream and sending him back to Rome. To assuage Murtagh's doubt in the plan, they decide to come clean about Claire's background, a conversation between Jamie and his uncle in Gaelic as Claire watches nervously from a window. Murtagh takes the admission  as Claire being some sort of witch, but he believes in Jamie and so he believes in Claire, and his tenderness towards her is duly sweet.
I've always liked the relationship between Murtagh and Claire - after all, he was her first savior from Captain Randall in the first episode of season one, and their bond deepened while looking for Jamie in "The Search." I think Murtagh admires Claire's intelligence and tenacity, while she can see the heart of a romantic beneath his gruff exterior. Writer Matt B. Roberts gives Murtagh his own still scene where he asks Claire about Culloden and the fate of the Jacobites, and whether she knows when people will die. The way Murtagh's words grow more guarded and quiet as his questions become more pointed towards the outcome she has already foreseen is almost as heartbreaking as Jamie's request, and his devotion to and care for both of them is evident.
Another deepening relationship is that of Jamie and young Fergus, a boy aged well beyond his years after growing up in a brothel. The lad obviously responds to praise and encouragement, and is eager to put his pickpocketing and espionage skills to use for the Frasers whenever possible. He rides with Jamie to Le Havre where his small stature allows him to slip into the warehouse and taint a few bottles with the emetic Claire has prepared while also brushing the powdered nettles onto the insides of the castoff coats of the crew. "If anyone can deliver pestilence and disease," Jamie says to Claire after returning home, "it's us."
Equally persistent is Charles Stuart, buoyed by strong drink and excessive pride in his family's entitlement and legacy, who begs Jamie to bring in the wine shipment after St. Germain's crew fall mysteriously ill. The Comte's dislike and suspicion of Jamie sharply contrast with the Prince's confidence in Broch Tuarach's faith and devotion, and he insists on accompanying him to Le Havre. Jamie and Murtagh then conspire to have the entourage intercepted along the Rue St. Honore by masked "highwaymen" who will steal the cargo.
Claire does not rest easy at this hastily arranged and more dangerous plan of action, as Le Comte already mistrusts Jamie and might carry out the veiled threats he has thrown at them since they arrived in town. In a scene reminiscent from Gone with the Wind where Scarlett, Melanie, and the other society women await their husbands' return from clearing out a shantytown, Claire must await her husband's return while enduring idle parlor gossip with Louise and other ladies. The inanity of their conversation is grating on Claire's nerves, especially since their preoccupation with invented dramas and scandals reveals more of an ignorance of the real problems in their city than they care to acknowledge. In disgust and frustration, Claire storms out of the room and takes Fergus to L'Hôpital to work for the evening, even though her health is growing more delicate.
Outside of town, Murtagh and his hired men in disguise hold up Jamie and St. Germain and the latter is finally able to flex the muscle he has been preening himself on for the past few episodes. The low angle shot of St. Germain with his very large pistol aimed at the robbers, eyes bulging with rage as he refuses to get down and relinquish the coach, thickens the tension as Jamie searches for an opportunity to get him out of the way, eventually putting himself in harm's way as the Comte is restrained but still not entirely convinced that what he was witnessing was legit.
As Mother Hildegarde notices Claire's exhaustion, she insists that she spend the night in the hospital and Fergus will notify Jamie. Claire has begun spotting which could be normal at her stage of pregnancy, but with all the stressors in her life and her refusal to quit working, it could be more serious. I've mentioned in previous recaps how Claire is not minding her physical state as closely as she should, and the months of exertion may finally be wearing her down.
After the raid, Jamie and the Comte must withstand the histrionics of a pampered royal lamenting the possibility of not getting his way. The ensuing dialogue has two of the three men using nobility as justification for their actions or purpose. As the Comte and Jamie nearly come to blows over the truth behind the Rue attack, Charles is heartsick not only that his past groveling has led to nothing, but also that his good standing in Paris is wearing thin. "The French honor money only," says the Prince who would be admittedly devastated to return to his family nest in Rome and damn suicidal if his last option is Poland. With Charles outspokenly disgusted with the French and reduced to a blubbering mess, plus Jamie countering the Comte's accusations and insults with a "come at me, bro" stance, it won't be long before St. Germain decides to take matters into his own carefully manicured hands, and woe be the outsider who gets in his way.
As Claire rests at L'Hôpital under Mother Hildegard's watchful eye, Fergus has returned home to await Jamie's return. The boy has quickly become the household pet and Jamie's studious apprentice, flourishing under the Frasers' care and guidance. I noticed that Claire's and Jamie's treatment of him, while tender, also has a good deal of respect. They trust him to execute dangerous points in their plans, either due to his physical size or evident skill as a street-smart pickpocket. Fergus responds to this trust and fair treatment by adopting some of his master's gentlemanly manners, as when he waits for Jamie to invite him to partake in breakfast. He sees the Frasers as good people, and he looks out for them the same way they do for him.
"No rest for the wicked," Jamie mutters as he is called to Madam Elise's to bail Charles out of debt for services rendered. He allows Fergus to tag along because, honestly, there is scant left that the boy hasn't seen there. Of course, one wouldn't expect a precocious boy to mind Jamie when he says, "Wait for me here," especially with the prospect of tiny treasures to discover within the rooms. Wisely shot from the child's height as he trails his hand along the papered hallways of ill repute, Fergus enters a recently used but seemingly abandoned bedchamber to look for vials of perfume. What the boy fails to notice is the hanging redcoat of a British officer and a shadowy figure closing the door behind him, blocking the exit. The final shot shows the boy looking up, unable to speak.
Later that morning, an exhausted Claire returns home to a marked silence from the servants and overall atmosphere of doom as Suzette stammers her way through an explanation that Jamie has gone to the Bois de Bologne. Word on the street is that Jamie got into a fight with a British officer at the Maison, acting as if he possessed the "vengeance of God." He obviously returned home long enough to see Claire was not back yet and left her a brief note: "I'm sorry. I must. J." Knowing what we do as viewers about the previous scene with young Fergus and Jamie's feelings on the canceling the first duel, even non-book readers can deduce that something very bad happened to the boy and Jamie found out. Being in the dark to this as of yet, it is too much for Claire and she suffers a contraction in her bedroom before storming out to command Magnus to prepare a carriage to take her to the Bois.
The long-awaited duel between Jamie and Randall didn't sit well with me at first viewing. Claire and viewers alike show up in the middle of it, not privy to the preparation of or introduction to it. Claire knows less than we do at this point, and curses Jamie for breaking his promise to her. In her delicate state, all the jostling of the carriage as it bounces over cobblestones and careens through narrow, winding streets can not be helping, especially as she is already visibly distressed and in pain. Director Metin Hüseyin wisely continues the low angle shots, this time of a desperate Claire painfully staggering through the woods as the sounds of clashing broadswords grow louder. As she approaches the clearing, Jamie and Randall are nearing the climax of the fight, their growing exhaustion only bolstered by their rage towards each other. Remember how draining the duel at the end of Rob Roy was? Same here, as the duel becomes less about technique and more instinctive as the body exhausts itself physically. Claire narrates her arrival at the clearing, and her inability to stop what was happening. On second viewing, I saw how purposeful this was in revealing not only the limits of her perspective but also her ability to intervene.
In one of the powerful sequences of the episode, Claire doubles over in excruciating pain and begins to hemorrhage as Jamie stabs Randall in the groin with his sword. As Jack collapses on the ground in shock and pain, his hand grasping the bleeding wound, the camera holds tightly to Claire's face and its blend of agony and despair as Jamie falls to his knees with the gens d'armes swarming over the clearing.
There is no triumph over Jack's injury, no reconnection of the lovers after the fight ends. Three people united by blood and violence are taken in separate directions: one to prison, two to hospitals. Sometimes, good people do bad things for good reasons. Sometimes, bad things happen to good people. The title of this episode, "Best Laid Schemes…," is taken from a Robert Burns poem about the futility of planning ahead as well as the burden of past regrets and future predictions. Claire has lived with this burden, as Murtagh wisely observed, and for all her and Jamie's efforts, they are at a crisis where looking backward or forward yields nothing but fog.