There is a stark duality in the opening scene of "The Battle Joined," Outlander's first episode of its third season, in which the systematic dismantling of one life is juxtaposed with the possible construction of another. One person lies immobile, surrounded by dead or dying kinsman and faceless enemies and the almost overwhelming stimuli of a life so suddenly changed: the dingy sky, the bloody mud below, the Redcoats hovering over the bodies like vultures looking for spoils. Conversely, a woman walks slowly and thoughtfully into the empty rooms of the house which will supposedly be the foundation for another life changed; it looks cold and empty, waiting for someone to claim it and say, "I live here. This and all its contents represent me." While the man struggles with (and takes advantage of) being forgotten, so the woman stands on the precipice of being wiped away.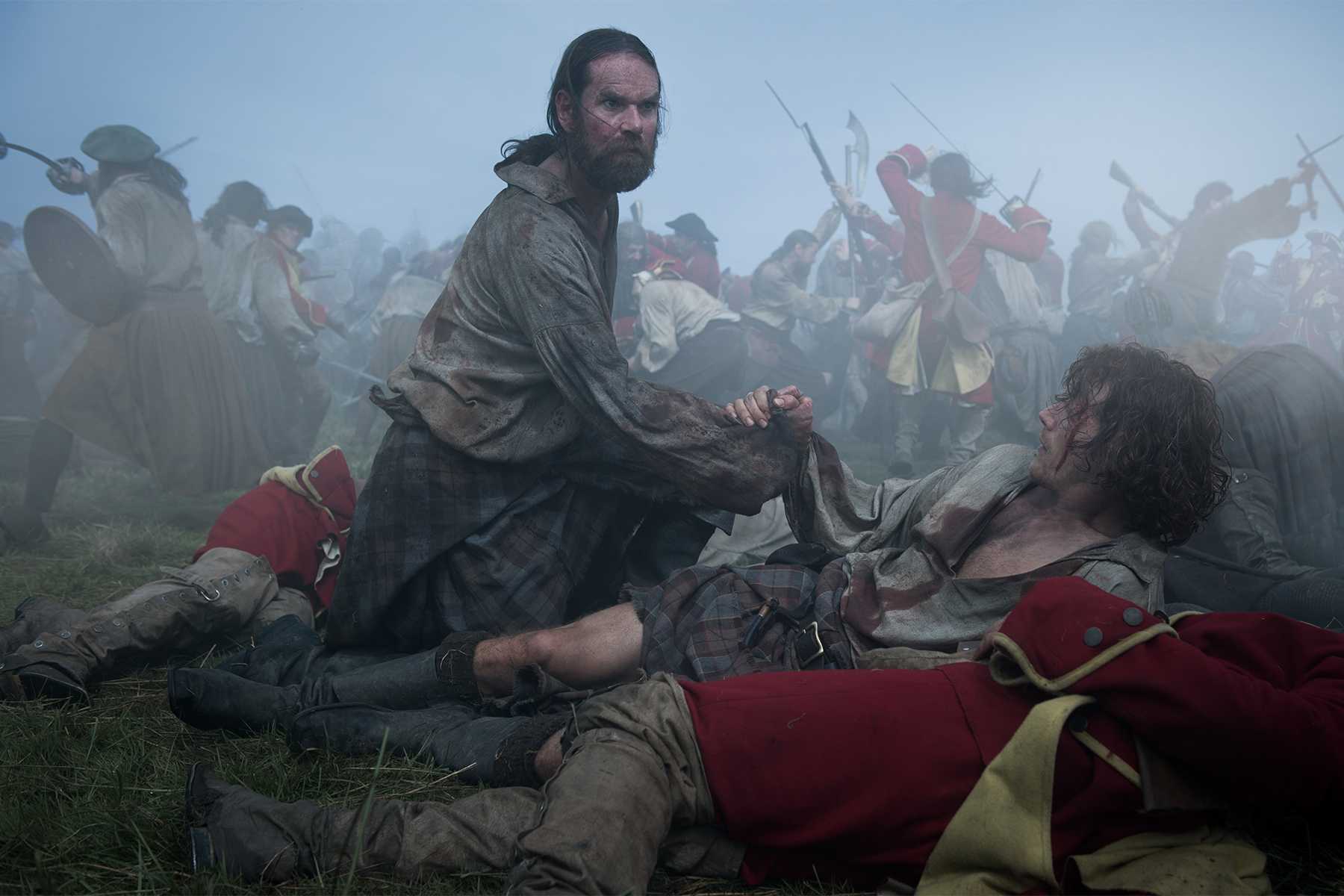 As I mentioned in my review of the first six episodes, the theme of identity through labels and names begins here, in the first moments of Jamie and Claire Fraser discovering facets of who they are in their worlds by the perceptions of others around them. It will be a long journey to take agency over those perceptions and flip them to their advantage, to utilize one's self-knowledge and worth towards progressing in life versus the limits placed by those in power on the basis of gender or culture.
I spoke with Outlander showrunner Ronald D. Moore, who also wrote this episode, in June in Austin about his influences and career in science fiction, and as I watched Jamie and Claire return to us after more than a year away, I couldn't help but feel the tenets of the genre underlying the couple's dual realities of existing within and without their worlds. As Jamie lies partially hidden under a corpse on the field at Culloden, unable to move and hardly able to breathe, he sees small glimmers of life continuing on, in a snowflake on his lips and a rabbit creeping gingerly around the piles of bodies, the steady return of nature to its ordered steps. Juxtapose this with the horrible flashbacks of the cacophony and chaos of the earlier battle, in which time and space become discordant with adrenaline and fear and rage bubbling out.
The body was Jack Randall, and Jamie remembers their last moments together in a grotesque denouement of their inextricable link formed at Wentworth Prison. Director Brendan Maher stages a duel reminiscent of the final meeting of Liam Neeson's and Tim Roth's characters in 1995's Rob Roy (which, incidentally, was also founded by an incident of violence and rape) in which MacGregor and Cunningham's exhaustion makes their sword play more viscerally felt, as each swipe is crucial and agonizing. When Jamie at last plunges his dirk into Randall's side - reminiscent of the location on his own body where Randall made him brand himself - it is met with both release and relief on both sides, as if both men innately knew, "It is finished." Tobias Menzies is absolutely mesmerizing in this scene, as his true nature glows brightest through violence, and he absolutely lights up as he savors every second of their final, exhausted embrace.
Contrast this with Menzies's Frank Randall, beginning a new phase of his life with a wife who is pregnant with another man's child, who has accepted the "conditions" he has proposed to raise the child together as their own. Randall had discovered he was impotent [writer's note: he discovered he was infertile, not impotent] while Claire was in the 1740s, but he never reveals this to her when she comes back inasmuch as the show portrays. As far as we know, Claire might still think she could get pregnant with Frank even though they had been trying unsuccessfully before she went through the stones. That must've played out in her mind as she walked through the empty rooms of their new house. "It certainly is real," she says aloud, and the thought of turning it into a home for her coming child, for establishing roots and memories and happy times for the baby, even as it anchors her to a life she did not want any more, is bittersweet. For Claire, her focus on Brianna as a means to alleviate the heartache that will never leave is both a blessing and a curse, as it provides the child with every comfort and two parents that are devoted to her wellbeing, but it forms a shell around Claire that prevents her husband and child from fully connecting (though in Brianna's case, it will mend later). That is Claire's choice, which Frank demands that she make late in her pregnancy, and there are no perfect options or perfect consequences.
As the episode unfurls, both Jamie and Claire remain captive - he physically, her societally - by the powers that be deciding 1) who they are; 2) their value; 3) their proper place. Sam Heughan has to remain bedridden for most of the episode, as he has a serious leg injury, but his performance is both mesmerizing and heartbreaking as a man hoping with each second for death and enduring the awful fate of witnessing the world he knew stripped away, executed, buried, or casually thrown onto the back of a cart with the Highlanders' weapons. Does he even exist? Is it a dream? He is lucid enough to watch the subjection of his kinsman to their placement in history by means of a British army clerk's hand: give your name so you may be part of the executioner's ledger. One line in history to signify that you even existed, that were part of something - even as those in power change what you were a part of. Hero. Traitor. Soldier. Prisoner. Warrior. Wretch. What will you be remembered by or as or for? Will it be true?
Jamie is spared by the fortuitous arrival of Lord Melton (Sam Hoare), who happens to be the older brother of John William Grey, the scrappy teenager who valiantly defended Claire in Season Two and had his arm broken for it. Jamie had spared his life but tied him to a tree to be discovered by the British troops, and this ties Melton's hands: should he spare the life of such an "illustrious prisoner" as "Red Jamie," as the broadsheets have long sensationalized?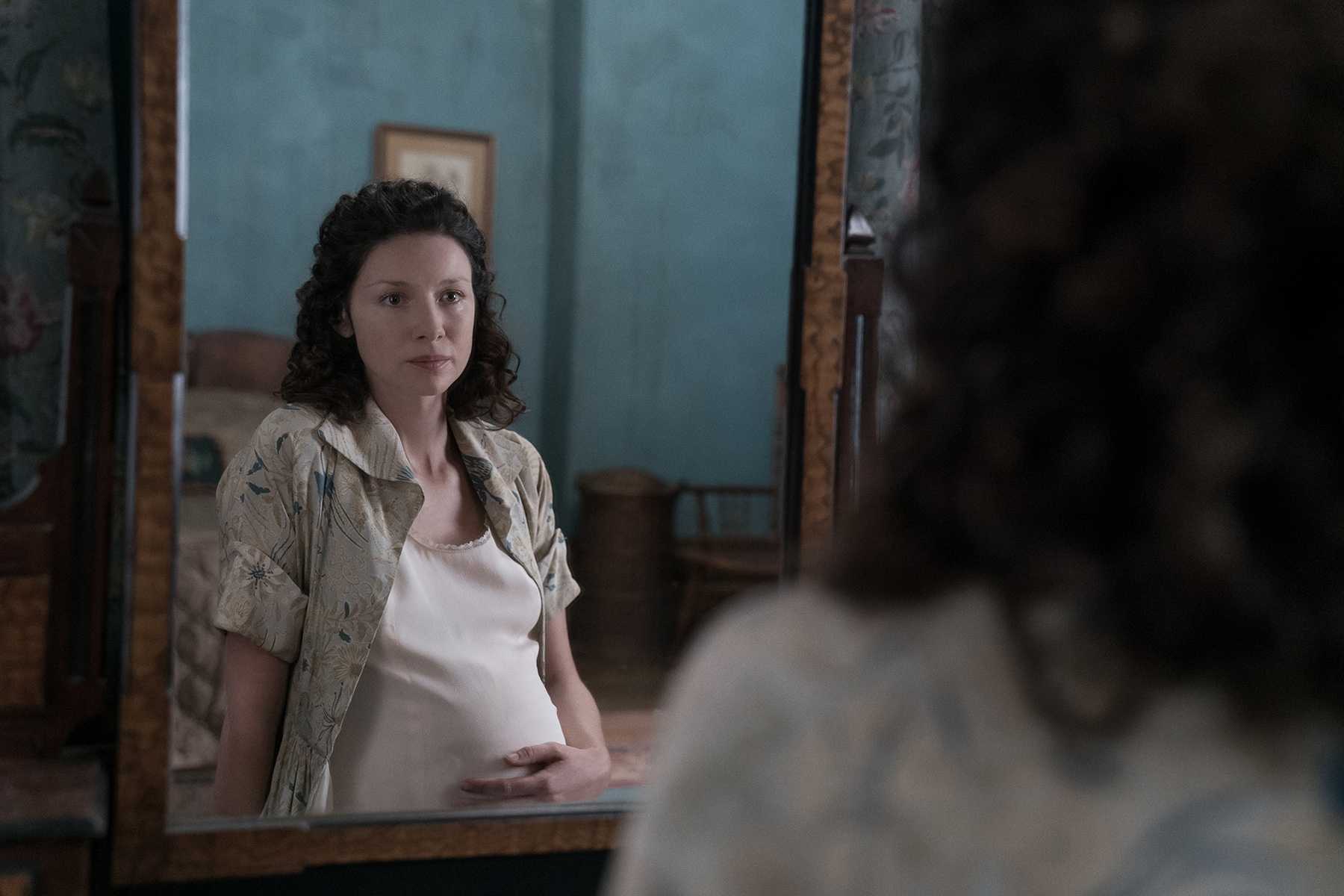 Back in Boston, Claire is finding that the modern conveniences of a gas stove, central heating, and refrigeration are but a membrane of security and comfort that can be easily popped. Milk can spoil, dinner can harden, and the floor can freeze. But she is tenacious and ingenuitive, and soon cooks dinner over the fire to the awe of a pesky neighbor. At the required social events she attends with Frank within the hallowed halls of Harvard, she also sees through the membrane of renown as the department heads lament the progress of women's rights and wax philosophic on the expectations for women after the war. After two journeys of time travel and personal interactions with royalty, direct involvement in combat, lifelong travel to archaeological sites and exploring the past, watching Caitriona Balfe's performance as Claire Randall is bloody terrifying as she realizes the current world allowed to her is shrinking and stifling, like invisible ankle irons being hammered together and chains holding her in place, and her facial expression and body language seem as if she was screaming inside while grasping Frank's hand and smiling politely.
For once, I think Frank felt those internal screams. I wish he felt them more often in the ensuing years and responded in kind, but it doesn't happen. Outlander is cruelly honest that way. It won't apologize for life not being kind and good people not receiving good things. If you've ever seen 2008's Revolutionary Road by Sam Mendes, the Randalls remind me of the couple played by Leonardo DiCaprio and Kate Winslet. They struggle with the confines of post-war society and their pre-war dreams and liberties, the life they could have had and the structures that are weighing them down. Frank wants the old Claire who was devoted to him, who doesn't look at him and see a nightmare and through him to see a ghost.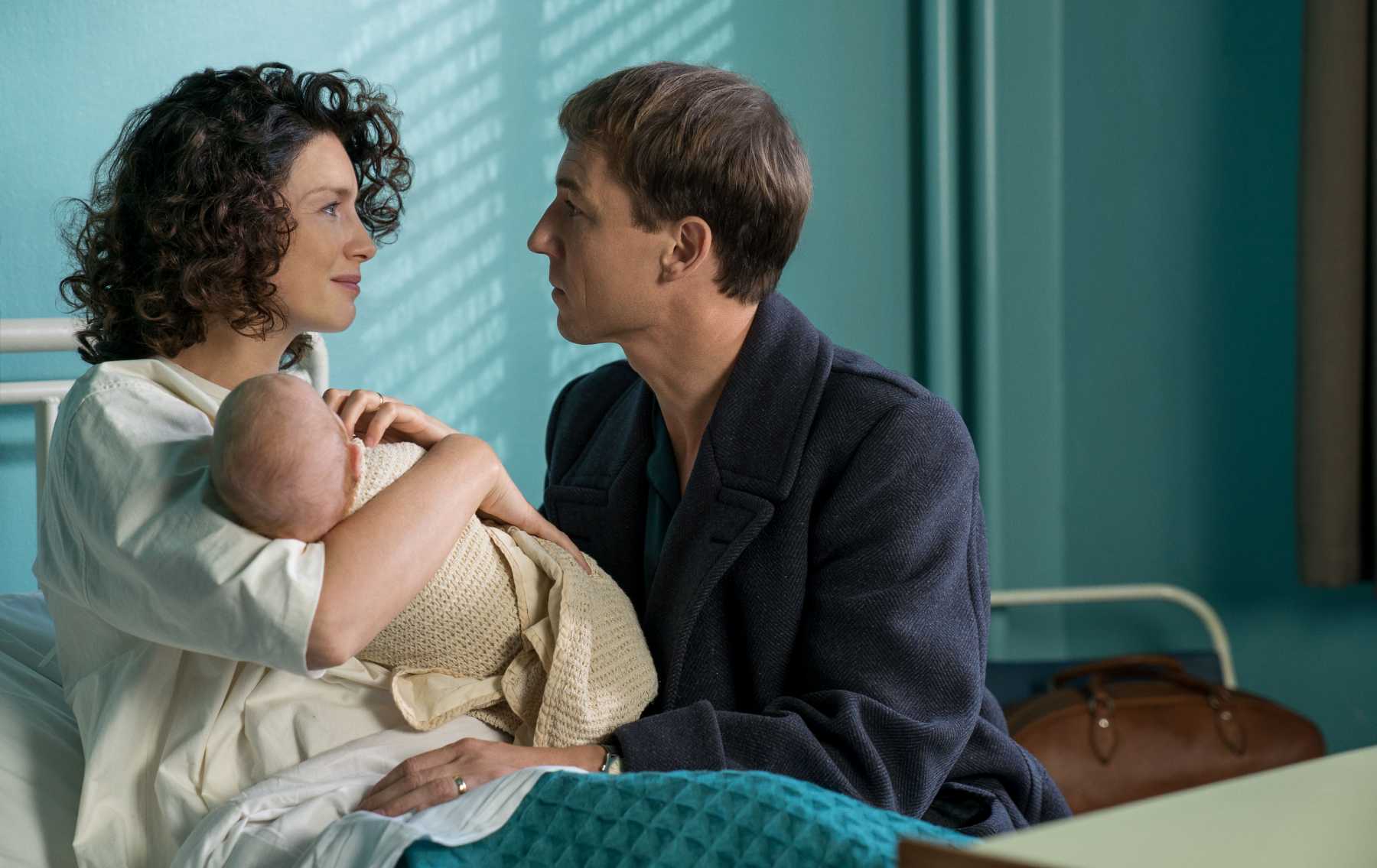 With Brianna, he has a new dream, a tiny person who doesn't know history and only exists in the present, with her father holding her, protecting and nurturing her. At first, Claire recognizes this dream and sees a fresh start, maybe a fresh persona to adopt. Maybe it won't exhaust her to perform this persona every day if she just thinks of it as a marathon, not a sprint. Maybe she can wear the mask forever and eventually forget that it's there. Brianna is life continuing, that one's heartbreak is not the end of the world, that people still live and breathe and love. It's a cruel trick of the physical and virtual world.
As Jamie is spared and snuck away on the back of a cart, whisked away from the executioners' block and taken back to his home, a simulacrum is formed: Melton believed him to soon be dead, and he arrives at Lallybroch nearly so, if not for Nature taunting him that his life was cruelly spared by the fresh blood on his leg indicating that his body continues. Ghost, man, or both? Was he erased from history and replaced by legends and campfire stories? Will his life in the physical world grow more illusory as his persona in the virtual world is enriched by rumor and renown?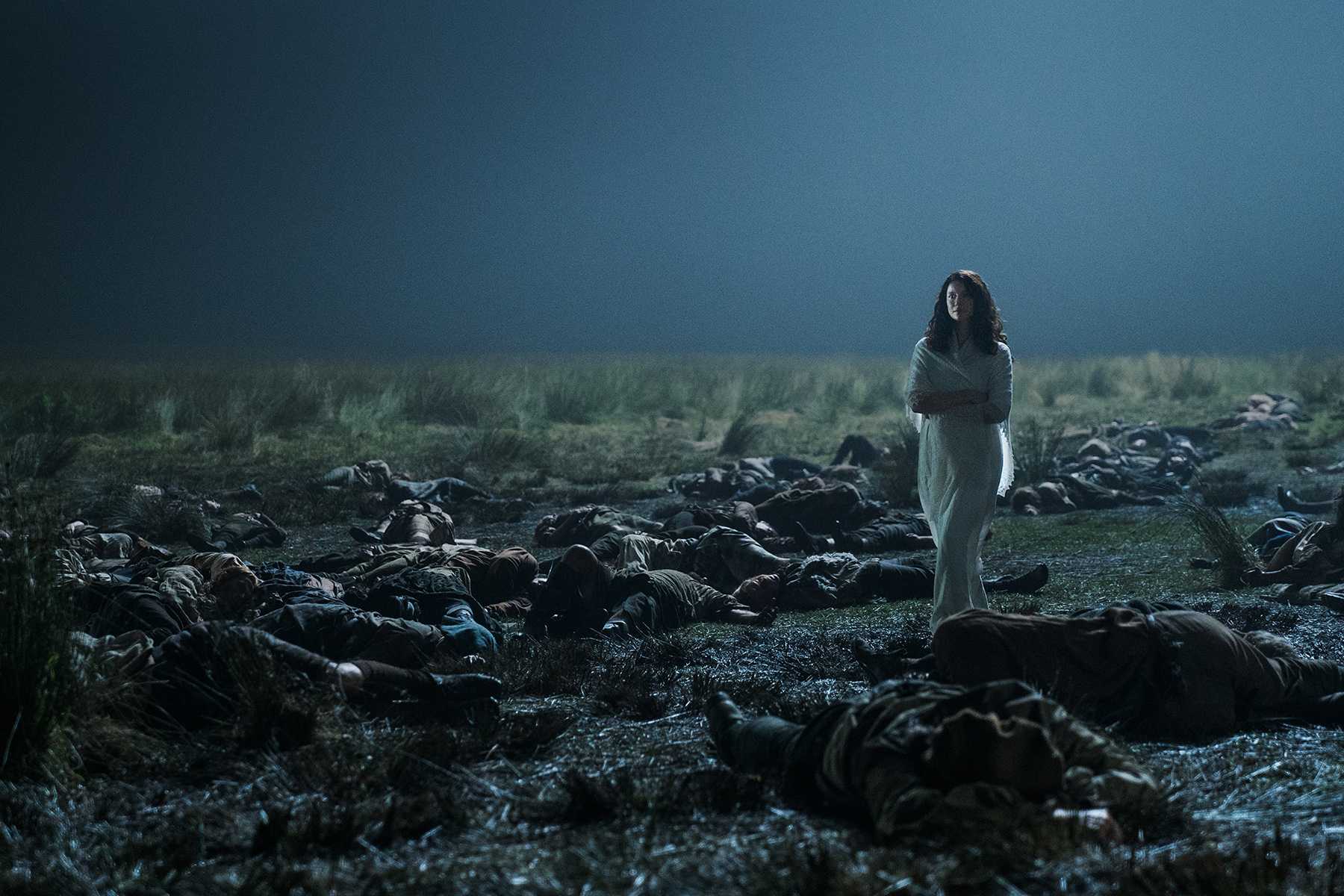 So the episode ends with the downy red hair on a baby's head, a shadow of a ghost, and the pantomime of a marriage. Hope and hesitancy and home at once, and the overwhelming fog of future events. The only thing to do is move forward; it's the only choice they have.