What though the sea with waves continuall
Doe eate the earth, it is no more at all ...
Nor is the earthe the lesse, or loseth ought.
For whatsoever from one place doth fall,
Is with the tide unto another brought ...
For there is nothing lost, but may be found, if sought.
- Edmund Spenser, "The Faerie Queene" (1590)
As Outlander is now almost one-third of the way through its third season, "Of Lost Things" is the series at its most vulnerable and raw, its emotional resonance unspoiled and thus at its most tender, as Jamie and Claire both approach middle age with a precious and hard-won appreciation for both the ethereality of youth and the importance of looking and moving forward, however heartbreaking it will be. The fourth episode continues the Lawrencian undertone of the last three episodes with the reversal of male objectification and female perspective, an examination of class conflicts, and the ongoing study of sexual and spiritual connections. It is as much about the preservation of self as its assertion, of sacrifice and duty and folly, and of delicate, cherished things like pearls on a string.
The first momentary shot of the episode is of Jamie whittling a wooden snake similar to the one his late older brother, Willie, carved for him. Such circular references will continue through the episode as we see dualities of places and characters between different time periods. The establishing shots of Reverend Wakefield's residence in 1968 and Dunsany Manor at Helwater in 1756 mirror each other as Claire, Brianna, and Roger organize their search for Jamie's last whereabouts and Jamie soon learns the protocol of his new residence. As the researchers reach an impasse as Ardsmuir Prison closed at 1756 and there seem to be no further records of Jamie existing past the dispersal of the prisoners, so Jamie has moved into better surroundings than a cold, dank prison cell, but is without the connections of kinsman or freedom to live as his true self: indeed, Lord John (David Berry) had advised him to use an alias so as not to promote his notoriety during the Uprising.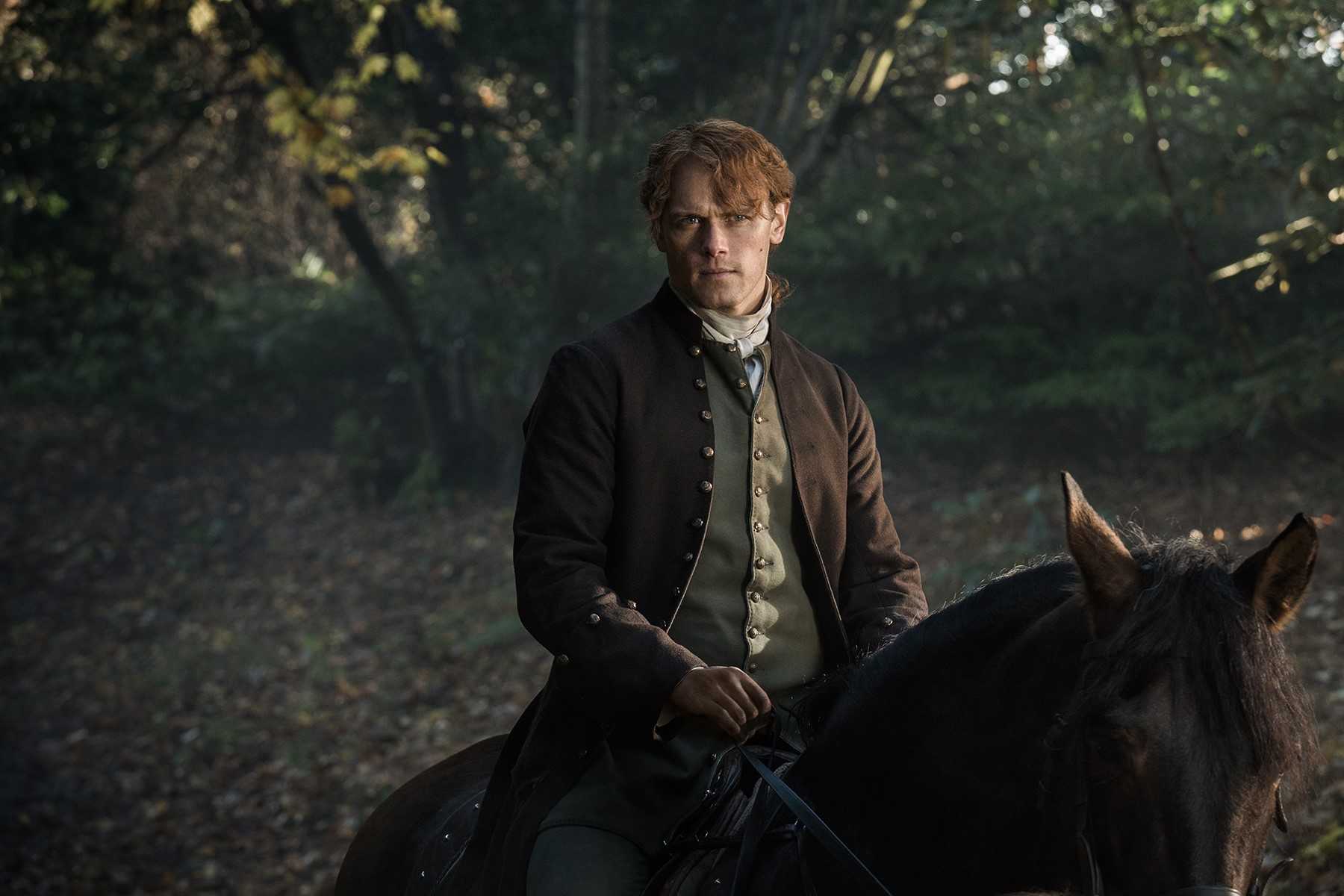 Soon after "Alexander MacKenzie" arrives at Helwater, Lord Dunsany (Rupert Vansittart) and his family - Lady Louisa (Beth Goddard) and daughters Lady Geneva (Hannah James) and Lady Isobel (Tanya Reynolds). Both Lord and Lady Dunsany carry themselves with an air of privilege and status: they face and approach only select servants such as the head butler, Evans (Richard Addison) and dictate any instructions to lesser servants, including the new Scottish groom, through him. Even Evans directs another manservant to relay Dunsany's instructions to Jamie. Though Isobel is kind towards Evans, Geneva is proud and snobbish towards the servants.
Jamie meets with his employer and an understanding is made between the two men to continue his pseudonym, as Lady Dunsany still mourns her son who died at Culloden and won't stand for a Jacobite amongst her household. Jamie confesses that good men were lost on both sides and that he personally knows the pain of losing a child, evoking a sincerity which Dunsany seems to appreciate. Still, he maintains the social strata between them by saying, "You are a prisoner, MacKenzie. Mind you don't forget it."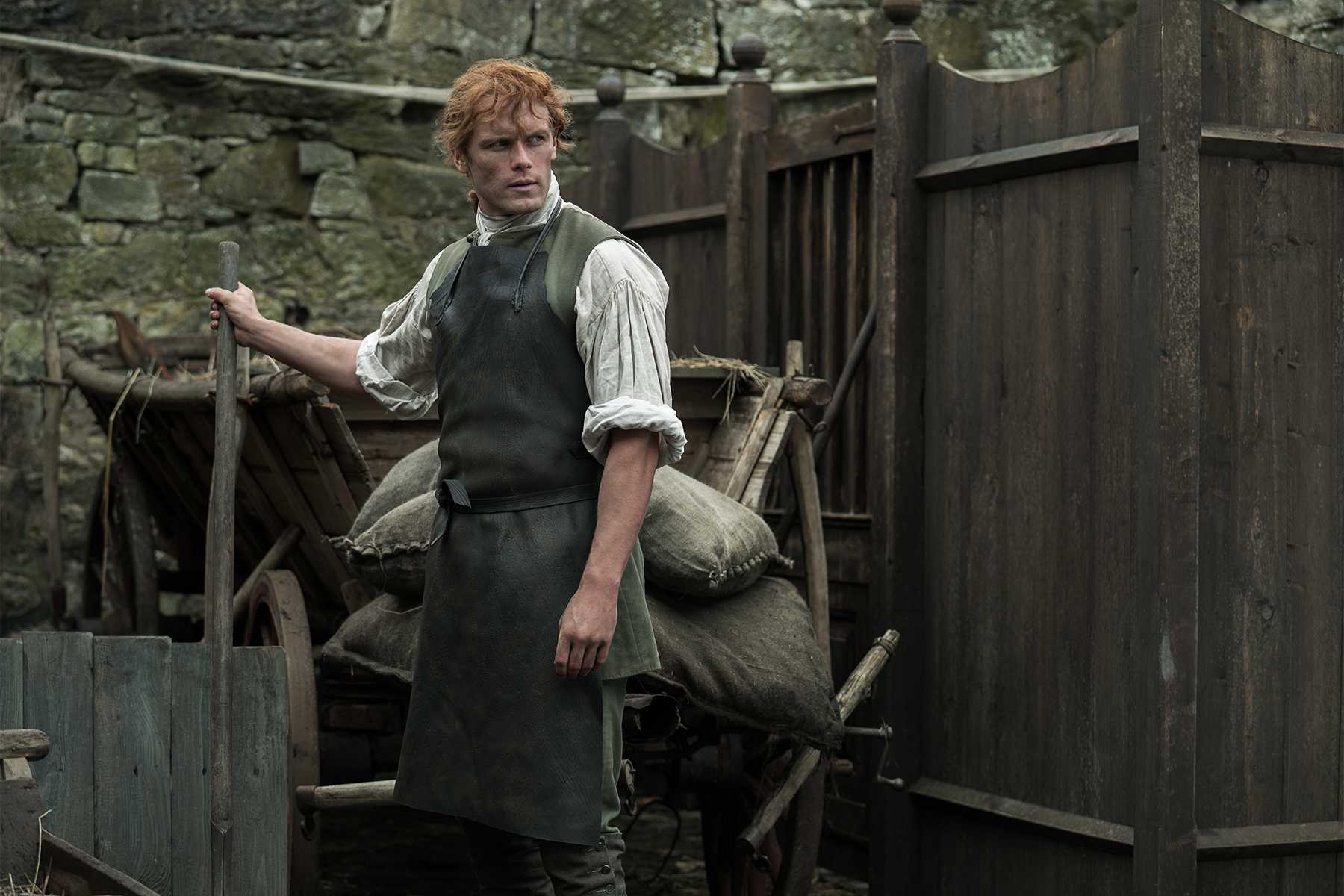 Director Brendan Maher, who also directed the first and third episodes, pays specific attention to the lighting on Sam Heughan's enormously expressive face throughout the episode, as his early outdoor scenes are largely low contrast, giving him an almost bleached-out and muted complexion and hair color, as if his life were drained of energy and passion. Indeed, when we see him comply with the expected ceremonies of a servant, he displays little verve towards the spectacle. The interior and later exterior scenes, however, show him in low-key, high contrast lighting, as if to reflect his ongoing duality of persona and self - who he presents himself or is perceived to be versus who he really is. It also reflects his struggle between being objectified and assuming a sliver of agency in his current situation: this evolving conflict is subtly revealed through Heughan's facial reactions, especially in his eye muscles, nostrils, and jawline.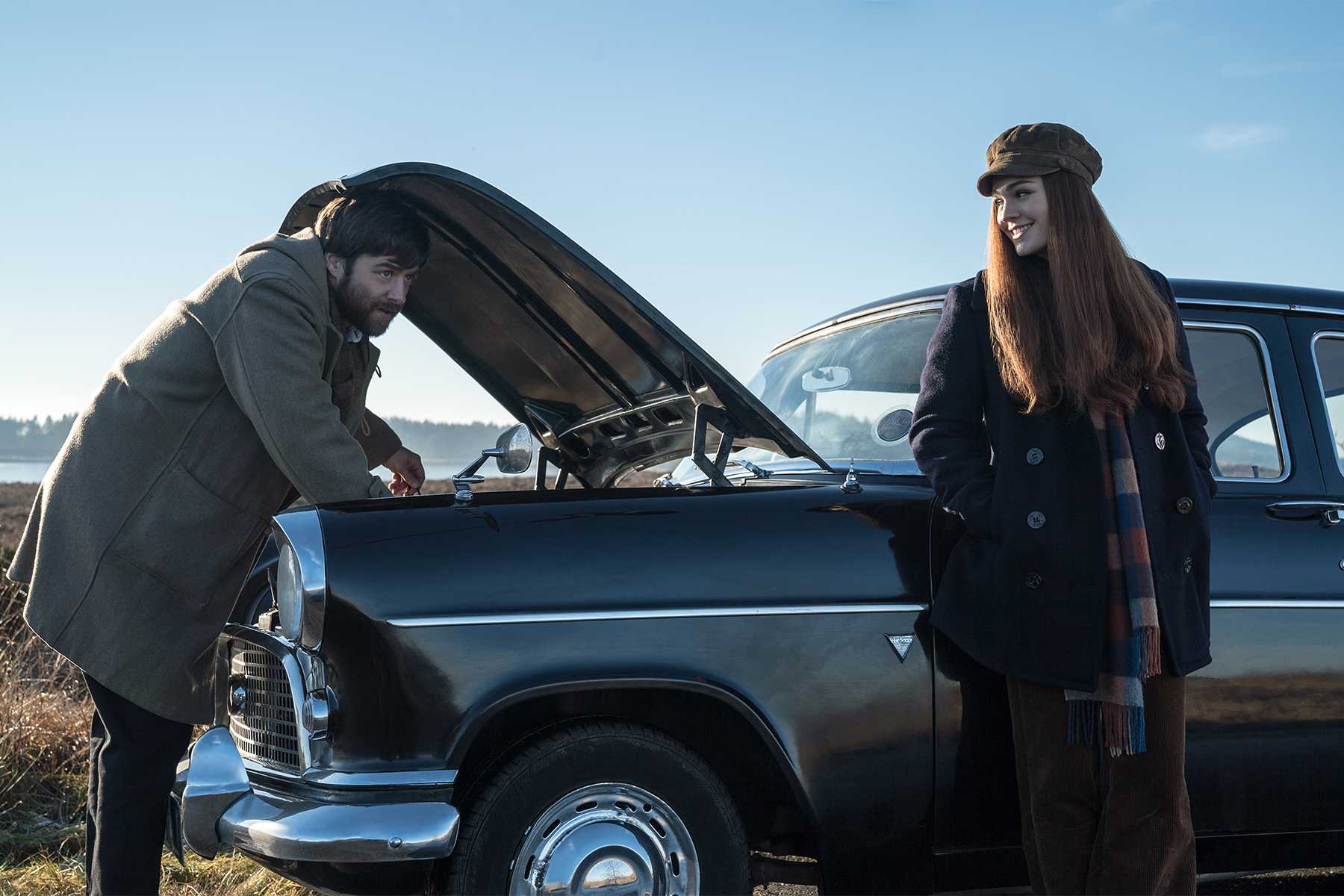 On the other hand, poor Roger Wakefield (Richard Rankin) is still in the bumbling friend zone with the redheaded firebrand, Brianna (Sophie Skelton), as they and Claire painstakingly sift through the records of the past for any record of Jamie's life. Brianna teases him about Fiona (Iona Claire), who is the granddaughter of Claire's old friend, Mrs. Graham and firmly in a friend zone of her own. Roger assures her that he has no girlfriend, and seems a bit breathless around the coquettish young American.
Back at Helwater, Jamie and the stable hands draw straws to see who gets the honor of escorting Lady Geneva on her daily ride. She calls Jamie a "useless Scotchman" and orders the men about with a directness that demands compliance. Isobel is different both in look and temperament: her costuming is more gossamer and lace as opposed to her sister's bold, clean lines, and she is insightful whereas Geneva is self-centered. As they look upon her father's horses, Isobel and Jamie discuss the luxurious stables and the creatures who inhabit them. "A cage is still a cage," she reminds him, and for both of the daughters, they are counted in their world of privilege and wealth as equally valuable chattel for business transactions such as marriage and familial stability. Their fate lies in their transfer from one man's house to another's.
Isobel also speaks to Jamie of Lord John, whom she has known since childhood. She thinks him a "rare and interesting person," and potential husband material. Jamie tries to persuade her that "his passion lies in soldiering" (haha) but the girl is no dummy, and what is communicated through their eyes does not need to be spoken. She admires John's dedication to his profession and it has not swayed her opinion of him.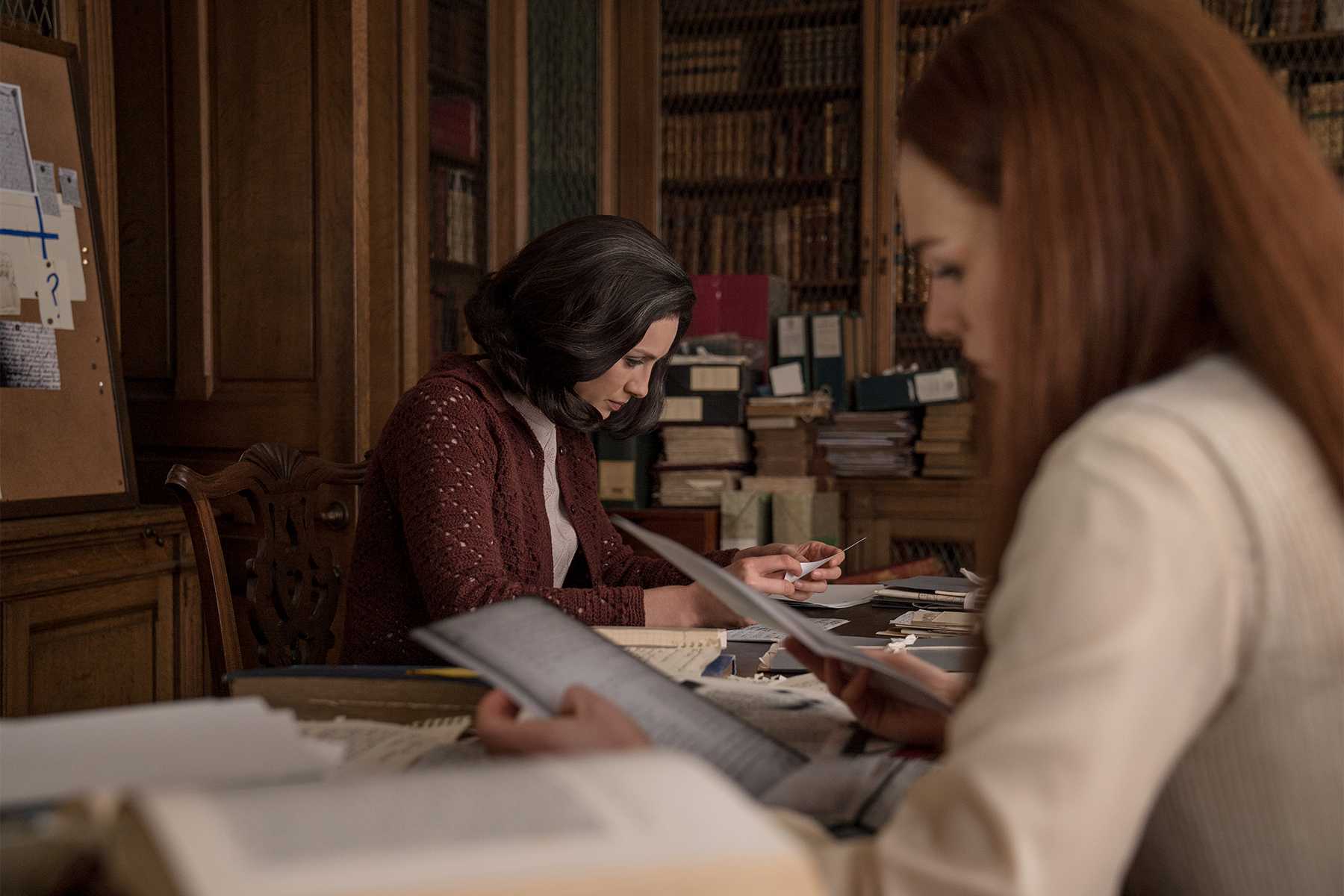 As Claire's progress in Scotland inches forward, life also moves on at her hospital in Boston, and Dr. Abernathy (Wil Johnson) calls her about returning to work. There is a warm familiarity between them as they discuss old routines and new patients, but Joe can sense an aloofness and distance between them over the phone, as Claire postpones her return and continues her focus in Scotland. It is clear that at some point, she will need to confide in her friend both for personal and professional reasons.
We again see the rigors of ceremony and protocol at Helwater as the Dunsanys prepare for Geneva's marriage to the elderly and wealthy Earl of Ellesmere (James Cameron Stewart). who is easily three times the girl's age. As her father and fiance discuss the mutually profitable merger, Geneva remains in the background until she must mechanically walk forward and wait to be addressed. As the old codger reminds her that they will be wed in a fortnight, she seems to be screaming inwardly while maintaining a mask of cool acquiescence. Only when she witnesses the Earl's haughty treatment of MacKenzie, and the groom's subtle rebuke in Gaelic, does she spot not only a perceived kindred spirit but also a new pet to torment.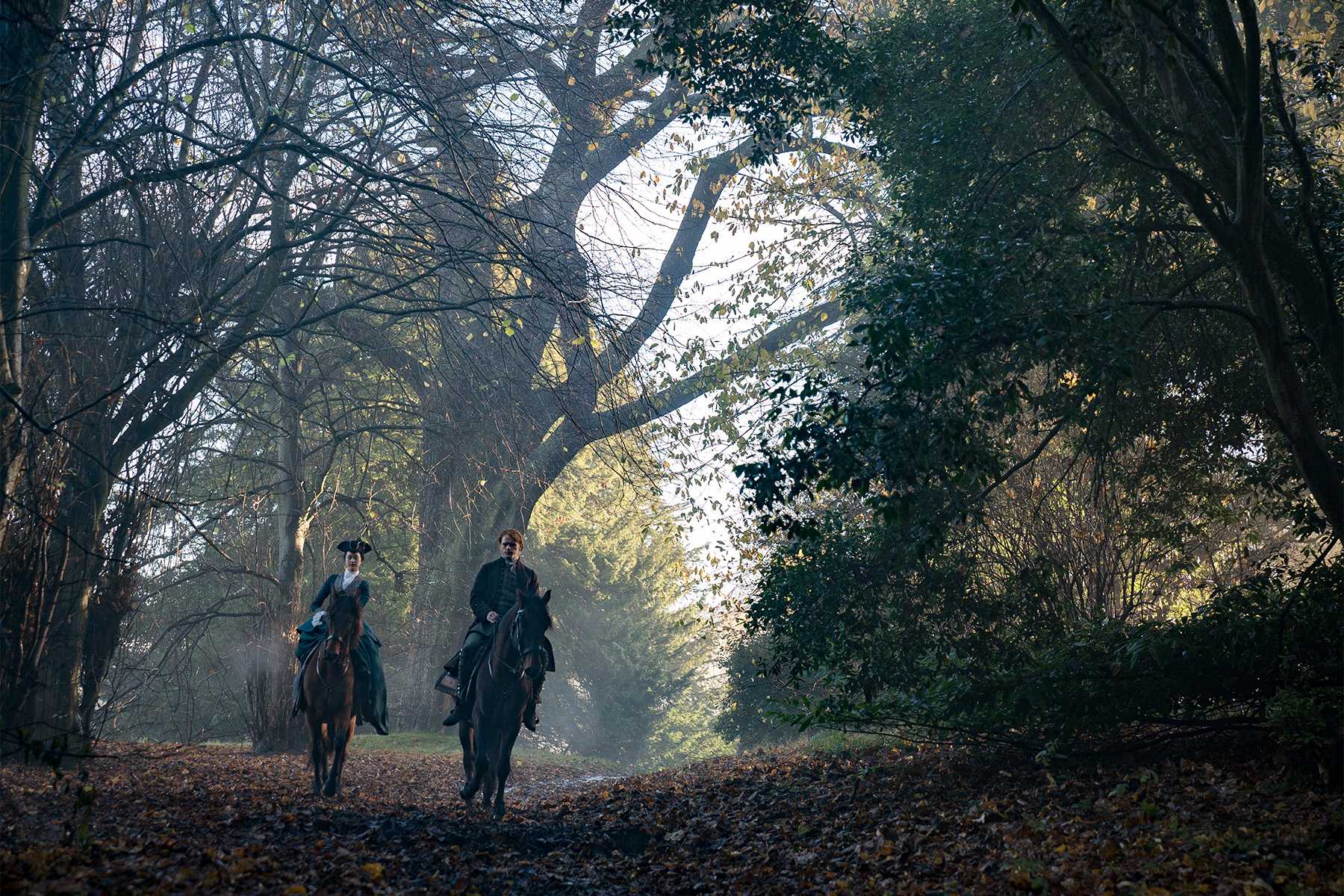 For someone as spoiled, passionate, and stubborn as Geneva, those two weeks until her wedding must be like a steady walk to the execution chamber, and her lone solace seems to come from riding her horse. Her riding jacket and skirt are like a power suit for holding ranks amidst the male riders who must accompany her, and it takes real skill and confidence to ride sidesaddle. That's the one area where she can assert herself, and when she demands that MacKenzie take her riding one day, she tests her own boundaries of male contact by faking an injury and getting him to run to her side before laughing at him. When Jamie tosses her into a puddle of muddy water in disgust, she now perceives a connection between them and is almost giddy about it.
Later, as Jamie and John play chess outdoors, there is a comfortable serenity to their interaction that must be a relief to Jamie after enduring the annoying Geneva back at the house. At least John knows who Jamie is and they understand the losses and sacrifices in each other's life, as well as the inability to live or love freely. It is this understanding that supersedes the unrequited love John has for Jamie and allows them to build a friendship which both desperately need. In a scene full of double entendres, John's brother, Lord Melton (Sam Hoare) interrupts the chess game with the Dunsany sisters and is shocked to see MacKenzie still alive and working at Helwater due to the referral of his brother! "If it were up to me, I would never have let such a man go," Melton says, "but then, I'm not my brother." Jamie admits to the girls that he and Melton were previously acquainted, and it is obvious that Geneva suspects more to the story.
Here is where Toni Graphia's script is brilliantly indicative of Jamie's subtle agency over his current situation: the language and accent he uses around the different people with whom he interacts at Helwater. Around his trusted friends, like John, he speaks informally but warmly, his Scottish burr a soft lilt as he is relaxed. Around his employer he is more formal, structured, his words clipped and succinct. Around Ellesmere, he is indifferent to the man's status and prestige, speaking Gaelic to show his disdain. He is used to ascertaining the person and circumstances he is encountering and reflecting their perception of him in his countenance, carriage, and diction. He chooses which version of Jamie to portray; that is the little victory he can enjoy.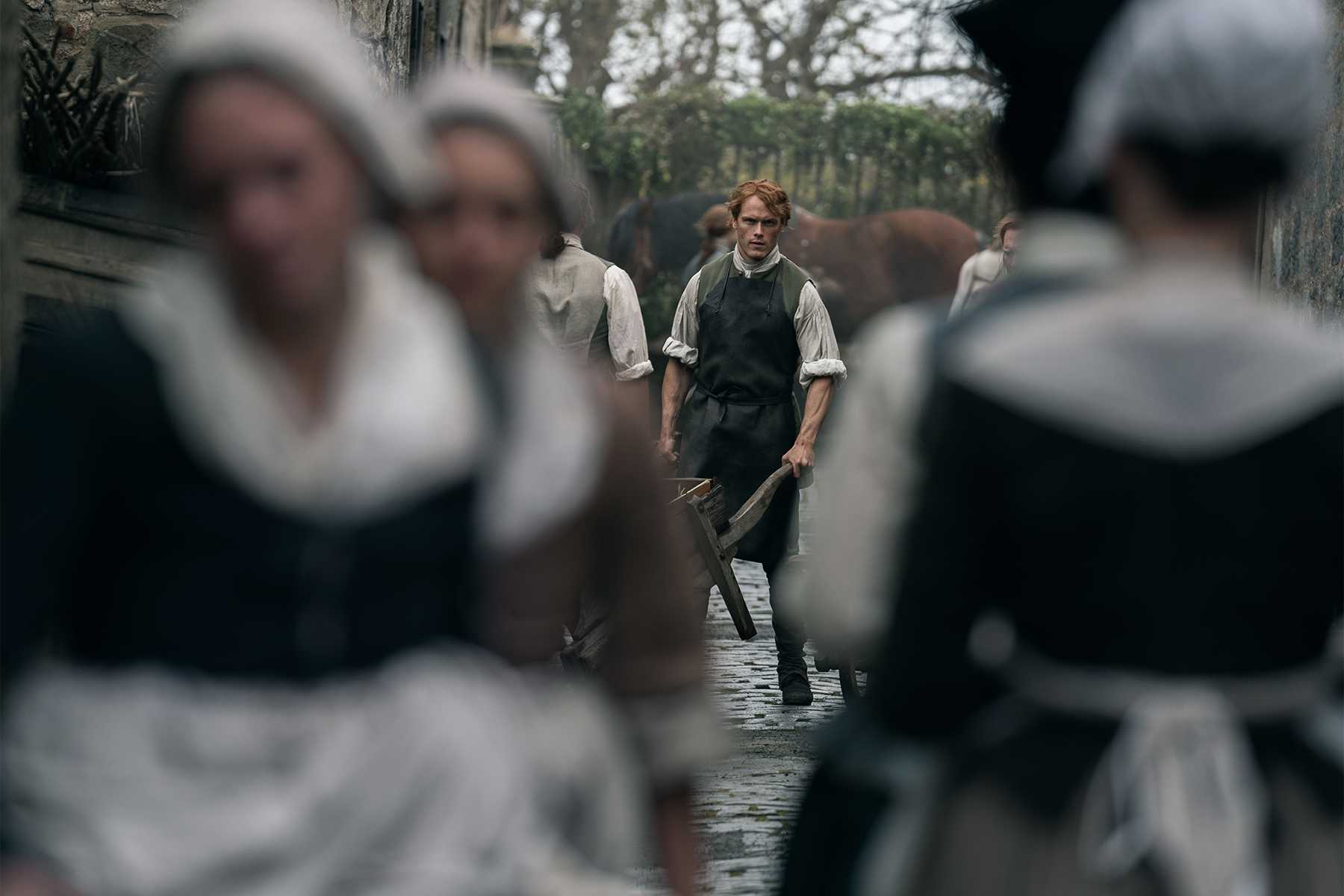 Sure enough, flirtatious charm and alcohol pry open Melton's lips, and Geneva's ultimate agenda is made explicit in her next meeting with the rugged groom whose audacity landed her facedown in mud. When she asks MacKenzie what he is doing near the stables, he replies, "Shoveling shit." Instead of being shocked, she is stimulated. Her demand is this: with days to go before she is wed to Father Time, she wants Jamie to come to her bed, which leaves him honestly shocked. She holds her ground, literally and figuratively, and will not be swayed, even if it means threatening to send him back to prison or harm his family at Lallybroch. As enraged as he becomes at such an "indecent proposal" and threat, the mention of his home cuts him to the quick, as does her mention of his label from the broadsheets, Red Jamie. Insolent as she is, she knows how to get to his truth, and he very reluctantly agrees.
Outlander hit a home run with casting Hannah James as Geneva Dunsany, as she holds her own against the intensity of Sam Heughan and the loaded expectations of legions of fans towards the infamous opportunist. The attention paid to the character development of both Dunsany sisters is remarkable, as it is clear which girl stole the desserts and toys and demanded the most attention growing up, and which girl had to mould herself differently just to survive in the household. For book fans, Geneva leaves a bitter taste due to her selfishness and reckless behavior, but though I hate the girl's choices, I can't help but pity her situation. She is merely exchanging one gilded cage for a bigger gilded cage, and her restlessness is palpable.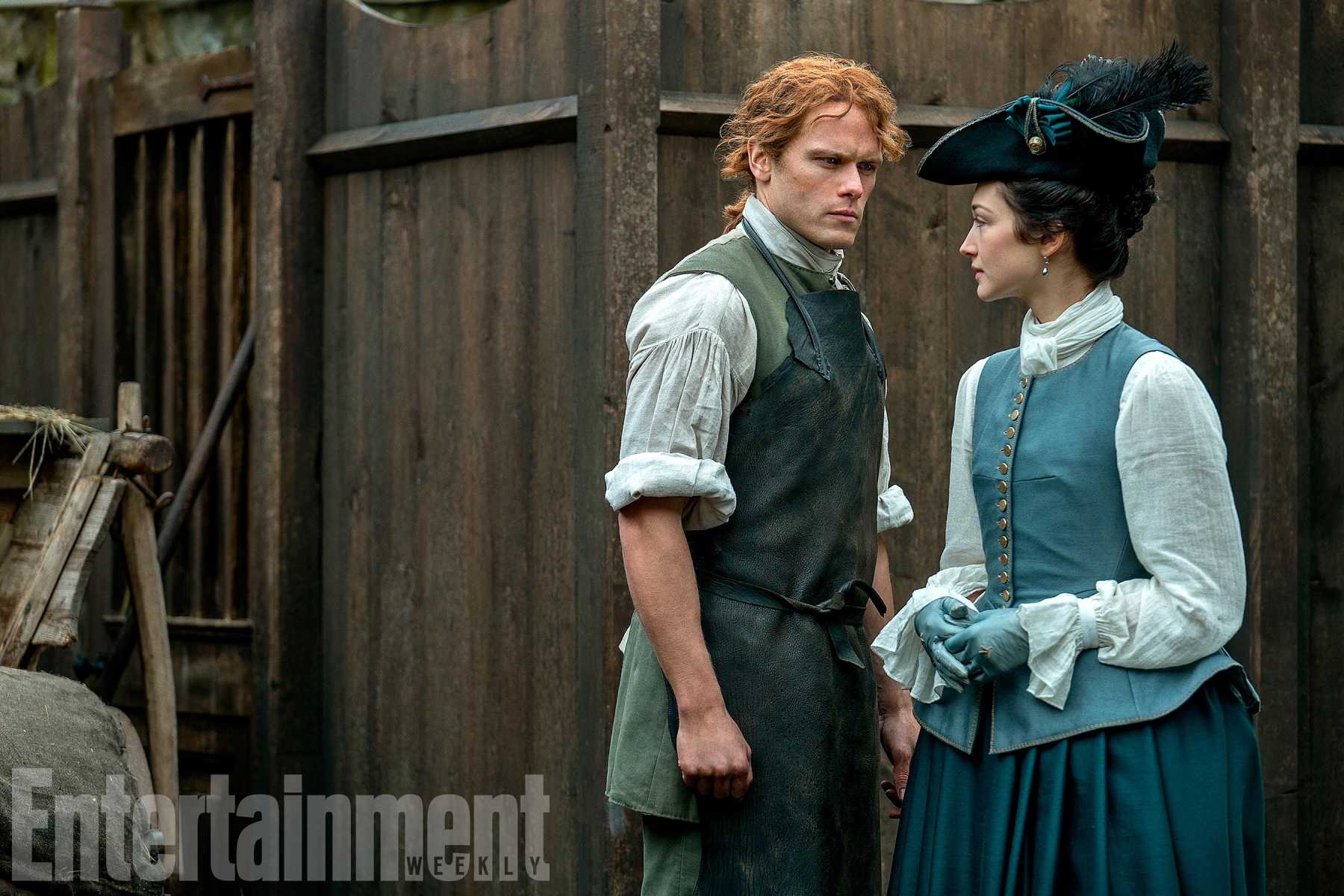 What she doesn't realize, as she is still immersed in the self-centeredness of youth, is how her actions can affect others and have far-reaching repercussions. She perceives tiny triumphs in her assertive attitude around Jamie, as seen in her proactive body language and diction. When he comes to her room at night, she is already in a low-cut ruffled robe without a shift, standing up to meet him. To look around her sumptuous bedroom (another awesome Jon Gary Steele production) with the handsome dark wood furniture and the flower-and-vine pattern on the walls, it almost seems like a cage in a beautiful garden, a more formal version of Jamie's candlelit cave in the woods.
Jamie won't allow her to call him by that name, as she has "brought me to your bed by means of threats against my family." He relents to her calling him Alex. Their love scene begins almost in a vacuum of silence, as there is no underlying score. She watches Jamie disrobe with a mixture of curiosity and arousal, as this will probably be her only time to enjoy the experience, at least until her elderly husband kicks off and she can remarry. Jamie isn't going to indulge her too much, as he tosses his clothes willy-nilly on the floor, but he does allow her to watch him undress and she actually gasps at the scars on his back. I think for the first time, she realizes that there is not an object but a person in front of her who has known punishment and pain.
His tenderness towards Geneva is bittersweet as he is being forced to comply with her wishes but also sympathizes with her powerless future position. As they start to become physically intimate and she reveals her anxiety over what to do, he takes over as a patient instructor, encouraging her to explore his body but also asking permission to touch hers. He lets her steer their interaction, telling her "We don't have to do this; you can change your mind if you want." She responds, "No, I'm doing this for myself." In response to his kindness and manners, she becomes more polite, asking to touch him in kind. Their sexual contact is a measured choreography, fluid and sensual but without love or spiritual connection. Geneva admitted that she wanted "her first time to be with someone like you," rather than Jamie himself. It reflected the distance between them during sex, as opposed to making love, which Jamie takes time to separate for the girl after it is over. The only time music is played is during the actual sex - not during the disrobing or the afterglow - and it is melancholy with a hint of foreboding. There is no foundation of love underneath the act, and so they perform together as a well-oiled machine, so to speak.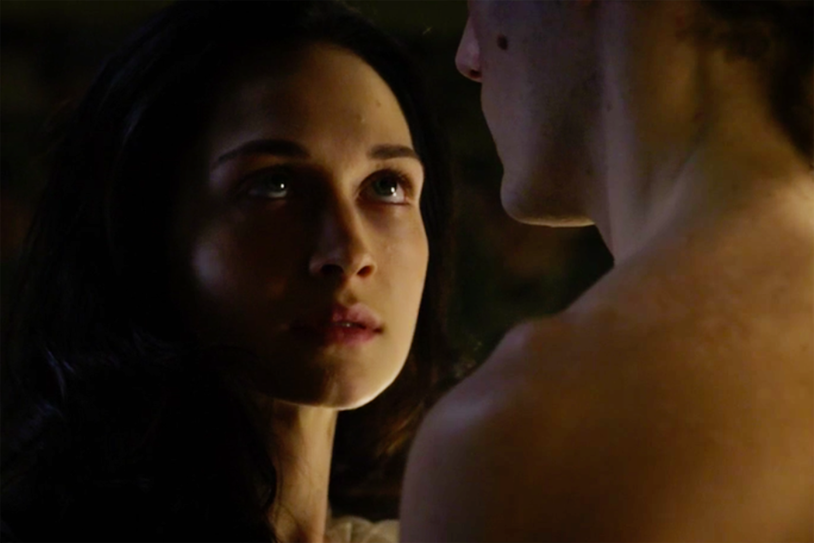 As I wrote in one of my earlier articles regarding Voyager, "I don't envy the position in which [Geneva] found herself with Ellesmere. She played no active role in the business transaction that was her marriage, serving instead as the chattel in a fortuitous arrangement between the two houses. Still, the ultimatum to Jamie was unforgivable, though it came from a headstrong, selfish girl who misplaced her anger for a night's passion. For Jamie to be with a woman other than Claire, especially in this situation in which his family and livelihood was being threatened, must have been surreal in that every second of that night with Geneva must've been a clash between physical sensation, emotion, and memory…[For] Claire to physically be with Frank, as in the night a few months after Brianna was born -- though a very different situation in terms of consent and circumstances -- shows a similar paradox of physical stimulation/response and emotional disconnect. As Geneva confuses sex with love, so we see Jamie and Claire's lovemaking as a deeper experience between two people who use it as part of an expression, not just an act."
The next time we see Geneva, it is many months later and she, now a married woman, arrives for a visit to Helwater great with child. One taunting glance back at Jamie and we know that it wasn't sired by the creaky Ellesmere, and Jamie's inability to leave his station and speak or attend to her is excruciating, as we know how much he grieves losing one child to death and another to separation. For a man grown accustomed to being separated from those who push his life forward, this is an unexpected sign that his life carries on.
In 1968, Claire also receives an unexpected gift: Fiona returns her Scotch pearls that she had given to Mrs. Graham. It provides a small boost of motivation, but I think it also reminds Claire of all the tiny pearls in her current life, and that starts to weigh against her in Scotland. On the other hand, Brianna senses how close they may be to finding Jamie (she doesn't refer to him as Dad or Father yet) and fears that she may actually lose her mother just as "the wall between us if starting to come down." Roger shares her anxiety as she may go back to Boston, and she instigates their first kiss by the hearth. After he lost the Reverend, Claire is a link back to his childhood and Brianna represents a possible future, so his fear is being left alone again.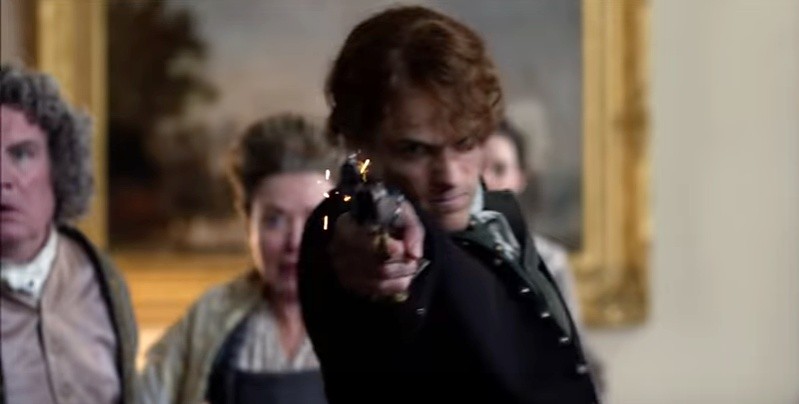 Soon after seeing Geneva at Helwater, Isobel finds Jamie in the tack room and insists he come with the family to Ellesmere, as her sister is in labor and having trouble. While they are there, Geneva gives birth to a baby boy, about which Jamie finds out through servants as he anxiously waits in the quarters below. The look on his face upon learning of his son is a mixture of pride and concern, which slowly turns to shock and anguish as things take a turn for the worse and Geneva dies of complications. Isobel slaps him out of grief and anger and confesses that she knows he lay with Geneva, and that her sister loved him. The Earl, too, knows that his wife had lay with another man before their marriage (though he doesn't know who), and in his drunken state he turns violent and vulgar, insulting her reputation and threatening to kill the child. Though Lord Dunsany pulls out a pistol in retaliation, Jamie intervenes to calm the situation and rescue the infant, ultimately shooting Ellesmere when it looked like he might actually strike the child. Again, we see the look on Jamie's face change from awe at his sleeping son that he picks up off the floor to horror at the possible repercussions of his action.
Fortunately, the child, whom the family named William after Lord Dunsany, is fine, and after everyone returns to Helwater and things calm down, Jamie is not charged in the Earl's death. Isobel calls the child "Willie," to which Jamie slightly starts (another instance of Sam's tiny facial reactions) as that was his brother's nickname. Isobel apologizes for her behavior after Geneva's death, and assures Jamie that he was not to blame for it. "My sister was a difficult woman," she admits, "and you were kind to her." As she walks across the yard to speak to her mother, Jamie gets a brief moment alone with his son, looking at his tiny bundled form in his pram and assuring him "Dinna fash yourself - I am here."
When Lady Dunsany approaches Jamie next to the sleeping baby, they share a conversation within a conversation as she relays the coroner's verdict on Ellesmere: death by misadventure. Though she thanks "MacKenzie" on behalf of her family, there is still that ceremony of status and she does not make eye contact. When she does address him directly it is to offer him release from parole and the opportunity to return home to Scotland, to which Jamie's eyes light up and he briefly, briefly breaks his composure. His elation soon turns to concern over Willie, and any momentary desire for home is superseded by his fatherly love for and protectiveness over the boy. He asks to stay so as to continue sending his salary back to Lallybroch, and his request is granted, though Louisa provides him with the first bit of freedom and choice in years: "When you are ready to leave, you have only to ask." Jamie, in response, leaves her with a rare look of contentment and hope on his face, as if he were finally able to breathe a bit.
In a crowded pub filled with disapproving male patrons, Claire sits defiantly at the bar with Bree and Roger as they sink into dejection over their dead ends. On a small stage next to the bar, a woman recites lines from the Burns poem about freedom and whisky, which Claire remembers reciting for Jamie. Roger gently suggests that they move to the lounge where females are more welcome, but Claire refuses. She has seen enough restrictions over the last few decades and if she is allowed to operate on men on the battlefield and in the surgery ward, she can drink beside them at a bar. As she demands a seat at the table, so she also realizes that as far as she's come, she might not be able to go back or to "spend my life chasing a ghost." Jamie, as with Frank or the Reverend, may simply be lost, not to history or his time, but as a pearl that has been snapped off its string. As she proposes a toast "to all of those we have lost," she glances upward while drinking her whisky, a silent surrender to God or fate or destiny for her own solace and progress.
After several happy years guiding young William Ransom (an adorable Clark Butler) as his groom, "Mac," Jamie begins to see what others have begun to casually notice: that the boy looks remarkably like him. For now, it's just a funny coincidence, but soon it may become idle gossip or lead to serious accusations which could affect the boy's future. When Jamie tells Willie that he has to go home to Scotland, the boy wants to join him and throws a fit when he can't, earning him a swift spanking. The headstrong and impish boy declares that he hates Mac who replies "I'm not that fond of you either at the moment, ye wee bastard!" When the boy insists he's not a bastard, Mac relents and apologizes, stooping to the boy's level to take it back. When Willie hugs him and begs him not to go, the controlled reactions in his face, especially the eyes and jawline, are heartbreaking.
As word of MacKenzie's imminent departure spreads, so Lord John pays him a visit to update each other's status. He agrees that it is time for Jamie to leave, as "We all have our secrets; yours is walking around." Jamie asks him to go on a private walk, where he asks John for a serious favor: to look after Willie as a father figure in his absence. In exchange, Jamie offers himself to John knowing the latter's feelings. John admits that he will desire Jamie until he dies but that won't make him accept the offer, and besides, he has secrets of his own to hide. He announces his upcoming marriage to Isobel, as they are old friends and he "shall make her an adequate husband." This also will enable him to care for Willie, and Jamie tells him he shall always have his friendship. In a reversal of their tense scene in John's study in Ardsmuir, Jamie takes John's hand in both of his, and the connection between the two men, regardless of type, is genuine and affectionate. They are bonded by loss and sacrifice, and the past experience of being with someone who had "inspired" their respective lives - the major difference is that John's someone is dead, while Jamie's is alive.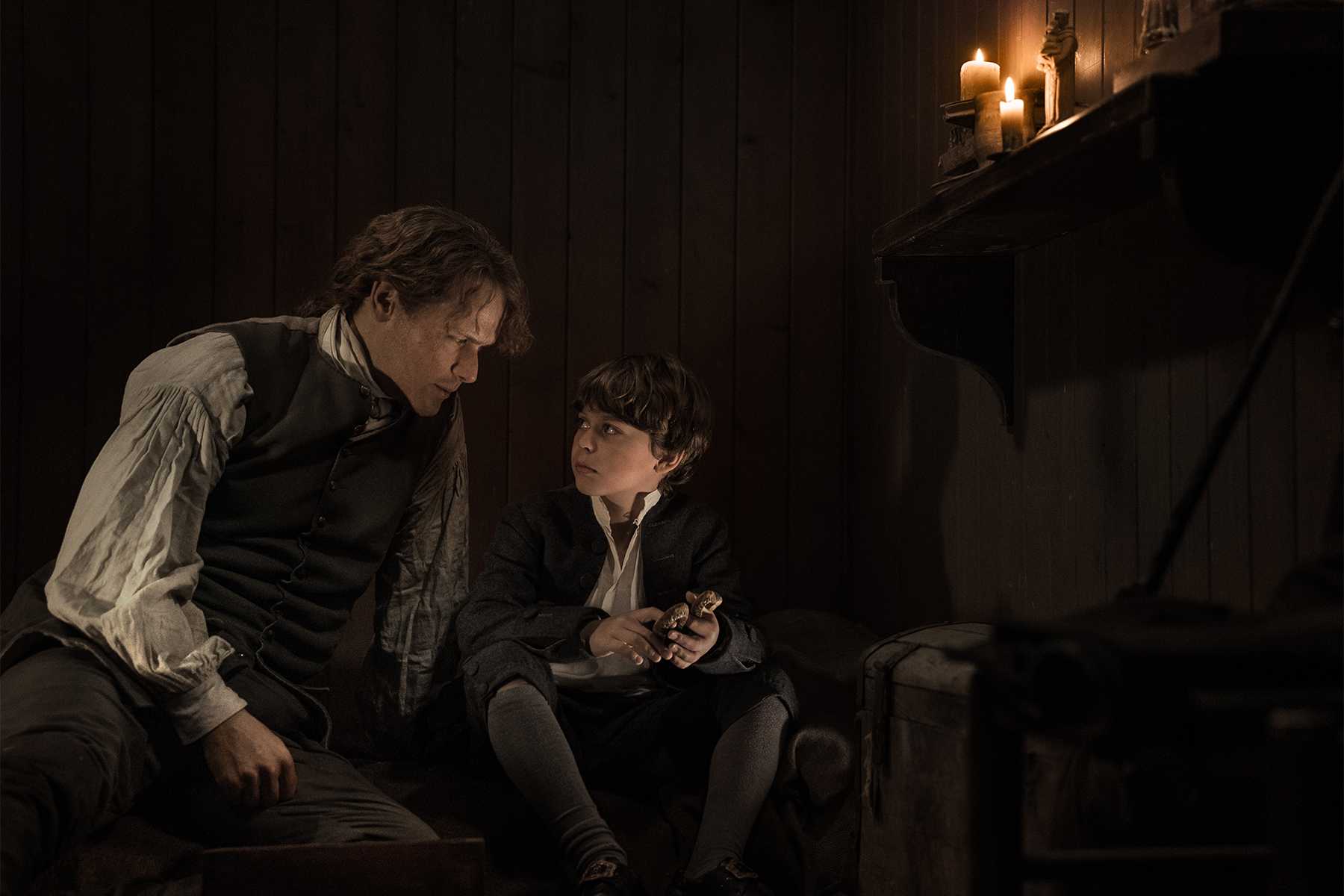 On the night before he leaves, Jamie assembles his prayer candles and retrieves a statue of St. Anthony from a hidden box, only to be interrupted by Willie who has come to pay his favorite friend a final visit. He repeats his granny's words that "only stinking Papists burn candles in front of heathen images," to which Jamie instructs him that St. Anthony is the patron saint of lost things, and that he prays for those he has lost such as his wife. When Willie remarks that he doesn't want a wife, Jamie says that he will find her one day - or she will find him. In the glow of candlelight in the little room above the stable, the father baptizes his son William James, his new christening name that they both will share. He also gives the boy a wooden snake with "Willie" carved onto one side, just like his brother had done so many years ago (only he had carved Jamie's pet name "Sawny"); it is something for the boy to remember him by. When Willie says that he doesn't have anything for Mac, Jamie replies, "Dinna fash, lad. I'll remember you."
So the episode ends with tears and goodbyes and journeys. Claire and Brianna sit on an airplane bound for Boston, and I couldn't help but remember her riding behind Jamie on Donas, bound for Lallybroch, and telling him about airplanes. Roger sits alone in his adopted father's study, holding the small plane he played with as a boy. At Helwater, Isobel promises Jamie that she and John will "take good care of your son." John looks like his heart is breaking. Willie still can't understand what it means for Mac to leave, and why he can't join him. As the boy calls out for Mac to come back, Jamie rides steadily away, not at full gallop but a slow trot, as if pieces of his heart are chipping away. The high contrast on his thin and weathered face makes him truly look older and unusually fragile, rivaled only by his tenuous composure.