Thanks to 
Guardians of the Galaxy
, we're used to seeing raccoons doing far more than just raiding dustbins,  but this real life rebel was lucky to escape with
his life
! Richard Jones was walking through the Ocala National Forest when he took this incredible picture! He says that he was watching the alligators with his son when they disturbed a little raccoon who panicked and headed for the water, jumping onto a log... which was actually an alligator. It's like something out of a Disney movie.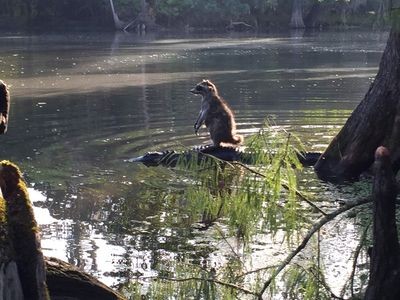 Courtesy of wftv.com
Jones managed to get this photo before the raccoon hopped away to continue his day without being an alligator's lunch.
"I snapped a lucky picture right when the gator slipped into the water and before the raccoon jumped off and scurried away." Jones said. "Without the context you'd think the raccoon was hitching a ride across the river. Definitely the photo of a lifetime"