Ghostbusters is coming back with a third movie via Sony--and it'll have an all-female cast! Sony has indeed been working on the next installment of the series, but not much has been revealed until now. After long speculation and hints, it has now been made official by director Paul Feig that the cast will be filled with women.
It turns out Sony finally got Feig to sign on for the next Ghostbusters, which will be written by Katie Dippold. In a recent tweet of his, he put an end to the ongoing rumors and officially announced the news. He not only confirmed that the film would star ladies in the leading roles, but he also promised that they were all going to be hilarious. See his words on Twitter for yourself.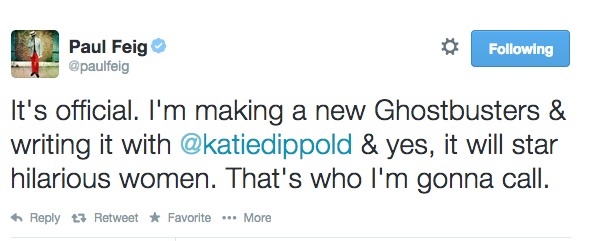 Courtesy of Twitter
Former Ghostbusters director, Ivan Reitman, stated that Feig was the perfect fit for the job, after he walked away from the project. Back then, he had also hinted that there could possibly be a team of female Ghostbusters, but it wasn't official up until now.
Keep Up With PopWrapped On The Web!
Twitter  SoundCloud Facebook Instagram Tumblr Pinterest YouTube