This season of Doctor Who has been filled with feels. I don't know about you guys, but I definitely had some feelings about that season finale. Not only does this mark the end of Capaldi's reign as the Doctor, but showrunner Steven Moffat and Bill Potts's Pearl Mackie are also bowing out of the show.
Looking back on Bill's short run as a companion, there are some definite highlights. One such highlight is from "The Pyramid at the End of the World" when Bill noted how she would not have voted for the president because he has a unique coloring.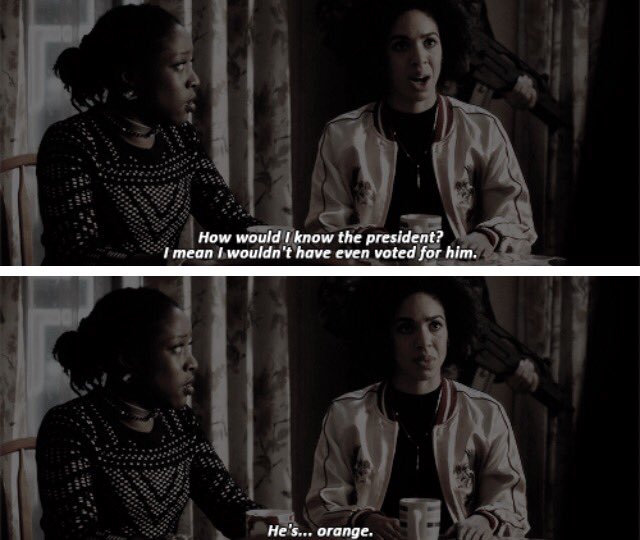 Raise your hand if that made you laugh! Of course, Bill is referring to the show's President of the Earth, which happens to be the Doctor himself. But she doesn't know that.
Back in 2011, the Doctor (then played by the adorkable Matt Smith) waltzed into the office of Republican President Richard Nixon. The Nixon administration was "infamously beset by scandal." But, as Salon points out, current President Trump did not have a role in the beloved time traveling drama, whereas President Nixon featured prominently.
I mean, the TARDIS was literally parked inside the Oval Office.
It did not take long for the denizens of the Internet to hone in on the BBC's anti-Trump stance. Some took to Twitter to let #DoctorWho know just how much they enjoyed the jab.
I like this #DoctorWho episode already just for Bill throwing shade at Trump...

— Jeff Mayers (@TimeLordJeff) May 28, 2017
Others were less than enthusiastic, bordering on perplexed or downright upset.
#DoctorWho doctor who has been taken over by the pc brigade. In one season alone, there are lesbians, small people, trump + church bashing

— Aussies4Trump (@Aussies4Trump1) May 28, 2017
JC ·

(byline edited for user privacy)

I know understand why this season has been horse shit. I mean you took a show that wasn't oriented towards anything political or any other PC agenda, then you have season 10 come along and they constantly throw in these nods to a political Religion... cough…cough.... I mean Political view. God, I miss the Matt Smith Era, where the show was not about actual politics and wasn't trying to throw the writers views in our face. Doctor who WAS an escape from the real world. Now it is just a good show being lead into the trashcan that is world politics. I hope Chris fixes these shitty mistakes.
Whatever your stance on this particular political blurb, Pearl Mackie should be applauded for not breaking character in that moment.
With a whole new Doctor, companion, and writer coming onto the scene after the Christmas special, we may go back to the beloved, timeless world of escapism that so many fans love.
Only time will tell.
Allons-y!