Riverdale is the new series on The CW (or Netflix in Canada) about Archie and his friends. I had the opportunity to attend an excellent launch party for the series organized by Penguin Random House in partnership with Archie Comics. A panel of writers and artists working in the Archie universe were on hand for a discussion of all things Archie. Then we got to watch the first episode of Riverdale, which was extra enjoyable watching among fellow Archie fanatics. I enjoyed the pilot episode overall and look forward to the rest of the series, but let's break down the good, the bad, and what I still want to see.
The Good
Casting characters who have been established over several decades can be difficult, but I was quite pleased with most of the cast. When Veronica was introduced, she was gorgeous, and I worried Betty wouldn't match up. Lots of the humor in the Archie Comics derives from his inability to choose from two equally attractive woman. Moments later, Betty appeared on screen, and my worries vanished. I thought I would definitely be Team Veronica, but now I find myself unable to choose sides. For the ladies and Kevin Kellers out there, fear not, as K.J. Apa provides plenty of eye candy as Archie. He is also a great fit for a modern take on Archie. Speaking of Kevin Keller, I wasn't expecting him to be introduced immediately, but I really enjoyed his character. He added some extra humor to the series which, as a dramatic take on Archie, was definitely needed.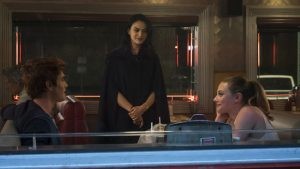 The CW
The mystery established in the pilot is not entirely familiar to the comics but will keep audiences enthralled over the season while giving us all the classic Archie we love. Past Archie series haven't been very successful, and I think an interesting story will go a long way to make Riverdale a success rather than just replicating all the classic moments from the comics. Fans of the Scream series will really enjoy Riverdale. Much like Scream, someone in the small town is behind the mystery, and many of the characters are keeping secrets. However, Riverdale has a little more pep and humor mixed in with the dark drama.
In the late 1960s, Archie was adapted into the animated series The Archie Show. Archie forms a band named The Archies and had a number one hit with "Sugar, Sugar". I really wanted to see this incorporated into the new series and possibly get an updated version of "Sugar, Sugar", so I was glad to see Archie discover his passion for music in the first episode. Josie and the Pussycats are popular characters from the Archie universe I hoped would make an appearance. I wasn't expecting it so soon, but I'm glad they are being included in the show.
The Bad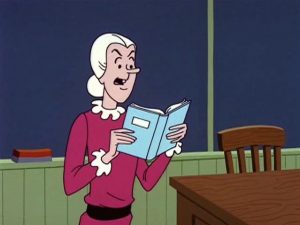 The Cartoon Scrapbook
One big thing I didn't like was the changes to the character relationships. Jughead and Archie are not currently friends. Something not shown in the pilot has come between them, and they don't hang out together. Jughead appears to be more of a loner character. Mr. Lodge is not present in the series yet but seems to be separated from his wife and gained his riches through embezzlement and fraud.
The over-sexualization was a bit much. Archie Comics, are, by no means, as completely wholesome as people think. The comics cover many suggestive topics and contain plenty of innuendo. Especially being on The CW, I expected plenty of sexiness and teen drama, but Archie sleeping with Ms. Grundy didn't work for me. Yes, THAT Ms. Grundy.
What I Want To See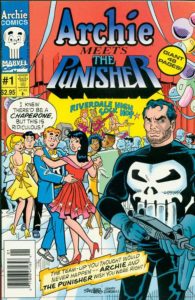 Comicbook.com
I think a great season finale would be Archie getting shot but, of course, not dying. In the comics, Archie is shot trying to protect his friend Kevin Keller. Whoever is behind the show's mystery could put Kevin in danger, and Archie end up being hospitalized. It's the perfect cliffhanger to end the season on! We'll have to wait and see if the writers agree or want to save that for potential later seasons.
The last thing I want to see in Riverdale is a great Halloween episode that is chock full of homages to all the weird things from Archie Comics over the years. Jughead could be dressed as a zombie, and Moose (or someone else) could be dressed as the Punisher -- a nod to that time Frank Castle had a crossover with Archie.
Thus far I'm interested in seeing where this mystery goes and following Archie's struggles with Betty and Veronica. Are you enjoying Riverdale? What do you want to see happen this season?