... an amazing day with lots of great people.
I performed at the City Hall in Vienna for the Eurovision Songcontest 2015 with my choir: HIB.art.Chor! There you have it. Although I was not a solo artist and it was not on the real Songcontest-stage, it was still recorded, live streamed and a fun experience.
https://instagram.com/p/3BBh1SDUR5/
Our choir has recently participated in a singing competition on national TV (Die Große Chance der Chöre – "The Great Chance for Choirs") and, on top of being finalists, we came in 4th place, which is quite amazing, as we competed against over 50 other choirs nationwide. Therefore, we were asked back to perform the songs from the show for the ESC2015 and we gladly agreed, as did two other choirs/groups from the same town as us, who were also finalists in the same show: Massive Beats Crew and Chilli da Mur. Both of which our choir had met on other occasions, as well. They are great groups and you should check them out!
Right before our performance, there was a fun Conchita look-a-like competition. The winner – looked amazing, I have to say – won two tickets to the grand final of the 60th Eurivision Songcontest in Vienna, today. So I guess the long journey for the South African Conchita Doppelgänger, Curtis Woodside, was worth it. Congrats, man!
We started the hour of music right beneath the Life Ball dome, which is left from last week's event involving lots of celebrities standing up for AIDS and HIV! Another great annual event, which you can find information about here.
Our performance included three songs; HIB.art.Chor performed:
"Imagine" by John Lennon arr. by Maria Fürntratt
"Get Lucky" by Daft Punk arr. by Maria Fürntratt
"Thank You For The Music" by Abba (I believe it is arr. by Maria Fürntratt, as well, but don't hold me to it, please!
Up next was Massive Beats Crew with their songs from the competition as well as another song, which contained three guys beat boxing and rocking the whole square. I tell you, you should have been there! Check out their stuff here!
They performed "Empire State of Mind", for example!
The third group from Graz was Chilli da Mur, who are great friends with Massive Beats Crew, as one of the singers is involved with both Groups.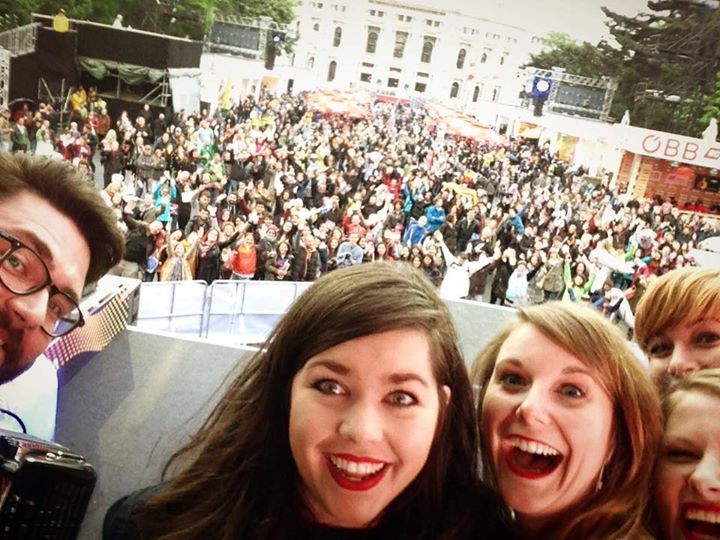 They performed their three songs from the competition, too.
"Du trägst keine Liebe in dir" by Echt arr. by Anja Obermayer
"Shake it Off" by Taylor Swift arr. by Anja Obermayer
"Heast as ned" by Hubert von Goisern (unfortunately there is no video to be found!)
The whole experience was great fun and I am very thankful I was able to have it before I ended my "career" in my school and further schoolchoir, HIB.art.Chor.
I hope you enjoy the songs presented above! Also, thank you so much for checking out the three mentioned groups,