We have *near* confirmation of a geek's dream come true! After years of speculation, supposed talks, online petitions, and geeky wishes on shooting stars (that might just be space and time travelers, really), we might actually, finally, truly be getting a Peter Jackson-directed episode of Doctor Who. Geekdom collision ahead!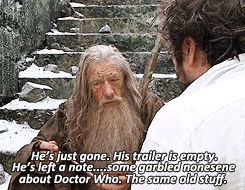 Courtesy of Amino Apps
The video below was uploaded to Peter Jackson's official Facebook account today (30 November). The closest we've ever gotten to Jackson in the DW world before now was a cameo in The Five-ish Doctors. (The Five-ish Doctors, by the way, is a hilarious addition to the 50th anniversary celebrations by a few of our older Doctors. I would highly recommend it to all Whovians.)
The GIF above is of Jackson and Ian McKellen discussing Sylvester McCoy's 'disappearance' from the set of The Hobbit. For those not as well-versed in the pre-NuWho Doctors, McCoy was The 7th Doctor, the last to grace our television screens before 2005's relaunch with Christopher Eccleston. He also played Radagast in The Hobbit.
Peter Jackson once stated that he would consider directing Doctor Who -- for a fee. What exactly did he want? A new golden Dalek to call his own. Moffat has also joked that Jackson would never be able to work on the BBC's schedule, which is mentioned in the Facebook video.
So what do you think, Whovians? Is this confirmation that the best geekdom director ever is taking a shot at our beloved 12th Doctor? More importantly, do you think he got that Dalek he wanted?!