On Thursday, December 4,
Peter Pan Live! will air on NBC
. The televised musical will be the second in what will hopefully continue to be an annual broadcast. Last year,
The Sound of Music Live! took audiences by storm
, when over 44 million people brought the wonder of musical theater into their homes, with an estimated 18 million viewers watching live. Despite some
cynical "hatewatching"
and social media posts last year from theater and film fans alike,
Peter Pan Live!
is encouraging viewers to come along with Peter on the journey to Neverland and to leave the Twitter-verse to those unfortunate adults who must have "grown up" without a Peter Pan-like imagination. The cast of
Peter Pan Live!
includes Allison Williams, Christopher Walkin, Taylor Louderman, Christian Borle, Minnie Driver, Kelli O'Hara, Alanna Saunders, Jake Lucas, and John Allyn, along with a massive ensemble. A colorful, animated group of pirates will be dancing aboard their ship on the high seas of Neverland.
The other must-see gang of friends? The Lost Boys, of course.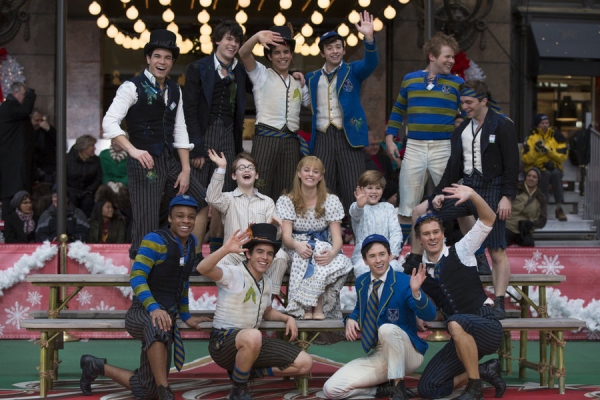 Courtesy of BroadwayWorld
While some of these actors are new to the world of television, they are pros when it comes to professional theater, as many of them have stared on Broadway. But with a "one night only" atmosphere and no singular intimate audience,
Peter Pan Live!
is an entirely new experience to many of the Broadway-vets. I caught up with two of the Lost Boys,
Garett Hawe (Patches)
and
Ryan Steele (Curly)
, both of whom were seen on Broadway in Disney's
Newsies
, and more recently in
Matilda the Musical
. In talking about what the rehearsal experience has been like so far for
Peter Pan Live!
, they agreed that the process has been unbelievable. For Hawe,
Peter Pan
has always been one of his favorite musicals, so getting "to be a part of this brand new version on such a large scale [has been] super exciting." When asked about the differences in the rehearsal process for Broadway verses television, Steele said that their rehearsals for
Peter Pan Live!
"felt very similar to a Broadway rehearsal process at first. It was almost like rehearsing for a show in the round." But because they have so much more space with
Peter Pan Live!
, the cast, crew, and creative team have the "freedom [to give] the audience a handful of different perspectives." He also shared that the space on set lends itself to holding some massive choreography sequences. Hawe noted that in the beginning of the rehearsal process, it felt more like stage show. But when they moved rehearsals to the set on Long Island, "it was like 'oh, we're actually making a movie!'". He loves playing a character in a 360 degree world, agreeing with Steele that it's "very freeing as an actor and performer because [he] doesn't have the limitations of a proscenium theater." A major difference in the show's schedule, is that unlike with a Broadway production,
Peter Pan Live!
will only be performed for an audience one time. With that being said though, the vast amount of people who will be watching will definitely make up for the lack of multiple performances. Steele is "stoked to celebrate all the hard work and love" that has been put into the show, and is excited "to think of all the people who are being exposed to musical theater for the first time." Because of the anticipation of the singular performance, Garett Hawe said that he can't wait to experience the "excitement that [they] will all be feeling at 7:59pm on December 4th!" He is filled with pride to be "a part of something that is delivering musical theater into families' living rooms," with a cast and crew that is "so talented, smart, and inspiring." So with weeks of intensive rehearsals and an audience composed of millions, would they ever want to do a live, televised musical theater production again? They agreed 100%, saying that joining a future project would be a "no-brainer".
Peter Pan Live!
airs Thursday, December 4th at 8pm on NBC. Tune in to join the cast and fly off with them on their journey to Neverland!
Keep Up With PopWrapped On The Web!