As we reported earlier this fall, John Wick 2 was set to prepare filming this fall, and it looks like things have kicked off.  
Keanu Reeves can be seen on set in some action-packed scenes. The film has no official release date, but joining Reeves will be Bridget Moynahan, Ruby Rose, and Peter Storemare.  Ian McShane is also set to return for the sequel.  
The plot has been kept under lock and key.  All we know now is that John Wick will be a badass in the streets of Chinatown in NYC. Well, maybe not actually there, but that's where they filmed the scene.  Below is a clip someone captured of Reeves in action.  Will this one be as big a hit as the first film?  This is another sleeper hit that no one expected to perform like it did.  
Check out the photo and clip to see how action-packed this picture is going to be.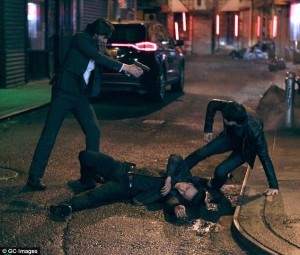 Credit: Daily Mail UK
Click here to see the video and the rest of the photos.  Doesn't Keanu look great in these action packed moments?  I can't wait to see what they have planned for this sequel!