The celebration of Pokémon's 20th anniversary is far from over! Now, there's another reason for longtime fans of the franchise to be excited.
In addition to the re-release of the classic Red and Blue Versions for direct download onto the 3DS, Pokémon: The First Movie will also be making a return to the big screen for two days only.
On October 29th and November 1st, over 200 Cinemark movie theaters will be showing the film. Once again, fans can watch the epic adventure of our heroes, Ash, Misty, Brock and Pikachu, as they try to save the world from the wrath of Mewtwo.
toonnetworkindia.co.in
For only $5, you can enjoy the classic Pokémon movie as well as the short Pikachu's Vacation, where we see the Pokémon we know and love get to hang out and compete while their trainers aren't around.
Film critics might not have held the movie to high acclaim, but this 1998 film is greatly appreciated by many fans who have been around the franchise since the 90s. Back in a time where there were only approximately 150 Pokémon to know, this was the first big adventure for our favorite group of heroes beyond the world we saw on our TVs.
Pokémon: The First Movie gave us a deeper look at the powerful Pokémon that lurked in the Cerulean Cave, awaiting the strongest players who completed the game. While Pikachu's Vacation gave us a light-hearted insight into the world of Pokémon, Origin of Mewtwo gave us a sad insight into the creation of one of the world's strongest Pokémon before the main events in Mewtwo Strikes Back.
This incredibly powerful psychic Pokémon was created by the villainous minds of Team Rocket, but, instead of being a minion to the evil forces, Mewtwo knows he exists for a greater purpose than serving Giovanni and becomes vengeful towards humanity. Mewtwo challenges the best trainers in a battle to prove that the world's greatest Pokémon trainer is a Pokémon that wants to essentially destroy the world.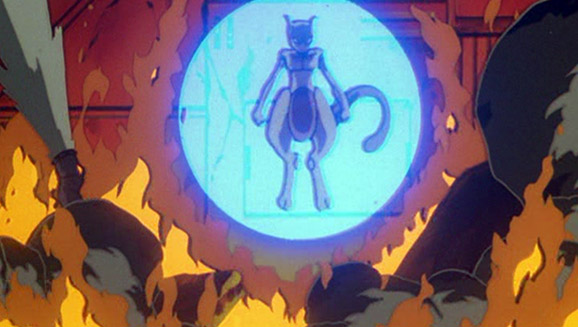 pokemon.com
If you somehow haven't seen this iconic Pokémon film or just want to appreciate the classic film again, check if your local Cinemark theater will be showing it!