The 70th Annual Tony Awards took place Sunday night and the show was one of the best we have seen in recent years. The night, as presenter Barbra Streisand said, was "tinged with sorrow" as the nation was still reeling from the Orlando massacre, but the show provided us with a sense of joy that was needed by many.
Take a look at our favorite moments from the night.
Opening Remarks about Orlando tragedy
Before starting off the night, Tony host, James Corden, gave a short but powerful speech about the tragedy that took place that morning in Orlando. "All we can say is you are not on your own right now. Your tragedy is our tragedy. Theater is a place where every race, creed, sexuality and gender is equal, is embraced and is loved. Hate will never win. Together, we have to make sure of that." It was respectful, heartfelt and beautiful.
Opening Number
The opening number started on a Hamilton-esque note, as the Hamilton cast referenced Corden, "the chubby dude from Into the Woods who played the baker." Corden then kicked off the night with a medley of famous musicals, including "We're in the Money" from 42nd Street, in which Corden didn't miss a beat of the choreography. But the part that really got us was the ending, when the kids who were singing about maybe becoming a Broadway star then "turned" 
into the year's musical nominees. We had chills.
Cynthia Erivo winning her first Tony
Erivo is a force to be reckoned with and her winning Leading Actress in a Musical for her role of Celie in The Color Purple made our day, because she so deserved the award. She was humble and emotional as she accepted her award, saying "Look mommy!" when she came on stage to accept it.
Leslie Odom Jr. winning his first Tony
We love Lin-Manuel Miranda and would have been excited for him to win the Leading Actor in a Musical award, but we were thrilled that Leslie Odom Jr. got it instead. It was ironic that the actor playing Aaron Burr won against the actor playing Alexander Hamilton, but there was absolutely no animosity here. Miranda beamed proudly as he watched Odom take the stage to accept the award. And the breakout star had beautiful words about his cast. It was a great moment.
Hamilton performances
We got two Hamilton performances on the Tonys and that may be the only way some of us will get to see two songs and scenes played out, since the show is perpetually sold out. The cast performed "Yorktown" and "The Schuyler Sisters." And we - and the crowd who gave the performances standing ovations - could not have been more delighted.
School of Rock performance
The School of Rock: The Musical performance was so incredible mostly because of the kids. Don't get us wrong, Alex Brightman does a great job too, but these kids, who play their own instruments live on stage every night, were really amazing. 
The Color Purple performance
Holy Cynthia Erivo! I was mesmerized by her performance. What a talent! The whole cast brought their A-game, Danielle Brooks especially was incredible and a revelation as Sofia. And British actress Erivo, who would then go on to win a Tony later that night, was unbelievable. Talent as undeniable as hers comes once in a lifetime and the crowd, who gave the cast a rousing standing ovation, definitely agreed. 
Frank Langella's speech
Frank Langella won his fourth Tony award, this time for Leading Actor in a Play for his brilliant performance in The Father. Once he took the stage to accept the award he gave a powerful and beautiful speech about the Orlando tragedy. "When something bad happens we have three choices: we let it define us, we let it destroy us, or we let it strengthen us. Today in Orlando we had a hideous dose of reality, and I urge you Orlando to remain strong." Langella continued, "I'm standing in a room full of the most generous human beings on Earth and we will be with you every step of the way."   
#Ham4Ham inspired performances
Even if I would have liked the songs to be longer, and it felt a little rushed at times, I loved that the casts of this year's nominated musicals payed tribute to past musical nominees such as Annie Get Your Gun
and Phantom of the Opera
.
And the cast of Hamilton singing Rent's "No Day but Today" was the best.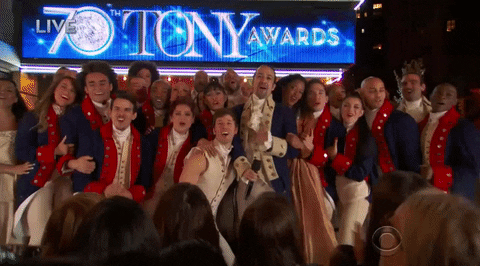 huffingtonpost.com
Lin-Manuel Miranda's Sonnet
This, for me, was the best part of the night. Lin-Manuel Miranda's passionate, eloquent and raw sonnet about his wife and Orlando's mass shooting was just what we needed to hear in a time when many of us were still mourning. Miranda fought back tears while reading the sonnet on stage and we did the same listening to him at home.
Here is the sonnet in full, just in case you can't watch the video, but it's much better if you hear it from Miranda himself.
"My wife's the reason anything gets done

She nudges me towards promise by degrees

She is a perfect symphony of one

Our son is her most beautiful reprise.

We chase the melodies that seem to find us

Until they're finished songs and start to play

When senseless acts of tragedy remind us

That nothing here is promised, not one day.

This show is proof that history remembers

We lived through times when hate and fear seemed stronger;

We rise and fall and light from dying embers, remembrances that hope and love last longer

And love is love is love is love is love is love is love is love cannot be killed or swept aside.

I sing Vanessa's symphony, Eliza tells her story

Now fill the world with music, love and pride."