Inside Out had the biggest opening weekend in box office history, for an original film. So it's pretty good, apparently.  This week's theme is all about that emotional film which gave us all a look inside our own heads.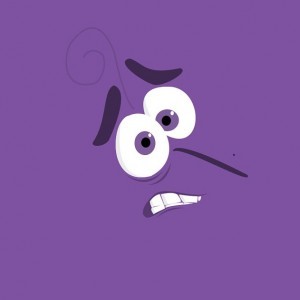 the soko has created this fabulous minimalist look at one of my favourite characters from Inside Out! Stylistically this is just great!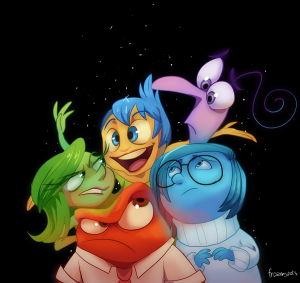 frozen spots quite likes Inside Out judging by their marvellous gallery, but when I had to choose one to feature,  it just had to be this one! I love the variety in their expressions and the soft colouring. Anger at the bottom though... that is one moody fellow.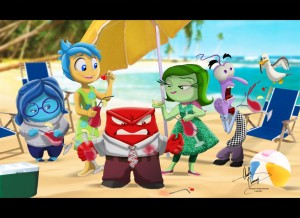 Christian Comics gives us a look at the emotions taking a holiday (no word on what would happen to Riley at this point... would she turn into Sherlock and be all robot and emotionless? Who can say...) but I love this piece of art! The image of them all relaxing in very different ways is perfect. Especially Fear being terrified of a seagull. Who isn't  secretly a bit scared of them?
Can you tell that this guy is my favourite? creative dreamr takes a different look at the emotion nobody really likes experiencing with this great piece on black paper to give it a much darker, sadder, feel. Poor chap.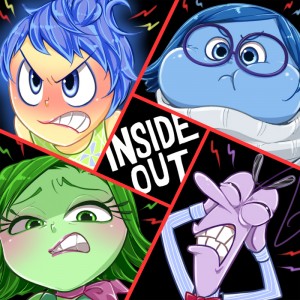 hentaib2319 has drawn all the characters experiencing anger, which I love! It's also great to see the emotions from a different perspective - not just looking as they normally do. Joy just makes this for me. I wouldn't cross her...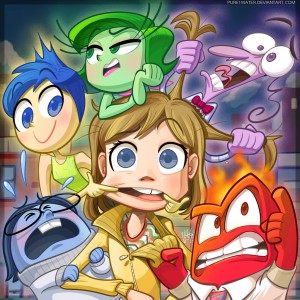 pure1water includes someone most people seem to forget- Riley! Joy making her smile is adorable and the 2D animation style really works for these characters. It kind of makes me want to see them in an Adventure Time style TV show.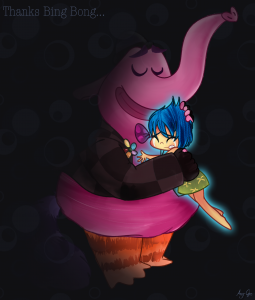 I could hardly make a post about Inside Out and not include Bing Bong. Love him or hate him, he's a pretty important character, and a cute one to boot. anggrc's piece is completely adorable. Take her to the moon...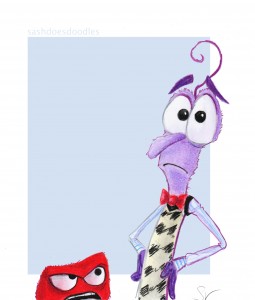 My piece features my two favourites- Fear and Anger. Had to do a little pencil doodle because these characters are just brilliant. Well done Pixar, you've done it again. And I've still got that Lava song in my head.....
Don't forget to say hello to all the artists involved (tell them I sent you) and keep it PopWrapped for future art stuff and fandom news
!