Jacob Elyachar
Staff Writer
Rejoice Oncers!
Once Upon A Time
returns Sunday night! Before we rejoin the Charmings and their foes on the quest to save Henry from the clutches of Peter Pan, this might be the perfect time to review the five episodes that might provide clues on what Season Three could bring.
"Manhattan"
          Photo courtesy of ABC
In this crucial episode, we finally learn the identity of Henry's father----Neal Cassidy, who was revealed to be Rumpleskiltskin's long-lost and bitter son, Baefire. This revelation complicated the Charming family tree as Henry was revealed to be Mr. Gold's grandson, Regina's adoptive son/step-great-grandson and Cora's adoptive grandson/step-great-great-grandson. "Manhattan" showed that Neal and Mr. Gold were estranged and started a rift between Henry and Emma as the latter hid the truth from multiple parties.
"The Miller's Daughter"
          Photo courtesy of ABC
Viewers got to learn how Cora met Rumpelstiltskin and how the Dark One was crucial in the development of Cora's social status and ability to use magic.   Unfortunately, this episode also marked the final time viewers were able to see Cora in action as she was accidently killed in the last minutes of the episode. The culprit behind this was Snow as Mr. Gold influenced her to use dark magic to get rid of Cora.   Not only did Snow briefly turn to the dark side, but it also set the Snow-Regina relations back to the Stone Age.
"Welcome to Storybrooke"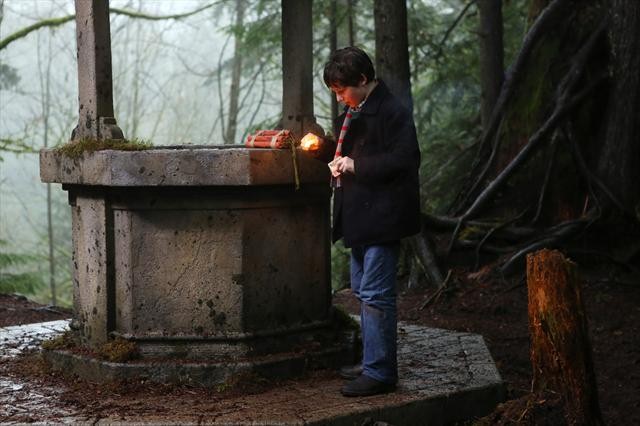 Photo courtesy of ABC
Greg Mendell came to Storybrooke during its early days with his father.  Unfortunately, their arrival made Regina curious, but she soon bonded with them.  However, while Greg wanted to stay…his father wanted to leave. Regina was furious with their decision and used Sheriff Graham to hunt them down. While Greg was able to escape, his father faced Regina's wrath alone. Greg returned to Storybrooke with two goals: to find his father and wipe the town off the face of the Earth.
"Second Star to the Right"/"And Straight On 'til Morning"
          Photo courtesy of ABC
The final two episodes of
Once Upon A Time: Season Two
showcased Neal's Neverland connections and past with Captain Hook. In addition, we also saw Greg enact his revenge on Regina by first torturing her and then setting off her doomsday device: a black diamond with the power to wipe out Storybrooke. While the Charmings were able to stop him, he kidnapped the heart of Storybrooke: Henry and took him to Neverland. Will the Charmings and their unlikely allies save Henry from certain doom? Tune in this Sunday to see what excitement and danger await the Charmings and their allies in Neverland. For more information about
Once Upon A Time
, visit the show's
website
.