To say that Bradley Whitford was a great part of The West Wing is quite the understatement. If you ask me, he was one of the best parts of the show. Josh Lyman was a bit of the everyman in the White House, and he managed to affect people with his words the way we'd all like to be able to do.
Here are our Top 7 Times Josh Lyman was simply the best.
7. That time he moved us about a tin can hurling through space
He just needed "that inspiration thing".
6. That time he got a taste of his own medicine
Technically, I outrank you.
5. That time he played bad cop to the president's good cop
Right in the band gazebo!
4. That time he didn't check who was on the other end of the line
Did anyone ship Josh and Leo?
3. That time he thought he could do CJ's job better than she could
Sure, talking to people is easy.
2. That time he thought he needed to educate the entire population on how to vote
I don't mean who to vote for, I mean literally how to cast their ballots.
1. That time he chose the people who mattered at the end of the world
Josh is the kind of guy who would rather die amongst loved ones than survive because someone decided he's important.
Did we miss your favourite Josh Lyman moment? Let us know in the comments!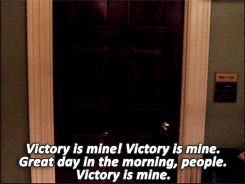 Giphy