So this weeks PopArt has a different feel, because not all art is made with a tablet or a pen. Or both. This time I want to showcase some talented musicians. Let the music play.. First up is this piece by
ThePianoGuys,
and with over 40 million views, you've probably already heard it. A mash-up of the phenomenon that is "Let it Go" from Disney's
Frozen
and the wonderful "Winter" by Vivaldi set against a real backdrop straight out of the movie. Just sit back and wonder why nobody has done this before! I couldn't really do a piece on music and not include the
Doctor Who
theme, could I? Sonya Belousova is not only a ridiculously talented pianist, but also sports some snazzy cosplays throughout the video. All 12 Timelords, no less.
Sherlock
is one of my favourite shows and the music is always a particular highlight. This medley by
Taryn Harbridge
  is incredible. And played on the violin, Holmes' instrument of choice, so top marks all round, really. Piano duets are a thing. And they're incredible. This one by
KyleLandry
 featuring lara6683 is simply stunning. Watching their fingers dancing over the keys is quite hypnotic! Last up, something a bit different...
the harp! 
Hearing Hedwig's theme played like this is something I had never heard before... and I love it! You will too. Sit back and grab your butterbeer. There are some very talented fandom musicians out there and I can't wait to share more with you guys! And considering I am more tone deaf than a very tone deaf thing... have one of my recent fandom doodles! A little bit of drunk Sherlock during that amazing dubstep version of the
Sherlock
theme...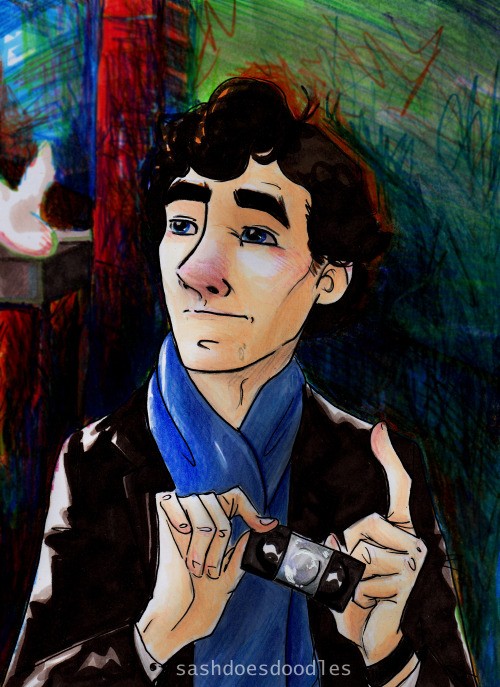 @Sashdoesdoodles
Don't forget to subscribe to the talented folk involved. Until next time!