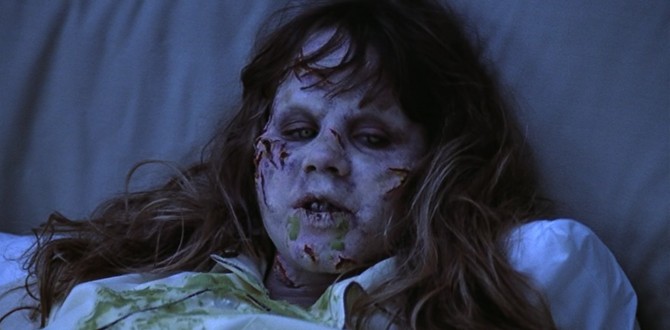 Hey guys! PopWrapped is back this year with Popaween and we have some treats for you! For my Halloween treat to you lovely ones, I did something I never do. I watched a scary movie. My theory has always been that, they're just going to give me nightmares, so why should I watch it? Just like Nicholas Sparks is going to make me sad, which is why I don't watch those (but seriously, why does everyone always have cancer in his novels?).
Anyway, I watched The Exorcist, and I live tweeted it (@padf00t_lol follow me!). It was definitely an experience, that's for sure. Since the movie was so old, cinematically speaking, it was easy to laugh and shrug off what would surely have been terrifying if I were younger or the movie were newer.
While I heard various opinions from colleagues and friends, I knew I was in for a treat, however frightening it may or may not be. I was not disappointed.
https://twitter.com/Padf00t_lol/status/656629325123313664
We were off to a good start. I was following 666 people. No I didn't plan that, but it was slightly creepy. I then found out that the little girl,  Linda Blair, was in an episode of Supernatural, this time on the other end of the spectrum.
https://twitter.com/Padf00t_lol/status/656636657156812800
I thoroughly enjoyed all the medical terminology the doctor's provided Regan's mother with.
https://twitter.com/Padf00t_lol/status/656639642184232960 https://twitter.com/Padf00t_lol/status/656643194046648321
I (barely) made it through the parts where the little girl stabbed (and...pleasured?) herself with the crucifix.
https://twitter.com/Padf00t_lol/status/656651095733747712
Then they got help from the Catholic priests, who got slimed.
https://twitter.com/Padf00t_lol/status/656652600167694336
And I let my inner nerd shine through.
https://twitter.com/Padf00t_lol/status/656654852148211712
Of course, I've seen This is the End, so when it got to the exorcism, I was absolutely unafraid.
https://twitter.com/Padf00t_lol/status/656660347592376320
But aside from the goofy (and terribly unfunny) jokes, I did find the movie creepy. That little girl spider crawling down the stairs and blood pouring out of her mouth was utterly terrifying. And then, when she stabbed herself in the vagina with the crucifix, I actually cringed and looked away, my stomach clenched from the thought of it. Although the storyline was creepy, the outdated effects really took away from the fear factor of the film.
Well that's it for this edition of Popaween, be sure to check me out when I stream this week! Our Twitch team will be streaming a couple creepy games, follow me on twitter to find out when and where!