Amongst all of our Halloween festivities here at PopWrapped, we also wanted to make sure that our October was also raising awareness for 
Breast Cancer
, the most common cancer in the UK. 1 in 8 people will develop breast cancer in their lifetimes, and the American Cancer Society estimated that 40,000 women would die of this particular strand of cancer in 2014 alone. So, where did this disease
start
? And how far have we progressed since then? In fact, breast cancer has been around longer than you may think. It can be seen in almost all recorded times in history. The first mention was around 3,500 years ago, seeing as when the cancer reaches the late stages, the symptoms were a lot more visible. It was not until the mid-eighteenth century that
surgery
was even considered. Until this point, physicians followed Galen's belief of the imbalance of humours. The surgery was not always preferable, though, as the radical mastectomy he developed, which involved removal of both breasts and surrounding areas, often leaving women disfigured and sometimes in pain. In 1976, Bernard Fisher noted that a breast-conserving surgery was just as effective at stopping the cancer when followed by radiotherapy or chemotherapy. The 1990s saw the start of the awareness campaign. More women prior to this faced the embarrassment of having to explain their worry about breast cancer when it was considered such a taboo subject. But the autumn of 1991 saw the
Susan G. Komen Foundation
handing out pink ribbons to participants in their race for breast cancer survivors in New York City. Two years later, the Breast Cancer Research Foundation was founded, with the pink ribbons as their symbol. The most important aspect of Breast Cancer Awareness Month is ensuring that you are breast aware, and the UK-based charity Breast Cancer Care provided us with some facts to remember: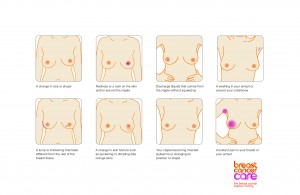 Courtesy of Breast Cancer Care charity
There's no right or wrong way to check your breasts for any changes. Try to get used to looking at and feeling your breasts regularly. You can do this in the bath or shower, when you use body lotion, or when you get dressed. There's really no need to change your everyday routine. Just decide what you are comfortable with and what suits you best. It's important to check all parts of your breast, including your armpits and up to your collarbone. You should look for any changes in skin texture such as puckering or dimpling, redness or a rash, a change in the position or shape of your nipple, or a change in the size or shape of your breasts. You should also look and feel for any lumps or thickening, any discharge from your nipples and constant pain or swelling in your breast or armpit. The vast majority of breast cancers are found by women (and men) themselves so taking care of your breasts is really important. Most changes won't turn out to be breast cancer, but don't be scared of talking to your GP or delay going, as the sooner the diagnosis, the more effective treatment may be. 
Keep Up With PopWrapped On The Web!
Twitter 
SoundCloud
Facebook
Instagram
Tumblr
Pinterest
YouTube