Ewan Velázquez
Staff Writer
The Originals
premiered on the CW last week,
American Horror Story: Coven
makes its debut this Wednesday, Lifetime's
Witches of East End
, a show about a witch and her two magical daughters, just premiered yesterday, and
Supernatural
's 9th season is almost upon us. As E! News says, "'Tis the season of witches!" (as well as demons, warlocks and other supernatural folks). But this is not new. Back at the turn of the century, many magical shows spelled their way into our TV rooms, some were iconic (
Buffy, the Vampire Slayer
), some were short-lived (
The Secret Circle
), but they all graced our screens with a certain dose of fantasy that is much needed in this day and age. Today we will commemorate one of the very first and very best in this genre, non-other than
Charmed,
a show that is currently celebrating its 15th anniversary - it premiered on October 7th, 1998. The show was as magical as it was completely real, manoeuvring between these two to deliver a heartfelt-shocking-soapy-badass-seductive-relatable story. Three sisters (Prue, Shannen Doherty; Piper, Holly Marie Combs; Phoebe, Alyssa Milano), and later one half-sister (Paige, Rose McGowan), come together after they find they're the powerful descendants of a long line of witches that goes as far back as the Salem witch trials. The heart of the show laid not in its ability to make radical plot twists, to use the love lives and interests of the protagonists as a hook to keep people interested, or to be impossibly cryptic... but in its ability to create vulnerable-yet-firm, relatable characters who have a real and imperfect relationship between each other. The Halliwells were first and foremost sisters at all times, and then they were witches, protectors of the innocent, et cetera. Even at its craziest, most nonsense times, it never failed to be a comfort spot for people wanting an escape from this world that we live in, even in a pre-
Harry Potter
and pre-9/11 world. I'd be lying if I said I didn't use to squint my eyes expecting to move things with my mind, throw my hands in the air expecting to freeze things to keep them from moving, and I'd be an even greater liar if I said I don't do that still from a time to time after all these years. Much could be said about the product, its protagonists, the drama on-and-off screen, its brilliant soundtracks and music, the changes it went through, how it was one of the first shows in recent years to venture into time travel and alternate universes, the struggle and the achievements it earned, but I will let some of the best episodes speak for the show itself. Blessed be!
"FOREVER CHARMED"
Photo courtesy of The WB
The very last episode of the show was maybe not the perfect closure for the series, but the perfect "The magic lives on" to wrap 
Charmed.
Almost all the characters of the Halliwell family and their friends came back to bid the show farewell... At least until Zenescope Entertainment's comic books.
"MORALITY BITES"
Photo courtesy of The WB
The sisters travel in time after youngest sister, Phoebe, gets a premonition where she sees her future self getting burned at the stake, and it's their job to find out why and keep it from happening. This episode's storyline would get revisited several times during the show's run since it was the one episode where they learned that it were their choices, not their powers, who made them who they are.
"CENTENNIAL CHARMED"
Photo courtesy of The WB
A milestone of the show since it was its 100th episode, this episode provided closure to many long-running storylines in the show - like the fate of half-demon-half-human Cole Turner (Julian McMahon) - and also a crippling view at an alternate universe where the Halliwell sisters' relationship with each other and with those around them falls apart following the death of the eldest sibling, Prue Halliwell.
"DÉJÀ VU ALL OVER AGAIN"
Photo courtesy of The WB
It may have been its very first season finale, but it was far from being amateur or dull. The sisters get trapped in a time loop by demons and they must find a way out of it before one or all of them get killed. In the end, one of their allies, friends and lover to one of them dies, and changes their whole dynamic for seasons to come.
"IT'S A BAD, BAD WORLD"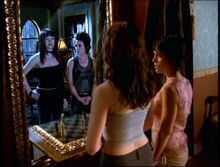 Photo courtesy of The WB
Another episode that deals with alternate universes. In this one the fight is not between good and evil, but between the perception of good and evil and what those concepts really mean, or even if there's anything that can be actually labeled as "good" or "evil". All of the characters shine, delivering a stunning season six finale. "
ALL HELL BREAKS LOOSE"
Photo courtesy of The WB
The episode that turned all the tables and broke with almost every established strategy. The sisters face their darkest hour as their powers are exposed on national TV and they are left helpless fighting against the media and a powerful demonic hitman who aims to kill an innocent and, obviously, them too. Striking a deal with their ultimate enemy, the Source of All Evil (Michael Bailey Smith), backfires when time is reversed, but they still lose one of them, Prue. It was extra shocking as the fate of all the characters was put in jeopardy, ending the third season with an epic cliffhanger.
"DEATH TAKES A HALLIWELL"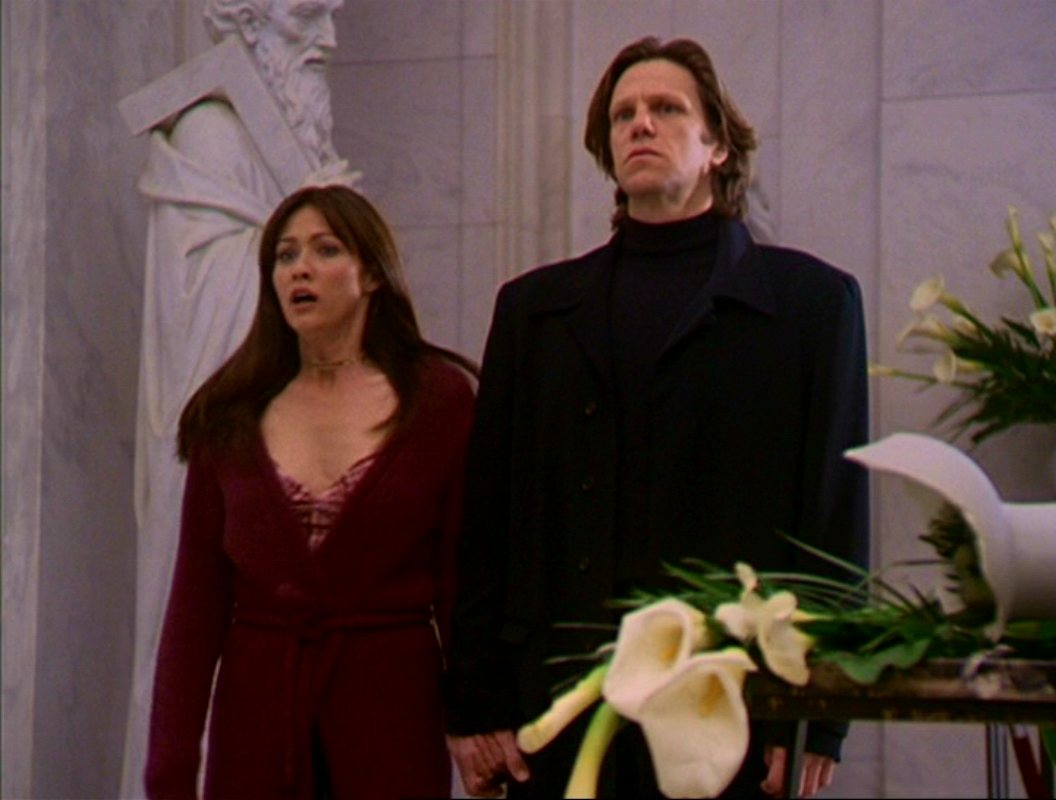 Photo courtesy of The WB
Personally, my favorite episode of them all. It also deals with a long-running storyline, which is the sisters' relationship with Death; this same dynamic ignites a moral conflict in one of them, Prue, when the Angel of Death aims to take one of the innocents under their protection and she refuses to let him take another person she cares about after he's taken so many people they have loved over the years, starting with their mother. "I'm not good or evil, I just am. I'm inevitable". This episode is a testament to everything that makes this show so great, with an obscure theme but also shades of comedy and love along the lines. Share with us your
Charmed
memories below, through Twitter or on Facebook.
http://www.Twitter.com/PopWrapped
http://www.PopWrapped.Tumblr.com/
http://www.SoundCloud.com/PopWrapped
http://www.Facebook.com/PopWrapped
http://www.Instagram.com/PopWrapped
http://www.Pinterest.com/PopWrapped
http://www.YouTube.com/PopWrapped
http://www.PopWrapped.wordpress.com/
http://www.PopWrapped.com