Benjamin Spence   &   David Robinson
Staff Writer                    Guest Writer
London's Leicester Square played host to the UK premiere of X-Men: Days Of Future Past last night (May 12). We donned our finest premiere attire to rub shoulders with the star-studded cast who walked the blue carpet.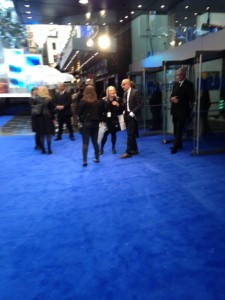 Courtesy of David Robinson
Hosted by Jonathan Ross, attendees included Michael Fassbender, James McAvoy, Sir Ian Mckellen, and Patrick Stewart who were greeted by a sea of dressed up fans. The screaming fans didn't let the typical rainy London weather dampen their spirits. One fan dressed as Storm even jokingly apologised for the weather to premiere co-host Laura Whitmore.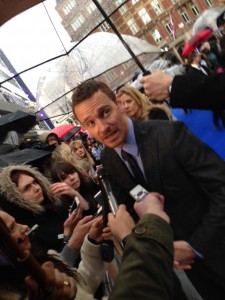 Courtesy of David Robinson
We caught up with Michael Fassbender to talk costumes. Comparing his Magneto helmet to the paper mache head worn in newly released Frank he joked, "I can see more out this one!" and it's "perhaps" more fashionable, too.
After signing plenty of soggy autograph books and posing for selifes, he joined the rest of the cast inside the theatre to introduce the film.
X-Men: Days Of Future Past is a prequel to the original X-Men franchise but technically a sequel to the re-booted franchise, so we'll call it a speak-quel.
Based on the original comic book with the same name, the story follows Wolverine (Hugh Jackman) as he is sent into the past to 70s era X-Men. The happy ending in X-Men: First Class is diminished as we learn the repercussions of Mystique's (Jennifer Lawrence) abandonment of Charles Xavier (James McAvoy) and the effect it has had on his life.
Exploring darker themes relating to addiction and terrorism, the film sets itself apart from a kid's superhero film and even features the occasional explicit. New characters such as Quicksliver (Evan Peters), despite fans initial expectations, turns out to be an unexpected highlight of the time travel caper.
Quicksilver's action sequence generated roars of laughter from the audience, as director Bryan Singer utilises the character's mutant super speed to perfectly timed comical effect. As Quicksliver moves around the screen, you feel like you're moving with him. This gives you a unique perspective of the character because you see the fight sequence from his point of view. This cleverly created a connection with the audience, who at the end of the scene stood on their feet clapping.
Michael Fassbender often steels the screen as young Magneto, confirming his super villain status. A sequence involving a floating soccer stadium will literally have you on the edge of your seat. Scenes with young Magneto and Mystique are electrifying as their chemistry works well on screen, as underlying romantic feelings are implied. The dramatic bromance between young Magneto and Charles Xavier also makes for interesting viewing.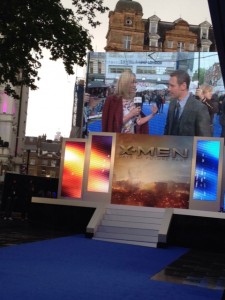 Courtesy of David Robinson
X-Men: Days Of Future Past introduces the Sentinels, mutant hunting robots featured heavily in the comic books and cartoon series. These brutal killing machines are used to emphasise the dark tone of the film as beloved original characters face major peril. Hardcore fans will spot many a cameo and Easter Eggs from previous movies, referencing to the original comic book storyline that inspired the movie.
Superhero movies often feature female characters as girlfriends or family members. X-Men: Days Of Future Past steers away from this with strong female leads such as Mystique, Shadowcat (Ellen Page) and Storm (Halle Berry). This is highlighted further when Mystique plays a crucial role which determines the stories ultimate fate.
The film successfully ties up any loose ends and answers questions that fans have from the previous film. It cleverly erases any ​in-continuities generated from previous films such as Wolverine and X-Men: The Last Stand. In a way, the film actually goes back in time and fixes itself. It also acts as a launch pad for future X-Men spin-off movies such as the upcoming X-Force movie.
Fans of the franchise will most certainly not be disappointed as this could easily be labelled the best X-Men movie to date. Like many Marvel movies, stay back after the credits to see a teaser that will make you gasp.
X-Men: Days Of Future Past is released in the UK on May 22 with a USA release on May 23.
Keep Up With PopWrapped On The Web!