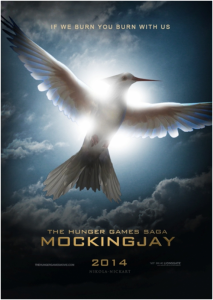 Kay Ziegler
Staff Writer
Tributes
, are you sitting down? 
After sleuthing the interwebs, PopWrapped discovered that
the second trailer for 
Mockingjay: Part 1
has been leaked a day before it's official scheduled release. Are you as excited as I am? While we have received some tidbits from the new movie, a full-length movie trailer had not been released yet. Seeing the
stills
that included Julianne Moore, the late Phillip Seymour Hoffman, and Woody Harrelson stirred the pot of excitement. While the release of propaganda posters and
videos
from the Capitol have surely created even more enthusiasm for the film. All of these goodies have held fans over for a little while. All of this is wonderful! These things were perfect to heighten the experience, but there's been a certain void as we haven't seen a single live-action moment from the movie. Now, it's been filled! Sit back, enjoy, and let the games begin!
Keep Up With PopWrapped On The Web!