Megan May Lee
Staff Writer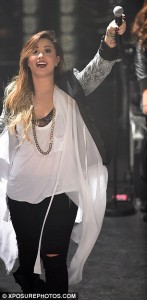 Courtesy of Xposurephotos.com
She also performed her version of "Let it Go" from the box office smash
Frozen,
and brought a little girl onstage because she was dressed as Queen Elsa. Demi dedicated her song "Warrior" to one of her fans whom, during her meet and greet session, walked to Lovato for the first time in 18 years. As well as her incredible performances, Demi also made the crowd laugh. She was messing with the security guy who wouldn't look at her saying "Friend... pay attention to me!" She also went to strip onstage but stopped and said "I'm not THAT girl!" A fan then shouted "DO IT" to which Demi replied "NO!" Then a fan shouted "YES" and Demi said "Don't talk back to me!"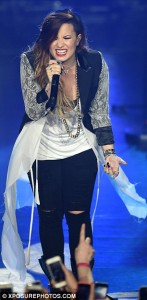 Courtesy of Xposurephotos.com
Some other songs Demi performed were "Heart Attack," "Really Don't Care," "Made In The USA" in which she changed the lyrics to Made In The UK, "Unbroken," "Skyscraper" and she ended with "Give Your Heart A Break." In total she performed 18 songs. Demi will be doing a world tour this year and tickets go on sale for the North American leg June 6th so don't miss out! If you want access to pre-sale tickets make sure you join her fanclub at Lovato.club.
Keep Up With PopWrapped On The Web!