Lani Renaldo
Staff Writer
Thank you to Crossroads School, Relativity, Samara M., and Jen for their help in putting Dave and me in contact and, of course, thank you to Dave Green for taking the time to chat with me.
If you haven't heard of 
Earth to Echo,
you will soon! Last Friday, I attended a special screening of this fun summer film that is bound to appeal to the hearts of all generations. The story follows the adventure an unlikely group of four young friends, who, after receiving strange messages on their phone, set out to help an alien creature. They name it Echo, and help it go home. It's being coined the
"Millennial version of E.T."
 The films
do
have similarities – yet it is cleverly updated and made with a younger generation in mind. With less than a week until its release, I chatted with director Dave Green about this amazing film, and how he was able to successfully take audiences of all ages us into the world of Tuck, Munch, Alex, Emma, and Echo to leave us all feeling empowered to do big things.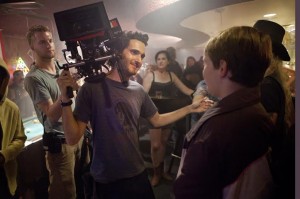 Courtesy of epk.tv and Relativity
LR: Many directors want to stay as far away from child actors as possible, but you seem to have an openness and sensibility to cultivate the talent and creativity of young people. Where does that come from?
DG:
That's a really good question. I think when I first started making short films I was the age of the kids who are in the movie. I was a lot like Tuck. I was telling other people where to stand and what to do. I remember directing my friends at that age and how to get responses out of them… I think part of what made this movie so much fun to make for me was that I got to actually think like the 13 year-old filmmaker I used to be. So there was a lot of fun in getting to put that hat on and think like a kid as we were both shooting and editing the movie.
LR: E2E is a heartwarming story and I think that some of that stems from the fact that the film is from the kid's perspective…Until the TV show, "The Fosters" aired; foster children were really not represented in film, let alone TV. Yet in E2E, you show a foster child, and have 3 different characters, with completely different background and you were able to capture the different essences of each character. How were you able to do that?
DG: 
Thank you. You know it all comes from Henry [Gayden], Henry's the writer — and he came over to my house, one day and he starts unwinding this backstory for me that sounds absolutely real. When we were casting the movie, we had a younger cast in mind, but during the auditioning process… we looked at a couple kids [that] happened to be a little bit older [and] they just seemed to latch onto the material. I think, once we had found the right cast, what I like to do on set is just to give them the freedom and the confidence on set to say "You know, you guys, this is your set, this is your playground – there's no question that's off limits, there's no bad time to interrupt—I want you guys to have freedom,"…we really wanted the kids to feel absolutely comfortable so that would come across on screen.
LR: Sometimes making a movie with a social message and having it be entertaining is difficult - yet you pulled it off. What are you hoping that audiences take away from this movie?
DG:
The movie has a message of its own and the movie can say it better than I can, but what's been super exciting for us, [is] these early screenings. When we were first starting to do test screenings, you get cards with feedback, and we had a card from an eight year old and the question said, "What was your favorite part of this movie?" and the answer said, "I love this movie because it tells you kids can accomplish anything they set their minds to." We read that and it hit us hard, cause we never went into the process with those plans in – so to have that come out of the work, it's extremely flattering. Even if 10 kids go out and feel differently, we're more than happy.
LR: We both went to Crossroads School and they teach you at a very early age that you can make a difference, would you say that your Crossroads experience had any influence you in this area? 
DG:
Oh yeah. Tremendously. Crossroads is a very unique place. They really encourage you to honestly to do whatever it is that interests you and there are so many different departments at Crossroads that facilitate different interests, like filmmaking and film studies. You know, I can't even imagine growing up with parents or going to a high school that didn't support whatever I was doing. Filmmaking is hard enough on its own and my parents have been there, with me, just encouraging and being the biggest cheerleaders since I was a kid. To have a school that supports all of that and encourages people from a very young age, with such positive re-enforcement ­– it had a huge impact on my confidence in being able to make movies and make videos and to do whatever it is I set my mind to.
LR: Now you sort of mentioned it – filmmaking is not an easy process, what were some of the challenges of making the movie?
DG:
The biggest challenge of making the movie [was] honestly in editorial, because the movie we shot was shot with the intention of not including music, not really cutting it exactly the way that we did it and adding voice over, etc. Something that we [kind of] discovered halfway through the process is, you know what, if these kids shot this whole thing, who's to say that they didn't also assemble it, which is something that we figured out in editorial. Before that point, it was challenging to look at the movie dry. So, creatively that was the biggest challenge but we kind of unlocked that as the movie went on and it kind of became rewarding to figure that out.
LR: After the screening, I was talking to a few kids and people were already making plans and writing up their own ideas for a sequel. Will there be one?
DG
: It would be absolutely humbling to do one, but we'll see. We've had a really awesome, cool response to the movie so far from the kids and parents…so it could be really interesting to watch this group of characters grow up. We'd be in a very lucky place if we got the chance.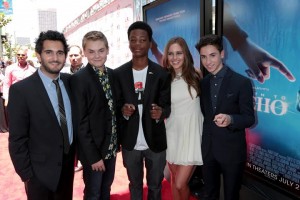 Courtesy of epk.tv and Relativity
To find out more about
Earth to Echo
, visit
http://callhimecho.com
and be sure to see the movie when it hits theaters worldwide July 2
nd
!
More to come from this series!