You've seen the birth of several Monopoly games in your time. 
Doctor Who
, 
Futurama
, the Grateful Dead, and more have gotten their own spin-offs of the classic game that never ends (or at least it feels like it). We've all battled and bartered for our favorite locations at one point or another, and had to settle (or not) for second best.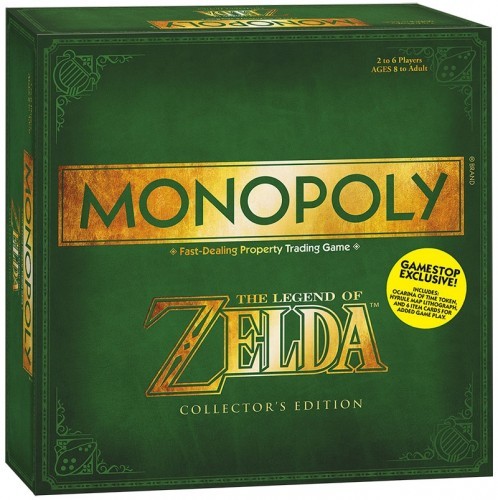 Courtesy of Nerdist
Now prepare to have your not-so-inner gamer follow your sprite guide all over Hyrule!
According to Nerdist
, the
Legend of Zelda
franchise has moved on from the 2D and 3D realms--having already conquered them thoroughly--and into our living rooms. You can collect, trade, and use rupee's like 
real 
Monopoly money without breaking the bank (or pots)! This limited edition has everything a fan could ask for and more!
"The limited edition 

Zelda

 set includes a custom designed board, with memorable in-game universe locations like Link's House, the Temple of Time, and Lon Lon Ranch. We also get themed money, custom Chance, Community Chest, and deed cards that will make any fan want to laminate it all so it lasts forever."
Sounds like a pretty sweet deal to me! Unfortunately, this game won't officially hit the shelves until September, and when it does it won't stay there for long. GameStop has already released the game's price at $39.99, so these sets are likely to sell out fast. To ensure you get your own version, GameStop is allowing fans to pre-order everything! And you know what that means: exclusive merch!
"You get a GameStop exclusive Ocarina of Time token (as well as other tokens in the form of a bow, hookshot, triforce, and Hylian shield), an 11×17 Hyrule lithograph map and treasure chest holder, and six item power cards for added gameplay."

Courtesy of Nerdist
Prepare for adventure! 
The Legend of Zelda
Monopoly set hits shelves September 15th!
Keep Up With PopWrapped On The Web!