You probably know this sassy, sexy lady from Logo TV's hit series and drag dramedy, RuPaul's Drag Race, where she became a permanent judge back in 2011.
It was recently announced that Michelle and Drag Race alum, Chad Michaels, would be heading to the Buckeye State for Columbus Pride this year, hallelu! (If you're in Columbus, or want to join the party - get tickets to the Unity Ball at AXIS on June 20th)
I had the privilege of talking with Michelle about Drag Race, life and the gay community, and couldn't be happier to hear she was heading to my city for Pride this year; after reading this article, you'll see why!
Michelle had a lot of great things to say during our chat, starting with her love and appreciation for drag queens and their art. "I love and respect the art so much; drag stars and trannies get beat up the most," Michelle said as we discussed her involvement on Drag Race. "Even the the most ratchet queens, I see such bravery and power and I love it. I haven't met a queen I didn't like."
"I love Detox's personality and I was super excited to see Bianca on the show last season. I wanted to know how she would do it, because she is a such a twat; I really wanted to know how she was gonna get it done on TV. But she was a pro."
Michelle said she really loved and enjoyed watching the juxtaposition of last season's top three; Bianca, Adore and Courtney. She also expressed her excitement for the current season (Season 7) which brought in a whole new group of bitchy ladies fighting for the prize.
"I had never actually met a few of the new contestants, maybe only one. I was really excited because everyone thinks they can do it until they are there. Such twisted humor and over-the-top personalities, I love it."
One of this season's contestant's, Katya, said in a recent interview that Michelle is, "...terrifying, I'm not going to lie." What? I just don't believe it (haha). Hey honey, you walk into the fire - expect to be burned.
Speaking of burned, I asked Michelle about the Carmen Carrera debacle and her take on the "tranny" situation. "Growing up in the gay community, it's like you always knew you didn't call black people the "n" word. But saying tranny was never bad, somehow that changed over the past few years. Every last one of them said "tranny" in reference, growing up it was a loving term. It was never offensive, but apparently nobody got the memo that you don't say that anymore. When did it become bad?"
"I think the term 'fishy' is offensive to biological women, but I wouldn't start a campaign against a drag queen for using the term. Ru has done so much for the gay community over the years; there is nothing but love and support inside that soul."
"Who we are as a community should never stop being about love and support. We can't lose that. People get so caught up in "me, me, me" but I just sit back and wonder,  'are we really going to fight on Twitter about these things?'"
"Of course I respect everyone, and I can respect that change," Michelle said of the "t" word. "We fight everyday for the world to take the gay community seriously, treat us with equality. We fight every day for human rights. If we spent more time on things like that, than infighting, we'd all be better off. Gaybashing inside our own family isn't helping use move ahead; fight the fight in the outside world, not within."
She went on to say that "The gay community needs to be supporting each other. Women should be empowering other women, and the gays should do the same. Gays just don't support gays anymore, and that's what worries me."
Michelle and I agreed that gays almost prove the outside world right a lot of times with action and speech, not intentionally but like she went on to say, "When we focus on the little shit, that's when the outside world is looking in saying, 'See, this is why we can't take you seriously.'"
That's one of my personal concerns with the gay community that I express all the time! It was such a relief to be able to hear her share the same sentiments and concerns. Her heart for the gay community is so apparent and it was refreshing to hear her views.
With everything happening in the world today; the gay community being attacked and killed in other countries and states in our nation trying to pass bill's that put equal rights at risk; the gay community has to pull together and put the little things aside, take PRIDE in ourselves and in each other and keep love at the center of everything we do. Like Michelle said, "Who we are as a community should never stop being about love and support. We can't lose that."
This lovely woman also expressed excitement for her first book, Even Divas Need Day Jobs, a memoir due out on Chronicle Books in fall 2015! And of course, anyone in or coming to Columbus for Pride this year has a chance to see her and all her glory in person. Check out Columbus Pride's official website for all this year's festivities and schedules.
Hope you enjoyed, and thank you once again to Michelle for taking time with me. See you at Columbus Pride and for now I say...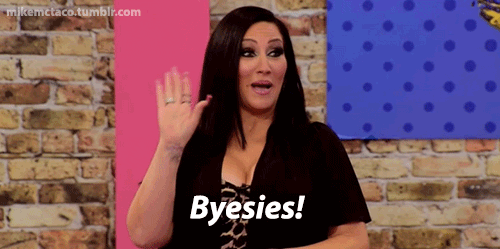 Keep Up With PopWrapped On The Web!