Is our beloved Mia Thermopolis making her way back into our lives via a highly anticipated Princess Diaries 3?! Based on this gossip, it sure looks like it...
Princess Diaries 3 could actually be happening after all this time, and this is coming straight from director Garry Marshall's lips. According to the legendary director, he revealed a conversation with Oscar winner Hathaway about bringing the family series back to life.
Speaking to People magazine, Marshall said:
"I was with Anne Hathaway a couple weeks ago, it looks like we want to do Princess Diaries 3 in Manhattan." He added that there were still some things to work through before moving forward with the project. "
Anne Hathaway is very pregnant, so we have to wait until she has the baby and then I think we're going to do it."
For those that have stayed in the loop regarding a return to Genovia, rumors began circulating last summer noting that Hathaway may not have been involved. This bit of news straight from Marshall seems to clarify once and for all, however, that she will in fact be.
Now for the demand from ALL OF US:
Julie Andrews must come back. No questions asked.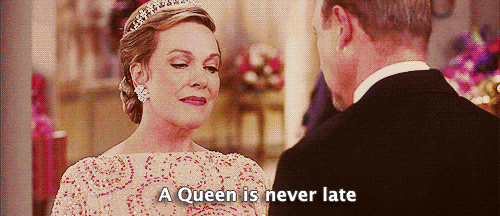 giphy.com
Right?
What do you guys think? Would you be on board with Princess Diaries 3??
Let us know in the comments!