Nothing quite kicks off the holiday season like seeing all your favorite products join the bandwagon that is pumpkin spice. I am a huge advocate of this beautiful craze and look forward to it every year. In fact ... it is the basis of my Twitter handle.
As I report to you now, I am enjoying some Pumpkin Spice Philadelphia Cream Cheese smeared on a Pumpkin Spice Thomas Bagel with a warm cup of Dunkin Donuts pumpkin spice coffee, jazzed up with a splash of pumpkin spice creamer!
This once would've been my go-to breakfast for the next few months; however, this year, the pumpkin spice game is even stronger than ever! Get your wallets ready, PS fans, and join me on expanding our pumpkin spice horizons because here comes the highlight of what's new this year on our delicious fall food journey.
On the subject of breakfast, the first to hit the market and create a stir has been in the cereal department. Last season, we were introduced to PS Kellogg's Frosted Mini Wheats. Joining them this year will be a new Kellogg's Special K Pumpkin Spice Crunch. And, to be sure Kellogg isn't having all the fun, General Mills announced they will be releasing Pumpkin Spice Cheerios.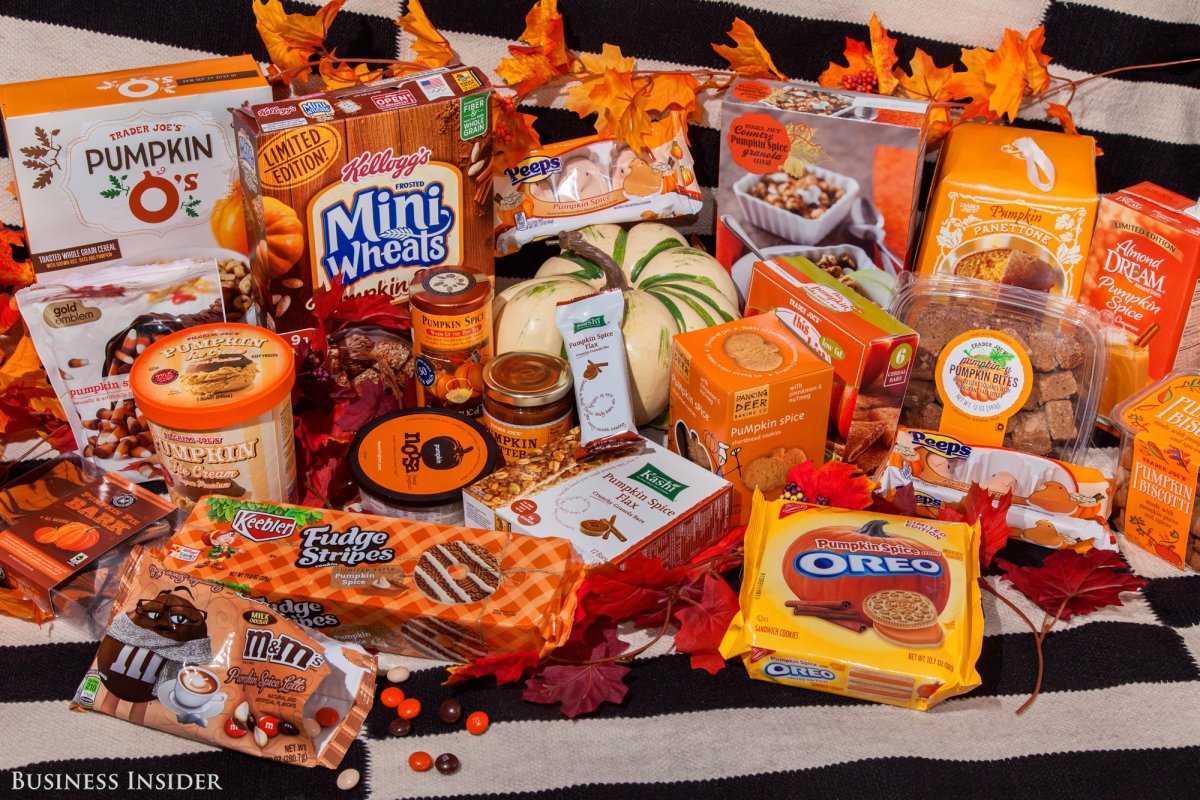 Business Insider
In the candy department, we have big-time contenders of limited edition flavors. M&Ms are going out of the box a bit and introducing a new butterscotch flavor called"Boo-ttersotch". There has also been sighting of Pumpkin Spice Peeps -- not just for Easter anymore it seems!
Of course there is ALWAYS coffee. It wouldn't be autumn without a Starbucks PSL in hand! While the launch of the drink isn't officially starting until next week, rumor has it you can already start ordering it in store. And, if that isn't enough, the company has also released a bottled Frappuccino version, as well as a Via Instant Latte variety and, of course, K-cups. It doesn't end at Starbucks, folks -- like I mentioned earlier, I highly recommend the Dunkin Donuts brand, but be on the look out because there are many, many more!
Now if you are ready to up your  game, I have some next level items for you this year! So far, I have seen pumpkin spice yogurt by brands such as Chobani, who has both a regular Greek yogurt flavor and Pumpkin Harvest Crisp in their Flip variety. Planters introduced pumpkin spice flavored almonds, which might be good on your ... wait for it ... Ready Pac Bistro pumpkin spice SALAD (yeah you heard me!). How about some PS Hummus by Cedar's? I think the most outrageous thing I have seen so far has to be the Tidy Cat Fall Frolic scented cat litter. Even your kitty can help fragrant your house with the warm scent of fall holiday spice.
Finally, the best way to relax on a crisp fall evening is with a frosty glass of brew. I'm talking beer and booze, folks. This, in itself, is entitled to a full article. However, the short version is to be on the look out for pumpkin cider, beer, and liquor from top brands such as Woodchuck, Sam Adams, and Kahlua.
For a full list of items I suggest checking out this article from Delish.com. Let us know -- what you are most excited to try this year? What sounds too gross?
Happy Pumpkin Spice hunting everyone!