When most of us think of McDonald's, we think of greasy burgers and fries. However, things may be changing for the fast food giant thanks to the opening of McDonald's Next, a new version of the popular brand.
In December, 2015, McDonald's took one of its Hong Kong restaurants and evolved it from the typical fast food joint into a brand that is striving to be "modern and progressive." Walking into this restaurant, you may hardly realize that you are in a McDonald's at all. The red and yellow has been replaced by shades of black and white, metallic interiors and a salad bar, which offers 19 different ingredients including quinoa, two salad bases, cheese and sauce. McDonald's next also offers premium coffee blends and table service after 6 p.m.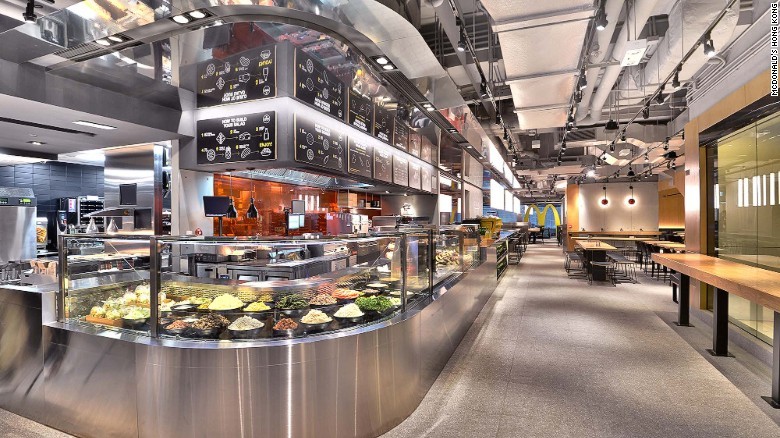 CNN
Though there is a salad bar and new look, customers can also find a remedy for their next Big Mac Attack, as McDonald's Next still has a regular menu and the new Create Your Taste (CYT) concept, which allows customers to virtually make their burger via touch screen when ordering. The CYT concept has been adapted in selected restaurants in the United States, China, Australia, and the UAE.
Customers seem to like the McDonald's Next concept. Nicolas Cottard, one customer and French businessman says that McDonald's Next is, "friendlier, feels more like a cafe than a McDonald's. I think it's increased the value of the brand."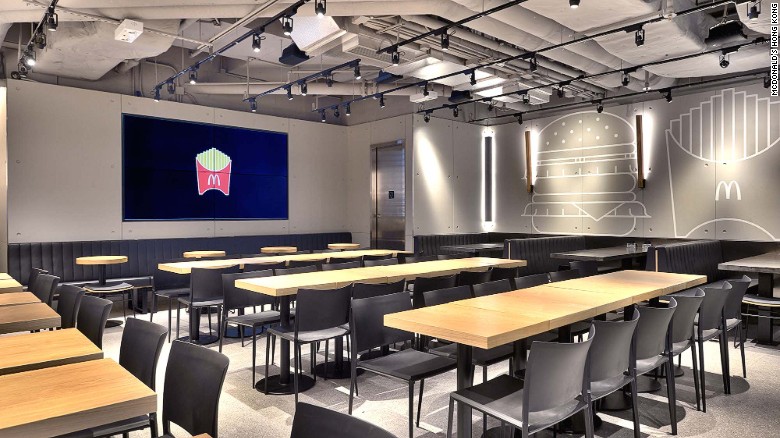 CNN
The question is, why is McDonald's making this shift? It comes down to a failing business model.
Just last year, McDonald's announced that it has a major turnaround plan after seeing both guest traffic and revenues fall. There were disappointing numbers in the first quarter of 2015, and it simply continued throughout the year. There is more competition in the fast food market and people are becoming more conscious of their health.
Part of the allure of fast food, however, is the cheap cost, so will the food at McDonald's Next fit into our budgets? With any new perspective comes new prices, and those who have been to McDonald's Next claim the prices are a bit higher, but similar to other food in the city.
Wanting to try McDonald's Next? For now, you will have to go to Hong Kong, but this concept could easily grow and make its way to the States before long.