There is about to be a Pride Parade inside your mouth.
From the organization that brought you tons of your favorite celebrities telling you "It gets better" (this is really more proof it does), and the chip company that keeps on giving you that finger-licking flavor: RAINBOW DORITOS!!
"Time and again, our consumers have shown us, there is really nothing bolder than being true to yourself and living life to the fullest," said Ram Krishna, chief marketing officer, Frito-Lay. "With Doritos Rainbow Chips, we're bringing an entirely new product experience to our consumers to show our commitment toward equal rights for the LGBT community and celebrate humanity without exception."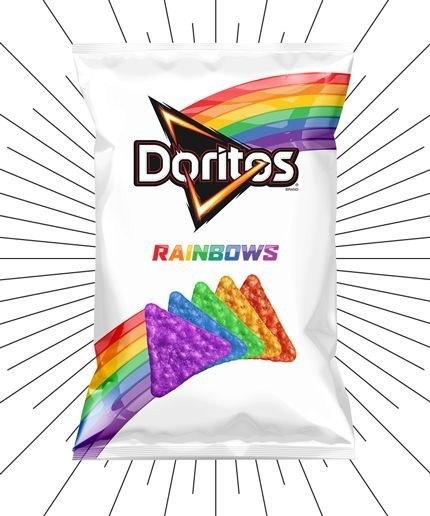 Courtesy of Doritos
Before the cynical gays start thinking this is just a shameless marketing ploy, the rainbow chips are only available online after you make at least a $10 donation to the It Gets Better Project. The best part? 100% of the proceeds go to the charity to help lower the rate of LGBT suicides! 
Did I talk about their flavor yet? I spent ten minutes trying to find it, because I wasn't already convinced: Cooler Ranch, mother truckers! I don't know what kind of Doritos flavor you casually enjoy, but I think we can all agree Cooler Ranch is the most delicious ever, from Taco Bell to 3D to, now, Rainbow!
Added bonus: Doritos is paying for all the shipping of the product. The rainbow flavored concoctions ship out in 1-2 weeks. Order them. Order lots! They're only available while supplies last!
Join the #BoldandBetter & #DoritosRainbows movements on Instagram and Twitter! Think of all the new hashtags you could add to your uploads!
Where's my wallet? I want to taste the rainbow, but not like a skittle, like a cooler ranch tortilla fiesta in my mouth! Nom nom nom!