A rare giant squid was recently filmed in  Japan.  This squid is the stuff of legends.  Architeuthis was not spotted in the wild until 2004 and live video of an adult was not obtained until 2012.  Prior to that, these creatures were only seen as carcasses washed ashore, in fishing nets, or in the bellies of Sperm whales. Some  Sperm whales were observed with suction cup marks on their skins :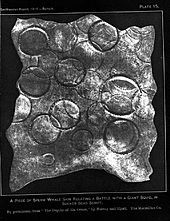 Wikipedia
Reports by mariners of giant squid date back to the time of Aristotle and It is speculated that the giant squid may be the basis for such legendary creatures as the Kraken and Scylla.
On Christmas eve in Toyama Bay in central Japan this elusive giant spent several hours swimming around the shallow waters.  The Toyama Bay squid measured in at about 12 feet.  By no means a heavy-weight since giant squids can grow up to 13 meters (43 feet) long.
Local dive shop owner,  Akinobu Kimura, captured this footage of the squid:
He explained his feelings in an interview with CNN, saying "my curiosity was way bigger than fear, so I jumped into the water and got close to it." Kimura went on to say:
This squid was not damaged and looked lively, spurting ink and trying to entangle his tentacles around me. I guided the squid toward to the ocean, several hundred meters from the area it was found in, and it disappeared into the deep sea.
CNN also interviewed Yuki Ikushi, the curator of Uozu Aquarium in Uozu, Toyama about the unusual sighting.  He is quoted as saying: "There were 16 reports of giant squid being caught in fishing nets during the last fishing season... this is the first giant spotted this season."  The fishing season began in November and will fun through March.  
It is highly unusual for the animals to be seen in the comparatively shallow waters of the bay.  Their carcasses are typically pulled from much deeper water.  There is no way of knowing if the leviathan will pay another visit to the bay.