I think we can all agree that a collective "finally" has been whispered throughout the country today. In a move that SHOULD have happened when the incident originally occurred, The Baltimore Ravens cut running back Ray Rice after a video showing him knocking his fiance unconscious in a casino elevator was released. He was also indefinitely suspended by the NFL. After the news of the assault initially broke, Rice was served a mere TWO GAME suspension by the NFL and served zero jail time for the attack on his then fiance, Janay Palmer (she is now his wife). In fact, after his arrest for aggravated assault, Rice was accepted into a pretrial diversionary program which resulted in the charges being
completely dropped after it was completed
. And, so, the story of athletes ALWAYS being above the law continues. The internet has been up in arms about the lax penalty from the start; but after the video hit the web this morning, the Ravens and the NFL in general have been bombarded with tweets and messages with fans and feminists airing their disgust with the situation. Take a look at the video below. While the actual punch is gut wrenching, I find the portion where he haphazardly picks her up and dumps her on the ground like a piece of trash the most offensive. Below are some reactions to the gruesome video from the Twitterverse. https://twitter.com/WillMcAvoyACN/status/509053277065867264 https://twitter.com/speechboy71/status/509052636541489152 https://twitter.com/trenni/status/508987463730462720 https://twitter.com/speaktostacey/status/509047594614407168 https://twitter.com/JasonPrinzo/status/508939900931276800 https://twitter.com/eyeonannapolis/status/508922778515673088
That last tweet helps me to segue into my next point
: did NFL commissioner Roger Goodell and the Baltimore Ravens see this video when the incident initially occurred? Of course they are both claiming that they did not. They claim that, for whatever reason, the police only released the portion of the video where we see Rice dragging Janay Palmer on the floor; but were not privy to the reel of him making actual contact with her in the elevator.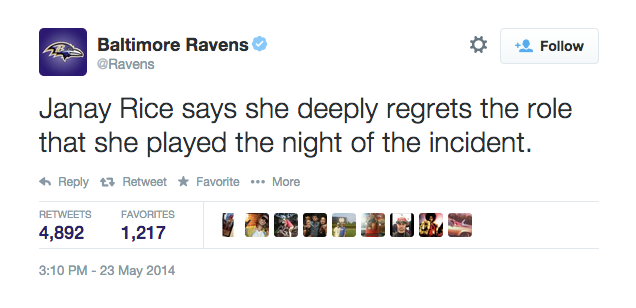 Twitter
It was also said that Palmer was the one who "attacked" Rice in the elevator, thereby provoking him to knock her out. And, let me remind you, they conned this woman into apologizing for her "part" in the incident. So this begs the question: Did the NFL actually see this video and talk Palmer into victim-blaming herself, or were they truly clueless to the actual goings on? Many people went on record saying that, as far as they knew, the NFL had access to the exact same evidence the police did when handing out the two-game suspension. Not only that, but the description of the events given by Rice himself matched up with the events in the video. Sound fishy to anyone else? https://twitter.com/Ravens/status/469918292061061120 https://twitter.com/janesports/status/509052416038563840 https://twitter.com/janesports/status/509053174976872448 The point remains: whether she pushed him or attacked him (and, truly, she did neither. This is a professional football player; he sees FAR worse during routine practice drills) and whether the Ravens and the NFL saw this video or not; it took a pop culture rag like
TMZ
releasing the video for them to hold themselves accountable for their actions; or utter lack thereof. After the video broke on
TMZ
and quickly went viral, the Ravens finally decided to cut Ray Rice and the NFL handed out an indefinite suspension. Don't think this will be the last we see of him, though. After all, there's always room for an appeal or forty. https://twitter.com/Ravens/status/509043216977371136 I love football and, as a Cincinnati Bengals fan, I may be a little bias against the Ravens organization in general. However, as a fan and a woman, I find it appalling that the well-being of a civilian is always overlooked for the betterment of the team. A sad and true fact that is surely not exclusive to the NFL. Athletes are granted special privileges for the entirety of their lives, dating back to middle school and high school. While these grown ass men need to recognize that the fact that they get to play a game for a (damn-fine) living is a privilege to be cherished; when we breed man-children that are never held accountable for their shortcomings, who is to blame, really? It's a classic nature vs. nurture battle; and everyone but the NFL is losing.
Keep Up With PopWrapped On The Web!
Twitter 
SoundCloud
Facebook
Instagram
Tumblr
Pinterest
YouTube