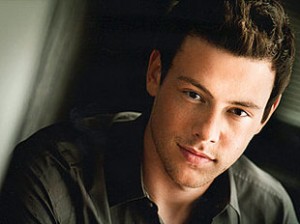 Photo courtesy of draggpost.com
Kate McHale
Senior Staff Writer
@KateMcHale42
With the first anniversary of the tragically sudden death of
Glee
star Cory Monteith quickly approaching; the PopWrapped staff is taking time to share not only what we love about Cory, but our favorite moments of him. Cory is easily known for his loveable personality, quirky smile, and overall charm. While on the show
Glee
he played quarterback turned singer Finn Hudson, there are times when Cory's best qualities shine through. That is why I have decided to countdown the best "Cory" moments that he has brought to the show. Some are heartwarming; others just bring a smile to your face.
Cory Moment Number 5: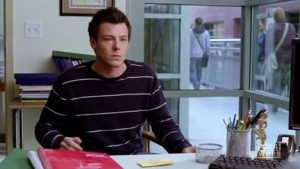 The best Cory moment that begins this list is actually from the first season. The glee club began with five members, and Mr. Shue knew that the group was lacking a true leader. When he stumble upon Finn singing in the shower he knew immediately that he needed him in the New Directions. Even after Shue tries to get some of the football players, none made the leap to join. So Mr. Schuester does the only thing he can think of, blackmailing Finn. He plants marijuana in Finn's locker and tells him that he will not say anything about it if Finn joins the New Directions. In order to plead his innocence Finn utters "I'll pee in a cup! I'll pee!" marking the first Cory moment in our countdown. In order to avoid getting in trouble Finn says yes to their agreement. Of course when Finn is ready to graduate, Shue comes clean and tells him the truth. Finn's response, "You're even cooler than I thought!" It doesn't matter how many times you watch Cory say "I'll pee in a cup," it's hilarious every single time you watch it.
Cory Moment Number 4: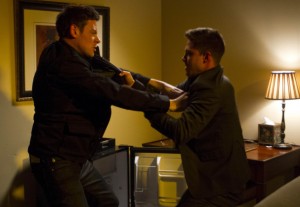 There has never really been a doubt in anyone's mind that Rachel and Finn have always belonged together. Well except for maybe Rachel and Finn, and that was always only in small spurts. In Season 4 Rachel dated NYADA student by day and gigolo by night Brody. Santana, the detective she is, caught on to Brody's act. She quickly put together a plan to get rid of "donkey face" as Santana loved calling him. Who else would she call to the rescue than Finn Hudson? What ensued was a smack down of epic proportions, and our number 4 best Cory moment. During Finn and Brody's "disagreement, Finn says "stay away from my future wife." And the whole Gleek nation was filled with such joy. Not only was Finn doing what most of us were dying to do, but it showed that Finn knew what everyone else did, those two belonged together. Finn punching Brody definitely deserves its own spot on our list, therefore securing the number 4 spot on our list! Does anyone blame us for putting this moment on the list? I didn't think so!
Cory Moment Number 3: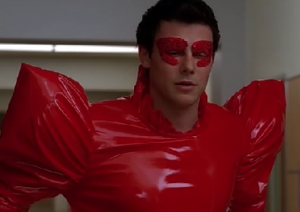 Finn and his eventual step-brother Kurt had what could best be described as a rocky beginning to their relationship. When the two moved in together tension boiled over, and ended up with Finn calling one of Kurt's lamps "faggy" and completely infuriating Burt. However, Finn quickly saw the error in his way, with the guidance of Burt, and took the first chance he got to defend Kurt. Karofsky had a knack for bullying Kurt unmercifully, and the episode where the girls plus Kurt dressed like Lady Gaga was no exception. When Karofsky and his henchmen were bullying Kurt in more than just a verbal way, Finn stepped in. Dressed in his own interpretation of a Gaga outfit Finn tells the goons to back down and to stop messing with Kurt. Of course, Finn came with back up, the whole glee club dressed in both Gaga costumes and Kiss costumes for most of the guys. At that moment viewers knew that Finn really was going to accept Kurt not only for whom he was, but also protect him no matter what. That doesn't mean that the two didn't hit anymore bumps, but it did mean that Finn was going to protect him no matter what. This exchange undoubtable makes Gleek's swell with happiness because of the journey that Finn as a character went through in order to be the accepting person he ended up being. Therefore this moment undoubtedly earned its spot at the number 3 place on our countdown.
Cory Moment Number 2: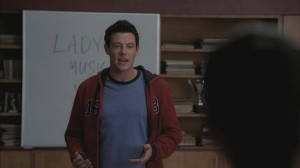 These last two moments are without a doubt my two favorite Cory moments on
Glee
. For the number two spot we have to rewind a few seasons to Season 3. During that season, there are multiple moments that could have easily made this list, but the one I chose was his "lady music week." Or this is better known as when he dedicated the whole week to supporting Santana after she came out as gay. Finn and Santana have always had a special relationship, and this week was no exception. When Finn realized that he was partially to blame for forcing Santana to come out, he was focused on making the situation right. The entire week, he made sure that Santana was surrounded by unconditional love and support. What ensued were incredible music, and an amazing version of "Girls Just Wanna Have Fun," performed by Finn. In his performance, everyone knew that his main focus was Santana, and making sure she knew he was there for her. The whole episode Cory's personality shines through. While Santana might not have always been on board for Finn's support, she quickly grew to appreciate it. Without Finn's care who knows what would have happened to her. This episode is just filled with heartwarming and memorable moments of Cory that it's a no-brainer as to why these moments are number 2 on our countdown!
Best Cory Moment: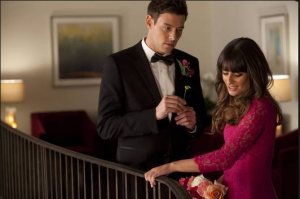 The best Cory moment, in my opinion,  just so happens to be one of his last. In Season 4, Finchel went through their definite ups and downs. However, in the episode "I Do," both Finn and Rachel produced my favorite Cory moment. Right before they are set to perform their duet "We've Got Tonight," Finn gives one of the best speech's I have seen on
Glee
. In the speech he makes sure to tell Rachel that the two of them are "endgame." He even goes on to say, "it does matter what dope you're shacking up with you are my girlfriend, we are end game." Of course he gives this speech while plucking petals off of a flowers saying "she loves me she loves me not." This moment, along with their performance of "We've Got Tonight" never fails to give me chills. I felt like this was the perfect way to end the list. Because no matter where
Glee
goes, Rachel and Finn were always meant to end up together. That's all that matters. And this moment captured that perfectly. That is why, Finn's "We are endgame" is my favorite Cory moment of all time. So there you have it my favorite Cory moments. There is no doubt in my mind that Cory was the glue that held Glee together. His performances on the show are invaluable and quite frankly what makes
Glee
the show it is. So please join us in remembering Cory Monteith as the tall awkward Canadian that everyone loves. Let me know what your favorite Cory moments are below.
Keep Up With PopWrapped On The Web!