Kate McHale
Senior Staff Writer
Glee
and its community was rocked with tragedy a year ago when Cory Monteith tragically passed away. Instead of focusing on how he died, PopWrapped has decided to honor him by posting stories written by our staff that reminisces about why so many people loved Cory. We want to honor what a great and talented person he was, and should forever be remembered for. So please sit back and enjoy what we loved about Cory. This countdown is his top songs/ performances on
Glee
. Usually we do a top 5, but let's be honest here. that almost wouldn't do all of his incredible songs justice. So drumroll please, this is my list of top 10 songs Cory performed while on
Glee
as the beloved character Finn Hudson.
Song Number 10: 
To start this list off right, why not start with a song from the very first season? "I'll Stand By You" is a song that is so loved for several different reasons. The main one being, Finn was so determined to make things work not only for his relationship with Quinn but also with his (well really Puck's) baby. With the help of Kurt, Finn found the perfect song to sing to the sonogram of his baby. This was the instant everyone not only heard his rendition of the song, but also watch his performance people were so moved. Finn was inherently such a sweet and thoughtful character that the tender moment really struck a chord with everyone watching. He took an already well known song, and put his own tender version to the song, which also just so happens to make everyone that listens tear up a bit. Thus, starting our best Cory songs and performances countdown with "I'll Stand By You."
Song Number 9:
The episode "Grilled Cheesus" definitely gave Gleeks an emotional roller coaster ride mainly focusing on the health scare of fan favorite Burt Hummel. With an episode filled with emotional songs, and dramatic moments the little comedy the Finn brings surrounding his grilled cheese sandwich that has Jesus grilled onto it is much welcome. When things start to not go Finn's way he starts to question religion and his beliefs. Therefore his performance of "Losing My Religion," lands itself a spot on the number 9 spot on our countdown. The song was a pretty drastic change from many of the songs we had heard from Finn up until that point. "Losing My Religion" was a definite step towards an edgier Finn. Which thankfully didn't really stick, who are we kidding Finn was always the kind and character that most people wanted to be. Cory attacked this song in a great way, and did not let anyone down with his rendition. This is exactly why "Losing My Religion" secures the number 9 spot on our list.
Song Number 8:
Season 3 was packed full of constant action, drama, and tearful moments. There was no exception to the episode "I Kissed a Girl." When Santana was forced to come out to everyone, Finn made sure that Santana knew that she would always be loved by everyone in the Glee Club no matter what. In doing so he took a song that is known for its upbeat rhythm, and stripped it down to its roots. "Girls Just Wanna Have Fun," without a doubt earned its spot at number 8 on our countdown. Not only did Finn command everyone's attention during his performance for Santana but he simultaneously gave everyone chills. No one had ever imagined that version of "Girls Just Wanna Have Fun," but boy am I glad that this rendition came to light. Finn's undivided attention he gave to Santana and his simple performance really let the song shine. Thankfully, and without a doubt, this song has landed the number 8 spot on the countdown for best Cory songs/ performances.
Song Number 7:
Oh, lucky seven! What song/ performance will it be? This is a song that I know all of you love for so many reasons, one of which is it married two friends together as brothers. "Just the Way You Are" is Finn's acceptance, and approval for the new blended family, the Hudson-Hummel clan. Pryor to his performance dedicated to his new step-brother Kurt, he had been very apprehensive to the fact that Kurt was gay. With a nice swift kick in the butt from Burt, Finn realized that he needed to take care of his new brother. Thus Furt was born. To symbolize the new bond, Finn put together a performance just for Kurt proving he loved him, well, "Just the Way You Are." During the high energy and loveable performance, Finn danced with Kurt and everyone fell in love with him all over again. Finn came a long way since he called one of Kurt's lamps "faggy." From that point on Finn protected Kurt like a big brother usually does, and protecting a stop in our countdown at the number 7 spot. I mean what's not to love about this performance? Answer is, nothing--in case you were wondering.
Song Number 6:
For spot number six, I had to rewind (once again) to Season 1 and all the way back to when people fell in love with Finn Hudson's voice. "I Can't Fight this Feeling" lands the number six spot on our countdown for several wonderful reasons. This is the first time Gleeks heard Cory's voice, and boy was it a memorable time! Remember Mr. Shue walking in on Finn absolutely jamming out in the shower? I didn't think you would forget that one! While people continuously state that Cory is not the most technically sound singer on
Glee
, what he didn't have in technique he made up for in pure heart. It shows in his performance of "I Can't Fight this Feeling."
Song Number 5:
Zooming right along this list and to the number five spot is a song from New Direction's Michael Jackson medley straight from their sectionals performance. While the entire performance had everyone entertained from the beginning, "Man in the Mirror" sealed the New Directions ticket onto Regionals. While this was a group routine, Finn definitely left his mark on not only the performance, but also the song. Finn started the song out, and set the tone for everyone else who took part in the song. The boys took the Michael Jackson classic, and made it their own. With the leadership from their fearless quarterback Finn. When many of the members on the glee club had lost hope in their dreams of nationals Finn never questioned them, he even went to a strip club to get Sam just in time for the competition. I mean talk about dedication! Cory's voice is definitely on display during "Man in the Mirror," and left fans in awe of the
Glee
version. Can anyone blame me for putting this song at the number 5 spot on the countdown? I sure hope not!
Song Number 4:
For the number four performance on our countdown, this song marks the end of many relationships. "The Scientist" was definitely a heartbreaking performance for the viewers. Each couple in the performance had either broken up (Finchel, Brittana, and Klaine), or were going through great hardships (Wemma). Each and every person who was involved in the song absolutely brought their A game, but Cory Monteith absolutely blew his performance out of the proverbial water. Before the performance began he made the statement "I've lost my girl and I don't know what to do." Through the entire performance you could tell that his character was lost. Not to mention, this was one of his best vocal performances on the show. Although by the end of Season 4, Finchel was on the road to recovery, "The Scientist" will always be a song that people remember. Due to Cory's phenomenal part in this song, it undoubtedly earned its spot at number four on our countdown of best Cory songs/ performance on
Glee
.
Song Number 3:
At this point in the countdown, the songs and performances are virtually interchangeable. For the number three spot on our countdown the performance begins with a "Break a leg" from Rachel, and then an "I Love you" from Finn. That should have been a sign to everyone that the performance that was about to ensue would be one to remember. "Faithfully" was a performance that essentially marked the true beginning of the relationship everyone obsessed over. While
Glee
definitely might have a slight obsession with Journey, the covers of the Journey songs are almost what made the show what it is. The Journey song everyone equates with
Glee
is "Don't Stop Believing," but "Faithfully" should be right up with there with "Don't Stop Believing." It's quite appropriate that "Faithfully" is after "The Scientist." One song marks the end of a relationship, and the other marks the beginning. The Finchel duet should blow everyone away simply with the vocal performance alone. Whenever Lea Michele and Cory Monteith take lead on a song together, a song of epic proportion will follow. "Faithfully" without a doubt earned the number 3 spot on our countdown.
Song Number 2:
And then there were two, trying to decide the final two songs/ performances on this countdown were a definite dilemma. However, the son that comes in at the number two spot begins with a classic Finn statement "We are endgame." While Emma walked out on her first wedding to Mr. Shue, that didn't stop everyone from partying it up at their would be reception. Mr. Shue had asked Finn to sing for his best man toast instead of giving the typical toast. However, after Finn kissed Emma he had a freak out in front of Rachel, and she insisted on singing it as a duet. "We've Got Tonight," is the duet that the two performed with absolute excellence. When they performed the song I immediately got chills, and knew that this would be a song that people would rave over for a long time after the performance. "We've Got Tonight," was more than just a song to both Rachel and Finn, it was a proclamation that they will always be together, there is no way around it they truly were "endgame." Finn was not going to give up on their relationship, and he was determined to keep the hope alive. That hope lands "We've Got Tonight" in the number 2 spot on our list.
Song Number 1:
Well Gleeks, the number one song has finally arrived, although I'm pretty sure many of you have an inkling what this song is. Cory has performed in so many different routines and songs that making a list of his greatest is a challenge, but I think that whenever someone is asked what his best is, "Don't Stop Believing" is almost always the answer. While it may not be Cory's best technical song, I don't really care, from that performance on people knew that
Glee
just might make it after all. When Cory sings "just a small town girl living in a lonely world..." people stop what they are doing and listen. It commands attention, and is synonymous with what the show now is. While "Don't Stop Believing" is a group routine, Finn absolutely shines. There was no doubt in my mind that his performance of this song has earned the number one spot on our countdown.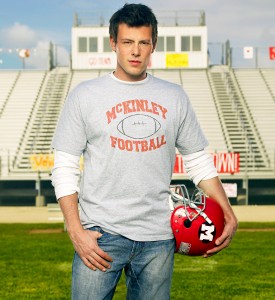 Courtesy of FOX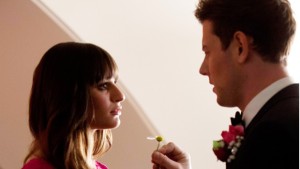 Courtesy of Marie Claire
Well what do you think? Would you change my order, maybe put different songs in the list? I would love to know your thoughts. Cory Monteith truly was "the quarterback" of
Glee
. He was the unsung leader of the cast, and is sorely missed. Ever since his untimely death, the show has never been quite the same. No one can take his place, nor should they. There are always people who leave a special impression on you that never quite leave and Cory Monteith did that to so many different people, both those that knew him personally and fans. While his death was tragic and far too early, what Cory did on his short time on earth is unbelievable. He should be remembered for what he did that was good not how he died. So please join us in sharing what we love about Cory Monteith, and how we feel he should be remembered.
Keep Up With PopWrapped On The Web!