Shelby Parker
Staff Writer
Glee
in their life were suddenly paying attention to him and wondering what would happen to the future of the show. The thing about Cory is, he had a lot of life in his short time on earth. Sure, he had his demons that he battled, but he didn't let that control his life, like so many often do. And he was just getting started. He was starting to progress more into movies, he was involved with charities and understood the importance of giving back. He loved life, and it loved him right back. It isn't common to feel such a strong connection to a celebrity you've never met, especially when the celebrity is no longer here. Normally, when a celebrity dies, it's sad and you feel for the family; but never has a celebrity death affected me like this one. Monteith was a different kind of celebrity and certainly left an impact, not only on Gleeks, but to those who weren't necessarily fans and were inspired to start watching. I think that speaks volumes to the kind of person he was and the transparency of his life. He was pretty open about his struggles and wanted others to learn from his mistakes. I was a
Glee
fan from the very beginning; rooting for the little show that could with actors that not many had ever heard of. As a junior in high school, who was very involved with the arts, like drama and choir, I knew what it was like to be the underdog and that, if I wanted something, I was going to have to fight my way to the top. I knew what it was like to feel confused and to not feel like I knew where I was going after high school ended, and so did Finn. It reminded me that I wasn't alone. There was something so lovable about the adorable "Finn Hudson," but I never thought it was Finn, it was always something Cory that shined through the character and made us feel invited to the McKinley High choir room week after week. He was the reason that I watched and the number one cast member that I wanted to meet. I never had the opportunity to meet Monteith, though I saw him from a distance while standing by the People's Choice Awards red carpet in 2011 and tried to. But, like so many others, because of his personality, I felt like I had met him. When I took a tour of Paramount Studios, where
Glee
films, our tour guide said that when he could and wasn't filming, Cory was one of the rare cast members to actually come out and talk to the fans taking the tour, which is kind of unheard of. I just couldn't believe it. It always stood out to me. He was just a genuinely nice guy, who always went out of his way to talk to people and make them feel comfortable, and not just fans, but the media, too; which is even more rare. As I've read through Tumblr, Twitter, Instagram, and other fan blogs, there have been countless stories about just how incredible Cory really was and he always had a way of making everybody feel special and loved. That's who he was. A guy with a big heart who wanted to live his life to the fullest. He reminded me to never give up and to work hard for whatever dream you have. That's how I want to remember him, and I'm sure all of his other fans and loved ones will too.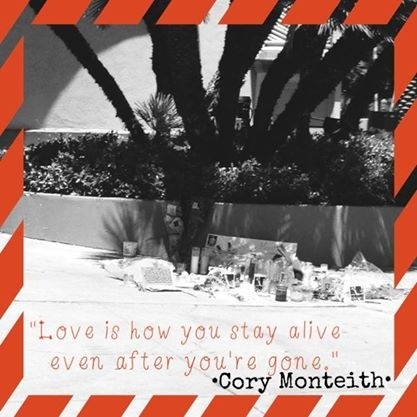 Courtesy of Shelby Parker
Here are a few of my favorite Cory quotes:
Life's too short to be serious. When I first saw the script I thought [Finn] was an idiot. That's not a good place to start as an actor. You don't want to judge your character like that. I think his progression has been going from this dumb — well, he's not dumb. He's innocent. He truly comes from a place of childlike innocence where he doesn't know that the moon and New York City are more than 100 miles apart, for example. He really doesn't know. And he always speaks before he thinks. That's a pretty common trait of Finn's. It's all about perseverance. Absolute perseverance. You can always get back up. I don't have to hide or be somebody I'm not. I don't have to compromise. I can just be myself. Believe in yourself. Work hard. Never stop hustlin'. Just be you, that's good enough for me. If you focus on what you want and persevere, chances are you'll succeed. I think if you show up and you work hard and you're straightforward, you can always create your own opportunities. I hope I'm right.
Cory, you are certainly missed. Thank you for reminding us what it means to truly live and to make a difference while you're here, no matter how long that might be.
Keep Up With PopWrapped On The Web!