Christa Tintelnot Staff Writer
@christamarie123
I know, I am the official
Glee
recapper for PopWrapped, but I have a secret...I didn't start watching
Glee
until "The Sue Sylvester Shuffle" aired following the Super Bowl. I knew about the hype surrounding the show, of course, but most people got on the
Glee
bandwagon way before me. As the episode first started airing, I didn't pay too much attention to it. After all, I had never seen this show, nor really had much of a desire to watch it. That is, until I heard Cory Monteith sing, "She's Not There" by the Zombies. I have always had an eclectic taste in music and the was one of those songs that most people my age didn't know...but I did and I loved it. Even to this day, I cannot hear the song without thinking of Cory. Why am I telling you this? Because I think my favorite Cory songs might be a bit different than everyone else's. Sure, we all love the "Faithfully" duet between him and Rachel and who can forget him singing "Can't Fight this Feeling" in the shower? I want to share with you the other four songs that Cory may not be known for, but allowed the character, and probably a little bit of Cory, himself, shine through. "Sing"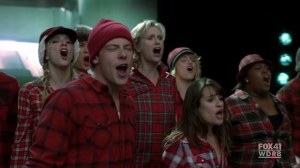 livelikejack.livejournal.com
One of my all time favorite Cory songs is another Rachel duet. It's "Sing" by My Chemical Romance. Why does this stick out? First, it's my kind of song. Second, this was the only time that Sue actually sang with the glee club and seemed to really be enjoying herself. Third, Cory looked great in his plaid shirt and hat. "(You're) Having My Baby" Another off the wall Cory song that I always loved watching is "(You're) Having My Baby." Why do I love this one so much? First, the awkwardness!! I still get a little uncomfortable every time I watch it. Another reason that I love this one is because if you pay attention, you will notice that Cory sings the wrong lyric at the end. This is just plain cute and it came out later, he forgot the line because Diana Agron was trying not laugh in the scene and he was distracted! "More Than a Woman"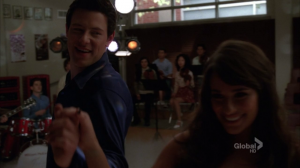 Fandom For Equality
I also love watching the scene from "Saturday Night Glee-ver" when Cory, sings "More Than a Woman." The dance was great, there was that weird camera angle where they all spin and it has always been one of my favorite scenes of the series. Another bittersweet reason I like this song is because it was the last Cory solo performed on the show. Though he did versions of "Not the End" and "Happy Christmas (War is Over)," neither were seen on screen. "Damn It, Janet"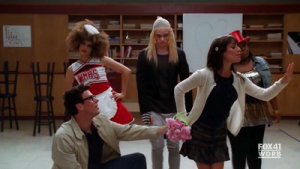 The Dam Nation
Finally, I think Cory and Lea singing "Damn It, Janet" was television gold. It's a catchy song, it's greatly entertaining and I can't think of this song without seeing Cory in those glasses. The truth is, when Cory died,
Glee
died. You can't keep going with a show that lost its heart and its soul. I like
Glee
and I still watch it faithfully, even though I know so many have stopped. Though the glory days of
Glee
may be in the past, it will always be a show that was groundbreaking in so many ways. But, it would never have been what it was without the addition of Cory Monteith.  Rest in peace, Cory.