What comes to mind when you think of Joan Rivers? Is it her saying that Tom Cruise has "Been in the closet so long, I'm going to take him to Goodwill"? Or perhaps you flash to the time that she called First Lady Michelle Obama transgendered? No? How about her countless jokes about her dried up vagina? The woman had no boundaries, and nobody was off limits to her sharp tongue and quick wit. But only focusing on her recent turn as the hostess with the mostest on
Fashion Police
is doing this incredible woman and her industry a disservice.
For example
: did you know that in 1965 Joan worked on
Candid Camera
as a gag writer and participant? She was typically the bait that lured people into the gags. Or that she graduated Phi Betta Kappa from Barnard College in 1954 with a Bachelor of Arts in English literature and anthropology? Did you know that in she wrote and directed the film
Rabbit Test
in 1978 that starred good friend Billy Crystal? There is SO MUCH to this woman that gets swept under a rug of couture and Versace. At her very core, she was a trailblazer; an inspiration; a feminist who cared not what she SHOULD or SHOULD NOT do or say as a "lady." Her falling out with Johnny Carson is a well-known event in Joan's life. The official story is that, when Joan was offered her own late night show, becoming the first woman in history to receive said offer, it was scheduled as a direct competitor to Johnny Carson's
Tonight Show
; where she had been working under the mentoring of Carson for years. Apparently, Carson found out about the offer from someone other than Joan and, when she tried to call him, she was greeted with a dial tone as he hung up on her. She later said that maybe she should have asked for his blessing; but if you ask me, it seems a bit harsh of Carson. These are the actions of a petulant child. Was he truly hurt that his protegee did not consult him, or was he more like a father lashing out at his rebellious daughter of which he had lost control? Do you know what makes me sad about that video? This was filmed in 1967, forty-seven years ago. And yet, here we are, still facing the EXACT same battles that we faced back, then plus a whole slew of new ones. Now, not only are we still fighting them, we've lost one of our greatest warriors. Our feminist matriarch; our general. Now, some of you may be thinking: how DARE you call this woman a feminist! She spent the last leg of her career bashing women if they didn't look just so on the red carpet. To which I reply: so what? The sheer beauty of feminism is that it comes in all different shapes, sizes and variants. Feminism is about acceptance, sure. But just because she doesn't fit into your box of what feminism should be doesn't mean she was any less of a trailblazer. Yes, she segued into superficial (albeit wildly entertaining) fodder later in career. Yes, she zinged Lena Dunham more times than anyone can count (which, okay, but have you SEEN Lena Dunham at an awards show lately? It's like she's trying to look terrible). Yes she was crass and crude and could make nearly anyone blush with shame. But she was HER; and truly, it was all in good fun. Joan once said: "If I thought I hurt anybody, I'd go crazy. That's why I pick on the biggies; they can take it." She was not, at her core, mean-spirited. She simply poked fun at people who get to pretend for a living and get paid ludicrous amounts of money for it. If you don't have thick skin in Hollywood then you're undoubtedly in the wrong business.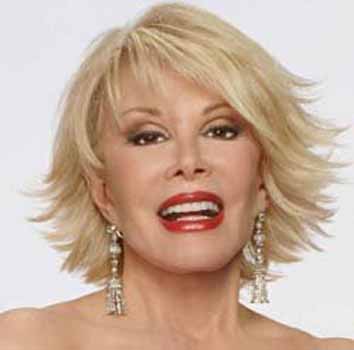 Topnews.in
And yet, for as fierce and brave as Joan was, she had deep-seated insecurities; why else would somebody completely transform themselves with plastic surgery? Being told that you'll never amount to anything
unless you're
"prettier," "look less Jewish" or "find a husband" is certainly enough to make anyone doubt their self-worth. Let's not hold the fact that she succumbed to society's standard of beauty against her and sully the wonderful things she did in the most fickle and volatile industry in the world. I choose to remember Joan Rivers for what she was: a despicable, hilarious, crude, extreme, glass-ceiling-crushing, insecure, generous, trailblazing, stylish, no-holds-barred, badass motherfucker. In conclusion, I am going to leave you with Joan's speech at her own Comedy Central Roast from 2010; as well as some of my favorite Joan quotes. And just remember: never try and put Joan in a box. That doesn't tend to end well for people.
"Everyone thinks Angelina Jolie was the first celebrity baby hoarder, but she wasn't. Before Angelina there was Mia Farrow. Mia had an entire farm full of children. I think she got them at Costco."
"Most babies are not actually attractive ... (They're) kind of like Renee Zellweger pushed up against a glass window."
"A man can sleep around, no questions asked. But if a woman makes 19 or 20 mistakes, she's a tramp."
"I've learned: When you get older, who cares? I don't mince words, I don't hold back. What are you gonna do to me? Fire me? It's been done. Threaten to commit suicide? Done. Take away my show? Done! Not invite to me to the Vanity Fair party? I've never been invited!"
"The thing is, I'm happiest when I'm on stage."
"Elle actually dresses better than her big sister, Dakota. Which is what we in the fashion world call a Reverse Beyoncé."
"As a Jew, I don't want to see Mel Gibson at a party. I don't want to run into him in the kitchen because there's an oven in it and I'm afraid of what he might do."
"I have a question. What would happen if Krysten Ritter put down her left arm? Would her innards fall out?"
"If you don't want gays in the military, make the uniforms ugly."

"I blame my mother for my poor sex life. All she told me was 'the man goes on top and the woman underneath.' For three years my husband and I slept in bunk beds."

"I've had so much plastic surgery, when I die they will donate my body to Tupperware."

"Life is very tough. If you don't laugh, it's tough."

"Never be afraid to laugh at yourself, after all, you could be missing out on the joke of the century."
Rest in peace, Joan. I hope you enjoy the great, big Neiman Marcus in the sky. Thank you for the laughs, the memories and, mostly, the opportunities.
Keep Up With PopWrapped On The Web!
Twitter 
SoundCloud
Facebook
Instagram
Tumblr
Pinterest
YouTube