It's that time of year, when the rich and fabulous women of Beverly Hills take over our television screens yet again with extravagant parties, wine fueled arguments, and the (sometimes) glamorous lifestyle they live. We begin with Kyle Richards planning her annual White Party that she believes has evolved to the "event of the year party" and with the help of her daughters the theme is decided on Cirque du Soleil. Kyle shares in her confessional that all in her household is well, and that her husband Mauricio is now the number one broker in California. The unlikely friendship of Yolanda and Brandi continues to bloom and they head for a walk to the beach where Yolanda shows pride over her daughters modeling career, and Brandi beams in her confessional about a third book deal, and other business ventures while continuously moving around the Beverly Hills area. We see Lisa sneaking off from her husband Ken to a meeting that she declines to share with him saying he wouldn't allow it if her knew (definitely a housewife.) Lisa has maintained a distance from the women after last season's tabloid debacle with Lisa in the middle of the fray, and only see's resolution if the women reach out to her. When Lisa arrives to the restaurant, the viewers are left to ponder who she might be meeting, when Kyle walks in. Being two of the three remaining original housewives and actual friends, it only makes sense that the two attempt to reconcile past issues and agree to start fresh. Elsewhere a new housewife is introduced; Lisa Rinna, soap star and wife of actor Harry Hamlin. The two have two teenager daughters who she picks up from school, and they return home to Harry whom she calls King, or "God" and explains she feels the need to occasionally rebel against God. Interesting comparison, but to each their own. Lisa Vanderpump has decided to attend Kyle's party now that they are moving forward, however Ken seems less enthused and mocks the food that is usually served (Fatburger, which is actually served again as well LOL!) While Brandi gets ready for the event, her confessional confirms her relationship with Lisa is currently non existent and is extremely nervous to cross paths. Everyone begins to arrive, beginning with Camille Grammer, former housewife and most hated turned fan favorite.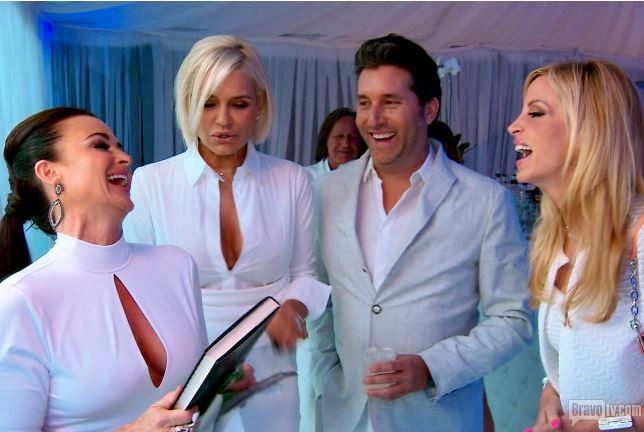 Courtesy of BravoTV.com
Camille arrives with a book for Kyle, reminiscent of Season 1 when the two weren't friends, called "How To Behave And Why." The new book is titled "I See You Made An Effort, Compliments Indignities, and Survival Stories from the Edge of 50" showing Camille can still slay with her humor. A newly married Taylor Armstrong is the next original Beverly Hills housewife to appear at the party, with a happy family in a seemingly better place. The most surprising appearance is the return of Adrienne Maloof, who previously exited the series before production wrapped, after being publicly let go at the reunion by host Andy Cohen. The original women were all finally reunited and instantly begin to vibe with each other leaving Brandi to feel like the odd woman out. An irritated Brandi walks away saying to a friend "How are you 75 and rolling your eyes?"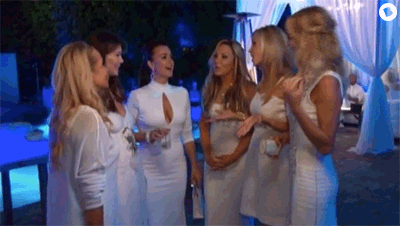 Courtesy of http://beamlyus.tumblr.com
Brandi relates her feeling to that of her introduction to the series, however her actions may have influenced the situation. Lisa hands down wins shadiest moment of the episode, when in her interview she says Adrienne is running around with "A little Bush between her legs," in regards to her young boyfriend Jacob Busch, adding "she was a bit of a moody old cow when she was with Paul." Reasons you can't ever stay completely mad at Lisa is entertainment alone. The group enjoys catching up, but notice someone missing and they all collectively ask the most familiar question from the RHOBH franchise, "Where's Kim?!" and timing is perfect, with my one and only favorite Kim Richards walks up fashionably late.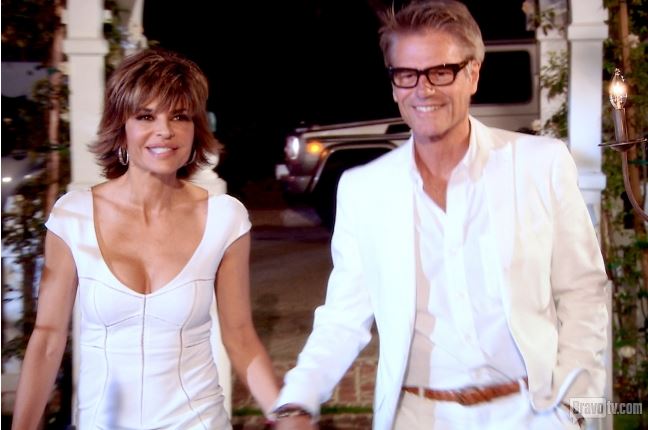 Courtesy of BravoTV.com
Lisa Rinna arrives with her husband and seems to know almost all of the housewives, past and present, but doesn't stay long because they need to make the Mad Men wrap party. (How many times was Mad Men mentioned in this episode though?) After Brandi receives the cold shoulder from Lisa, she decides to approach Adrienne to make amends, but the two decide to meet up on a different occasion to clear the air, after Brandi revealed personal information about Adrienne's family leading to her departure. It was pleasant seeing all of the women return in some capacity, and I can't wait to see the new dynamic as the season plays out, based on the trailer it's one you won't want to miss. Aedan's Final Thoughts: -All of the original housewives should continue to appear -Not looking good for Brandi and Lisa's friendship -Not enough Kim -A little less Yolanda wouldn't be a bad thing
Keep Up With PopWrapped On The Web!