After almost three full years of waiting, everyone's favourite bad gal Rihanna has finally revealed the title and album artwork for her forthcoming eighth studio album!
The project, which was formerly known as the fan-dubbed #R8 on Twitter and Instagram, was officially announced at the Los Angeles Mama Gallery on Wednesday night, when Rih joined forces with Israeli artist Roy Nachum to debut the gorgeous album artwork he's designed for the upcoming project. "This is my favourite album cover I've ever done," Rih said to her fans, before the cover was unveiled after a black sheet covering the canvas was dropped.
The work features an image of a pre-school aged Rihanna whose eyes are masked with a gold crown. Over a background of red and white, there's a roughly-sketched black balloon that she holds in her hands, while the entire image is overlaid by a poem written in braille, continuing the tradition of earlier single covers from the era. Written by Chloe Mitchell, the poem reads "Sometimes the ones who have sight are the blindest", which when taken with the vision-obscuring crown suggest a vision-oriented theme for the album.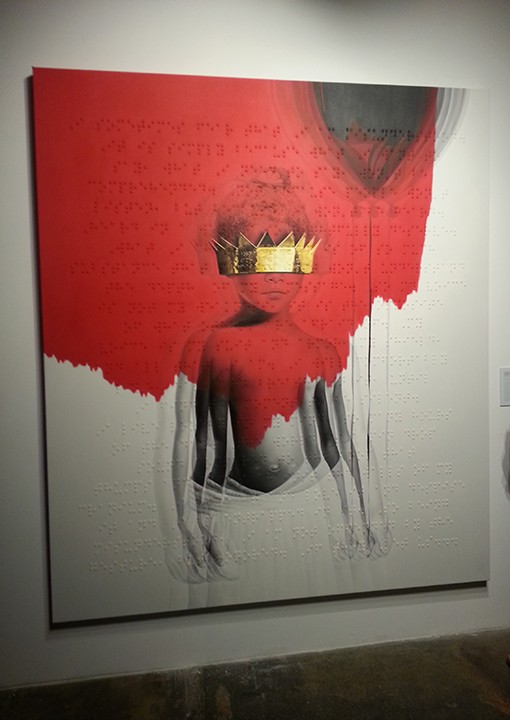 Courtesy of billboard.com
It was only after the artwork was revealed that Rihanna officially announced the title for the album, ANTI. No word yet on the inspiration behind the title, but it seems to follow in the same veins as the fan-favourite LOUD with similiarly bold expression.
We're also still left waiting on a release date for the album, which marks the longest a Rihanna Navy member has had to wait for a Rih album ever. Rihanna, who was notorious up until this year for releasing a new album every year, hasn't put out an album since 2012's Unapolagetic.
Thus far, three singles expected to be on Rihanna's new album ANTI have been released. "FourFiveSeconds" peaked at No. 4 on the Hot 100, "Bitch Better Have My Money" hit No. 15 and recent single "American Oxygen" stalled at 78. Rihanna has topped the survey 13 times, tying Michael Jackson for third-most Hot 100 No. 1s ever.
Check out the cover in glorious high quality on the top of the post, as well as the album's back cover below. Let us know what you think in the comment section!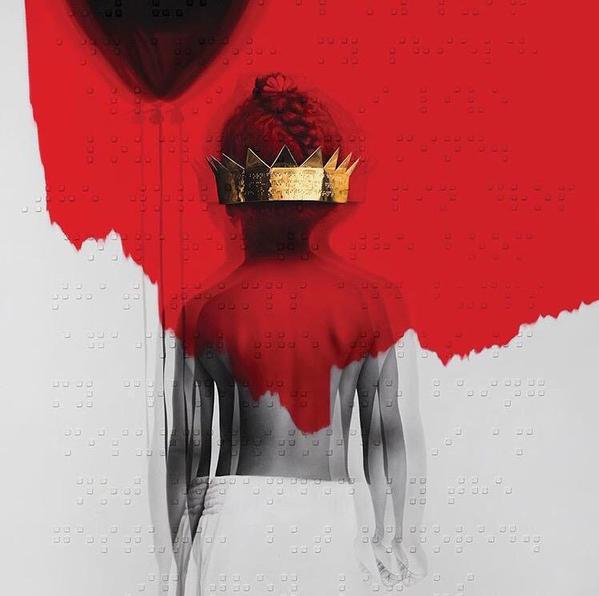 Courtesy of imgur.com