Kate McHale
Senior Staff Writer
@KateMcHale42
The Kardashian family certainly knows how to
slyly drop major announcements
. Take Rob, for instance: he tweeted, ""Happy I got my Son with me for the 4th tomorrow !! Can't wait to watch fireworks with my little man ! Hope everyone is safe !"
Happy I got my Son with me for the 4th tomorrow !! Can't wait to watch fireworks with my little man ! Hope everyone is safe ! X — ROBERT KARDASHIAN (@robkardashian) July 4, 2014
Wait a second, can you repeat that for me...a son?! This is certainly news to most, because this is the first virtually anyone is hearing about this! He alluded to the fact there may be a little Rob Kardashian running around in a previous tweet, "And to my baby mama I loveeeeeeee you." Most people didn't really bat any eyes at that because the term is used so loosely these days! Back in May, Rob confused people completely when he posted  a picture on Instagram with the caption, "Shout out to God, shout out to my hair," he wrote. "Shout out Mom, shout out to my Son's Mom cuz she been holding me down since high school n shout out to my Son Robert the Third."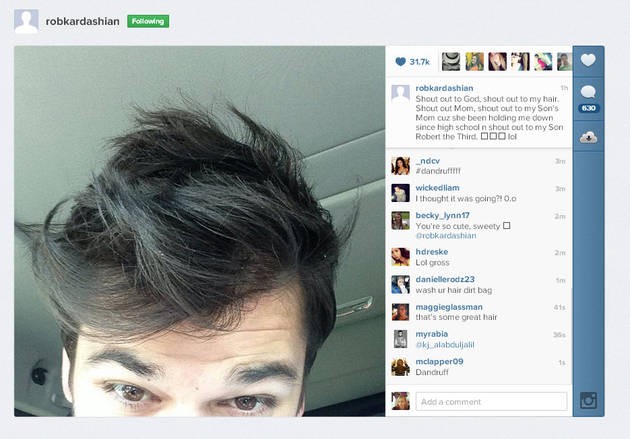 Courtesy of wetpaint.com
What do you guys make of this? Surprised, or were you simply waiting for something like this to come out? Either way, the Kardashian's continue to find new ways to remain relevant. I know, shocking! Until more information is released, we are left to wonder two questions: who exactly is the baby mamma, and when will we get to see pictures of this newest (to us) Kardashian?
Keep Up With PopWrapped On The Web!