People Magazine talked to Robert Wagner and Natasha Gregson Wagner about their relationships with wife and mother Natalie Wood and their bond after her tragic death.
In November 1981, actress Natalie Wood drowned in an accident off Catalina Island, and circumstances remain mysterious to this day. She had been on a yacht excursion with husband Wagner and actor Christopher Walken. Though her death was deemed a drowning accident at the time, in 2013, it was changed to "drowning and other undetermined factors" by the Los Angeles County coroner's office due to bruising on the actress's body.
After Wood's death, Wagner continued to raise his stepdaughter Natasha with his two other daughters (one with Wood and another from a previous marriage), and married actress Jill St. John in 1990. He describes their relationship as "very, very intense. We've hung onto each other through the years and she means the world to me." As Natasha has grown older, glimmers of her mother appear in her carriage and disposition. Wagner tells People: "Sometimes I see the way she moves or the way she walks or laughs and she just reminds me of Natalie," he says. "It's not a continuous thing, just a moment, a turn, her hair, some kind of look. It's quite extraordinary."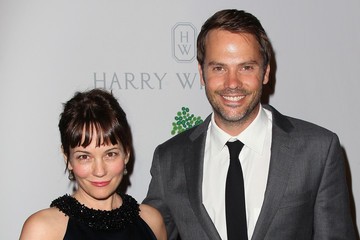 Zimbio
Natasha is now married to actor Barry Watson, with whom she shares one child and two stepchildren, and credits therapy and both her biological father and stepfather for helping her deal with her mother's death. She and her sister, Courtney, Wagner's daughter with Wood, have created a fragrance in their mother's memory based on her favorite scent: gardenia.
A former child actor who experienced success well into adulthood, Wood was famous for such films as Miracle on 34th Street (1947), Rebel Without a Cause (1955), Splendor in the Grass (1961), and West Side Story (1961). Throughout the 1960s, her films such as Love with the Proper Stranger (1963), Sex and the Single Girl (1964), and Bob & Carol & Ted & Alice (1969) reflected and explored the sexual revolution of the period.