Summer is right around the corner, and that means it's time to bring the metal.
The lineup for Rockstar Energy's annual Mayhem Festival tour was released Monday (April 13) and features metal icons Slayer as the headlining act. Joining them on the Rockstar Energy Drink Main Stage will be King Diamond, Hellyeah, and The Devil Wears Prada.
The Victory Records Second Stage will feature even more bands, including Whitechapel, Thy Art Is Murder, Jungle Rot, Sister Sin, Sworn In, Shattered Sun, Feed Her To The Sharks, Code Orange, and Kissing Candice.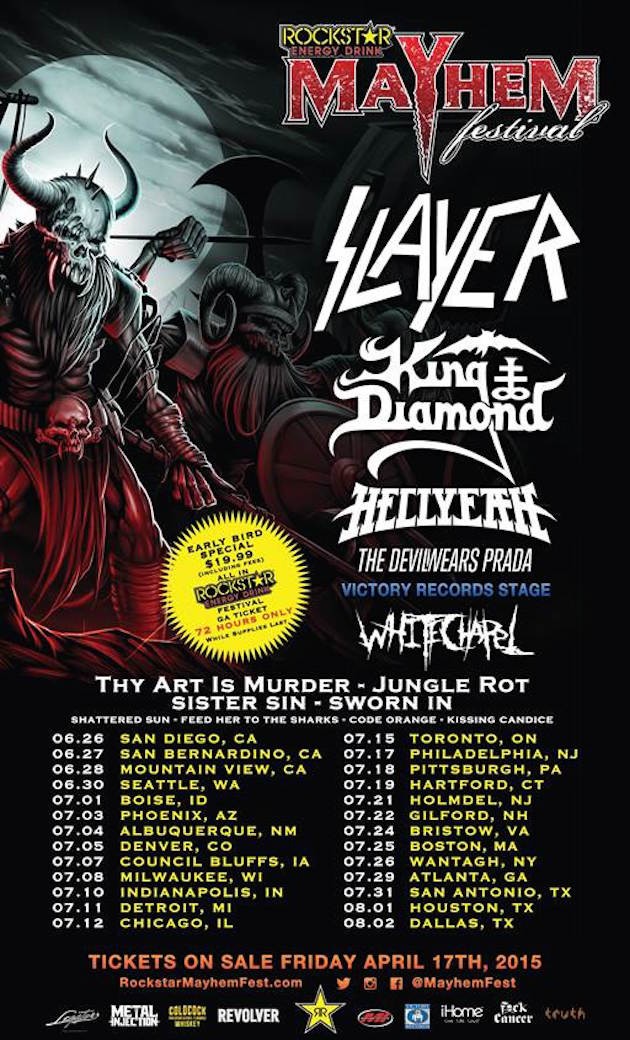 loudwire.com
In the announcement, Slayer guitarist Kerry King said, "Slayer and King Diamond onstage for the first time together in the States — never has Mayhem been more evil. Don't f—in' miss it!"
King Diamond went into a bit more detail, stating that: "This is going to be one hot and hellish summer. Slayer and King Diamond on the same stage — it does not get more devilish than this! We will be putting on a one-hour set with the full King Diamond stage production." 
The Rockstar Mayhem Festival has become a yearly tradition for metalheads since its first incarnation in 2008. Anyone who's anyone in hard rock and metal, from Asking Alexandria and Trivium to Godsmack and Disturbed has graced the tour with their presence, and this year looks to have arguably the most brutal lineup yet.
Tickets for all dates below will go on sale Friday, April 17.