A stunning loss in a UFC fight to Holly Holm in November 2015 left star fighter Ronda Rousey devastated to the point where she considered ending her life. In a February 16 interview with Ellen DeGeneres, Rousey credits her relationship with boyfriend Travis Browne with getting her through the low point of such a high-profile loss and the ensuing social-media scrutiny.
Rousey had previously held an pro record of twelve wins and had the odds-on favorite to win in the Australian match against Holm when the challenger knocked her to the mat with a kick to the head in the second round. Her injuries from the fight, including a split lip and loose teeth in addition to the head injury, have prevented her from reentering the ring for up to six months.
In a December 2015 article by Ramona Shelburne for ESPN magazine, female MMA fighters, including Holm, spoke of Ronda Rousey's influence on the sport and the intense pressure on females who are expected to make a name for themselves in the business while enduring double standards of expectations on sportsmanship, physical appearance, and style. That a female athlete like Rousey should endure a "mourning" period after her November loss, effectively shutting out friends and business associates for a period while she recouped, illustrates this drive for perfectionism and standards no athlete can maintain forever.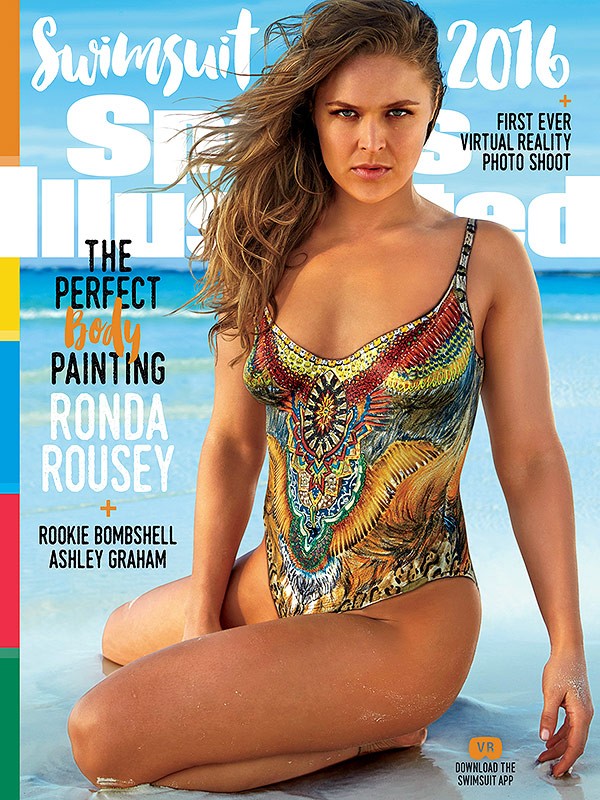 timeinc.net
2016 brings a new start and new opportunities for Rousey as she will be the cover model on one of three versions of the upcoming Sports Illustrated Swimsuit Issue as well as filming the remake of Road House this summer.
Ronda Rousey plans to take on Holm again in a rematch later in 2016 and has recently been spotted leaving a training session in Los Angeles. Only time will tell what will come of their face off, though it seems clear that Ronda Rousey is in a significantly better state of mind than she was in the days following her original loss.