Direct from RuPaul's Runway, an army of fabulous Drag Queens descended onto the cat walk in the North East of England. The alternative yet prestigious entertainment team, Klub Kids, put their best stiletto forward and successfully brought International Drag Royalty to Newcastle's 02 Academy. In attendance was none other than season winners Sharon Needles, Jinkx Monsoon and Violet Chachki. Also joining in the fabulous festivities was fan favourites Katya, Courtney Act, Adore Delano and Pandora Boxx.
Opening the show was RuPaul's BF herself, the fabulous Michelle Visage. Channelling her inner Ursula with a sparkly black dress and a harem of "Unfortunate Queens", this under-the-sea spectacular was the perfect opening to the show. We particularly enjoyed the line, "I've been spilling the tee since season fucking three!" -- but not as much as we enjoyed the montage of a younger, ginger Michelle on screen in the background. After reminiscing with the crowd of boys, girls and everything in between about her time on Celebrity Big Brother, everyone cheered in agreement that she "Did her fucking job!" as the voice of the community on British T.V.
The first Ru Girl to take solo stage was Season Six's sweetheart, Adore Delano. Looking like a blonde rock chick she performed live Robyn's "Dancing On My Own". The slowed down version worked well with the crowd who screamed and swayed in unison for their idol. Adore was an ideal replacement for Willam Belli who unfortunately could not join the tour due to contractual controversy. After her performance, Adore tweeted her 190,000 followers "Just performed one of my favourite performances I've ever done.. Thank you Newcastle".
With a moving tribute to David Bowie, Sharon Needles looked and sounded the part of the late icon. With a flawless performance of "Space Oddity", Miss Needles owned the stage, proving exactly why she stole the crown back in Season Four. At the end of her performance, she also paid tribute to her Cat, Cerrone Needles who recently passed away (Aww!).
Next up, injecting some fun and frolics into the show, was Season Seven favourite, Katya. Arriving on the Titanic, she hilariously moved around the stage in the boat to a backdrop of Leonardo DiCaprio. At one point, she was even joined on stage by an iceberg as a snow machine sprayed around The 02 Academy. Katya wisely used fellow Drag Queen Pandora Boxx who was dressed as the iceberg, and the two playfully acted out the ending to Titanic on stage.
The next Queen going solo on stage was season seven winner, Violet Chachki. This Ru Girl used the stage as a platform to show off her aerial performance skills. She used a single hoop (wink wink) and dressed in a hypnotising black and gold bodysuit.  While fans were in awe of the performance at the beginning, this segment did, however, feel too long and began to make the crowd restless. Many did use it as an excuse to go to the bar. (All tee, no shade mama).
Fans were, then, treated to a regular feature of RuPaul's Drag Race, the live version of "The Snatch Game". As any avid fan would know, this is the point in the T.V. competition where the Drag Queens showcase their best celebrity impersonations. On stage, Sharon Needles channelled Caitlyn Jenner, which had the audience crying with laughter as she kept repeating the line, "It's tough but it's good". Pandora Boxx arrived as Hillary Clinton and Jinkx Monsoon went from one Queen to another as she came to the game as Queen Elizabeth I. The camp contest also allowed the Queens to make some social commentary on recent news, such as Donald Trump's bid for President which was of course quickly mocked. It also allowed Michelle Visage to interact with the two lucky fans picked to appear on stage to take part in the game.
As if the excitable crowd had not been treated to enough, especially with some live singing from Season Five winner Jinkx Monsoon and Season Six favourite Courtney Act, the Queens, then, showed off their most famous outfits that they wore on RuPaul's runway. The highlight was definitely seeing Courtney Act's stunning winged outfit in real life -- even more breathtaking than the first time we saw it on T.V.
Things, then, got a little spooky as the Queens, led by host Michelle Visage, performed tracks from The Rocky Horror Picture Show. Michelle looked Black Swan chic with killer nails and killer harmonies she belted out "Double Vision". Courtney Act played the role of Janet, as she sang "Over At The Frankenstein's Place", before Sharon Needles took centre stage as Frank-N-Furter to perform her version of "Sweet Transvestite". The Queens, then, time warped together, much to the delight of the audience, who were still probably star struck that all their Ru Girl icons were stood as a collective right in front of them.
Following the fishnets was Season Two favourite, Pandora Boxx, who looked like she arrived directly from a galaxy far, far a-gay. With wacky blue hair and a white dress she spoke directly to Star Wars' Darth Vader on the screen behind her. As she paraded around the stage to the Star Wars cantina song, the crowd laughed and cheered as they absorbed Pandora's lovable comedic humour. It was time for a quick costume change into a R2-D2 sparkly dress, and, as she made Star Wars fabulous, she was the only Queen to change her outfit during her solo. She also cleverly mixed the sci-fi franchise with The Spice Girls in a way only she could and made it clear why she is still a prominent name in the Drag World after embracing our screens back in Season Two.
Before reaching the finale, Season Five winner Jinkx Monsoon delivered some fantastic Broadway vocals. The fiery redhead looked absolutely stunning in a purple sparkly dress that floated behind her as she performed. Throughout her performance, she had the entire room transfixed with her, and we were left wanting more music and more of her cheeky charms.
The Queens finished the show by pairing up and turning the stage into a runway by showcasing similar looks they had worn throughout the seasons. Violet Chachki used the opportunity to poke fun at the rumours about stealing Sharon Needles' crown, as she grabbed Sharon's tiara and also her wig right off her head. The show closed with a random yet enjoyable performance of "Spice Up Your Life" with Adore Delano even sporting a replica of Geri's Union Jack dress. As a shower of confetti rained down on the screaming crowd, it was time to say bye to the International Drag Superstars as they sashayed away.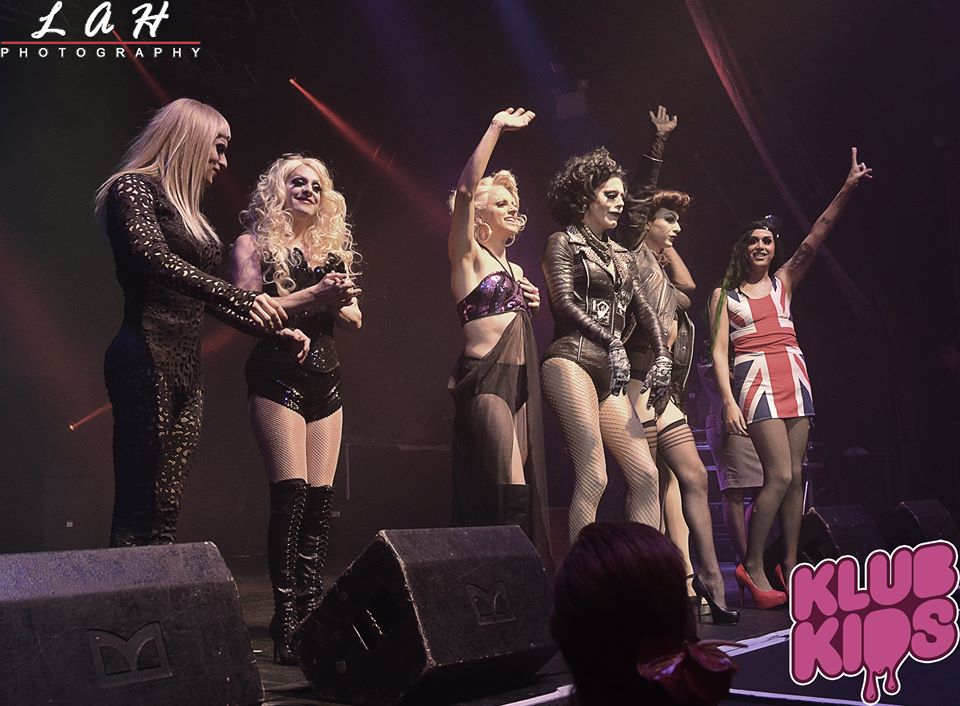 Thankfully the Klub Kids are getting their creative heads together once more as they plan to bring Season Five sensation Alaska Thunderfuck to Newcastle to perform a full concert of her latest album "Anus". They are also flying over Acid Betty who is currently in the Season Eight race. Keep up with all their antics on Twitter.
Events Writer: Benjamin Spence (@BenSuspender) Guest Writer: David Robinson (@DavyRobin4)