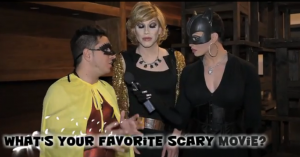 Courtesy of Youtube
Earlier this week I recapped the "Night of the Living Drag", with all your favorite queens from RuPaul's Drag Race. Now for a special Halloween treat, here's a video where all of the queens list their favorite scary movies, re-enact some of their favorite scenes from them, and say who they would play in them!
Sharon Needles, BenDeLaCreme, Jujubee, Darienne Lake, Alaska, Latrice Royale, Ivy Winters, Jiggly Caliente, Manila Luzon, Milk,
and
Phi Phi O'hara
list their favorite scary movies and do impressions! Make sure not to miss Milk's impressions from "
Hocus Pocus
", Ivy Winter's
"Misery"
impressions, and Darienne's dish on why Pandora would be great as Drew Barrymore in "
Scream
". Also, congrats to Darienne on being named Kathy Bates' favorite queen last night on Bravo's "
Watch What Happens Live
!"
Keep Up With PopWrapped On The Web!