Lemme try and recap this properly..... OH SCREW THAT. Last nights 
RuPaul's Drag Race
 was highly enjoyable as Ru issued quite the challenge to the remaining queens: They would have to record a parody version of one of Ru's songs, which meant record the vocals and act out the music video. They were given the task of choosing their own groups, so were were treated to Ginger//Kandy/Kasha/Kennedy, Pearl/Trixie/Miss Fame/Katya and Max/Violet/Jaidynn. All 3 groups had different approaches (that's a nice way of saying it) to each of their songs, and they all attempted to bring out their funny sides. Truthfully, you think of a comedy challenge and just assume some of the queens would cruise on through this..... Just wait. The group of Fame/Pearl/Trixie/Katya was a bonafide mess when they had to act it out in front of Ru and Michelle Visage. Although how EPIC was the non-landing of Ginger's group and the 'Drag U' joke? Things unfortunately didn't get any easier once they hit the main stage which featured the return of Ross Matthews alongside Jessica Alba and Ru's producer Lucian Piane. The ladies brought out their greatest green looks (to the dismay of Michelle) and some of them really turned it out: Katya looked INCREDIBLE, Max took another artistic jump, and Kandy..... Bored. Ru revealed Kennedy as the challenge winner (which ALL T ALL SHADE, should have gone to Katya). Now, the shocker. Ru revealed that the bottom 2 would be Pearl and Trixie, which was a shocker in itself because Kandy should have been in the place of Trixie. Pearl really needed the wake up call, but Trixie had one bad outing and it unfortunately caught up with her..... When, after a lip sync that Trixie owned Pearl (love her I do)......... Ru eliminated............. TRIXIE. Seriously, this really happened!?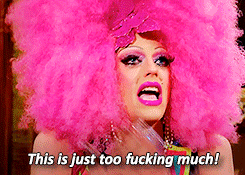 Tumblr
Apologies to the less than stellar recap, but yours truly who is a MASSIVE fan of
Drag Race
, is very upset by this. Any chance to make Trixie the new Shangela and have her come back? Ru? PLEASE!? What did you guys think of tonight's elimination?
Keep Up With PopWrapped On The Web!