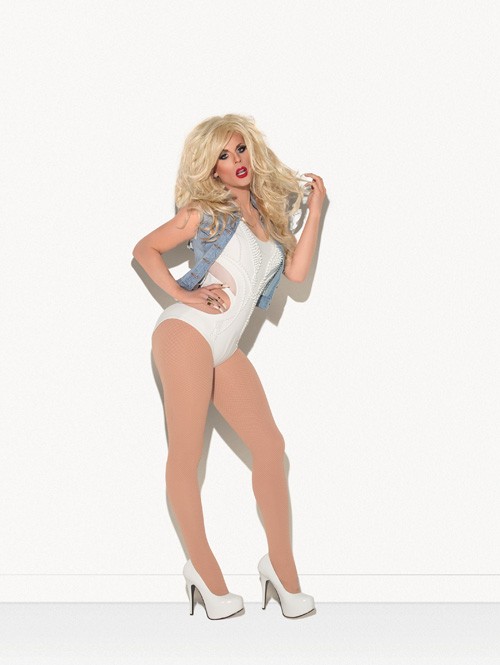 Logo
Start your engines: It's time for another 'RuPaul's Drag Race' recap!!
Who were YOU guys hoping would be brought back by Mama RuPaul?
Let's be real for just a hot second:
You ALL wanted it to be Trixie right?!
The episode kicked off with Ru welcoming back season 4 queen, and All Star Latrice Royale for this weeks mini challenge, and it was HILARICAL (quoting the amazing Tamar Braxton).
The remaining ladies would have to give us their best prison looks, and Latrice was there in full Prison Guard Marge attire!!
WELCOME THE LADIES OF TUCKAHOE PRISON!
They all gave their best and busted looks, but in the end it was Kennedy Davenport that took the win. I'd have given it to Katya though.
Shade.
It was time for the RU-veal though:
Which queen was back?
ALL OF THEM.
Tempest, Sasha, Jasmine, Trixie, Kasha, Kandy and Max were all back and that's when Ru dropped the bombshell:
Each queen would be working with an eliminated contestant, and hey would be walking the runway as conjoined twins. Seeing as Kennedy was the winner of the mini challenge, she put the teams together:
Kennedy & Jasmine (Obviously)
Pearl & Trixie (REUNITED!!)
Miss Fame & Kandy (DEAR LAWD......)
Ginger & Sasha Belle (Poor Ginger)
Violet & Max (Hmm....this may work)
Jaidynn & Tempest (HA!!)
I'mma leave it at that.
They would have to think of different ways to drag themselves up, and clever ways to join themselves.
The process getting there was an interesting one, as we saw the chemistry (Pearl & Trixie), the oddness (Jaidynn & Tempest) and the possibility for cringeworthy (Ginger & Sasha).
So help me GAWD if Sasha causes Ginger to go home.....
Just saying.
And now for what we were all waiting for:
THE RUNWAY.
Yours truly may come across as overexcited, but this was TRULY, the best runway challenge ever, because the looks we got were out of this world good. The only look that really fell flat was Jaidynn & Tempest, although Miss Fame and Kandy were a tad lackluster as well.
The judges, including "True Blood" alum Nelsan Ellis and country singer Leann Rimes, gave their critiques and it was time for all of us to find out which queen was sashaying BACK into the competition:
TRIXIE!!
Pearl and Trixie were announced as the winners of the challenge which meant that Trixie was now BACK in the competition. The bottom two teams wound up being Jaidynn/Tempest and Ginger/Sasha. Fortunately for all of us fans of the show, a Trixie 2.0 didn't happen.
Ginger DESTROYED Jaidynn in the lip sync, using the heavy bosom that she shared with Sasha to win the performance. Absolutely, hands down, one of the best lip syncs in Drag Race herstory.
What did you guys think of tonight's episode?
Favorite runway look?
Do you think Trixie will survive until the end?